I tried face yoga exercises to fight aging, and here's what I found
Need some face yoga exercises that actually work? Check out these tried and tested facial flows at home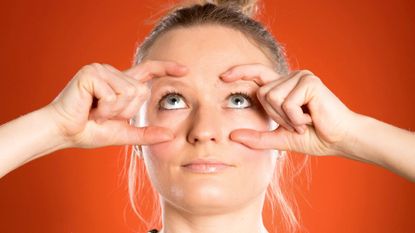 (Image credit: Future)
Face yoga exercises are nothing new. As the name suggests, this form of exercise is literally yoga – but for your face.
It involves performing a combination of facial exercises, massage, acupressure, and relaxation on your face in a bid to increase blood circulation and nutrients to the cells of your skin. At first, facial yoga might look and sound a little strange. But when you think about it, we wouldn't find it strange to whip out one of the best yoga mats to work the muscles in our body, so why not work the muscles in our face?
Plus, just like any other workout, this type of facial exercise comes with proven benefits. According to a 2018 research paper conducted by Northwestern University, face yoga exercises can strengthen the muscles in the cheeks and face. It can also work towards improving the structural appearance of your face and help you in the fight against aging.
And, according to a second 2018 study, facial exercises are "effective in improving the mental health, facial expression, tongue muscle power of elderly people."
I was lucky enough to be invited down to London's famous Harley Street to be taught by world-leading face yoga expert, Danielle Collins. Danielle guided me through the face yoga exercises with promises of a fresher, brighter complexion along with a more toned visage. Wondering what I thought of this facial flow?
Then keep scrolling to discover the tried and tested face yoga exercises.
After a short questionnaire and a chat on what I hope to achieve from the session – a more relaxed and youth-defying face, please, and no more frown lines – we start.
To become more 'face aware', I close my eyes, breathe deeply and notice how my face (from my forehead to my neck) feels. Tired and tense is the overriding feeling. But, hopefully, not for long...
Face yoga: The Owl
Working from the top to the bottom of my face, the first area of your face to target and tone through facial yoga is your forehead. Enter, The Owl.
Start by placing your index fingers on your brow and pulling down.
Raise your eyebrows and open your eyes wide.
Try this for 30 seconds. Danielle recommends looking in a mirror to help perfect the movements.
Face Yoga: Forehead Tightener
Still focusing on your forehead, after you've completed The Owl it's time to try the Forehead Tightener.
To do so, place your index fingers on your brow and sweep your fingertips back towards your hairline.
"Both exercises strengthen the big muscle at the front of your forehead," Danielle explains.
I'm also told The Owl and the Forehead Tightener is designed to reduce and prevent wrinkles. Goodbye frown lines…
Face Yoga: Circle the Eyes
After your forehead, it's time to focus on your eyes. This exercise comes with the promise of reducing crow's feet and getting rid of dark circles and puffiness. Sold?
Flutter your eyelashes for 30 seconds
Shift your eyes up and down
Look side to side without moving your neck
Tap gently around your eyes
According to Danielle, the latter move "helps bring blood, nutrients and oxygen to the skin's surface, and eliminates fluid build-up."
Face Yoga: Hamster Cheers & Puffer Fish
It's now time to target your cheeks.
Start by passing air from side to side
Now do the Puffer Fish – which involves puffing both cheeks out and tapping them and Cheek Pinching
I probably look ridiculous, but I don't care – as long as they lift, tighten and make me glow.
Face Yoga: Jaw pinching
The last face yoga exercise to try is Jaw Pinching. This one's great for toning, neck strengthening, and lengthening exercises.
Lightly pinch the area around your jaw
Finish by enjoying an acupressure point on your temple
Face yoga: the verdict
I'm exhausted. This isn't called face yoga for nothing – I feel like my face has had a full-on gym sesh. But my cheeks look rosier – it must be all that pinching – and the tension in my jaw and head has subsided. If I manage to keep my routine up – even for five minutes a day – I could expect a more youthful, less frowny face in just two weeks. Those scientists were definitely onto something.
Want more? Check out Danielle's guide to four face yoga exercises you can do at your desk below...
Get the Fit&Well Newsletter
Start your week with achievable workout ideas, health tips and wellbeing advice in your inbox.
Natalia is a health and fitness journalist who has written for the likes of Woman & Home and Marie Claire, and likes to practice what she preaches when it comes to staying fit and well. She loves the outdoors and would happily swap the treadmill for the trail at any opportunity. As such, in her free time you'll likely find her up a mountain somewhere. She has hiked eight of the major mountain ranges across four continents, including the Appalachians, the Smokies, the Sierra Nevadas (where she hiked to the top of Half Dome during her honeymoon) and the Atlas Mountains, as well hitting the summits of Snowdon and Pen-Y-Fan (Brecon Beacons), Table Mountain in South Africa and the Blue Mountains in Australia. She was also a fencer for 13 years, wielding an epée for Team GB during her teenage years. Having recently welcomed a baby, Natalia is currently getting back into her fitness routine, and has her sights set on completing a triathlon, something she and her husband started out on before their bundle of joy arrived.