Fast food has a detrimental effect on women's mental health, new research reveals
If you're a woman over 30 this could impact your moods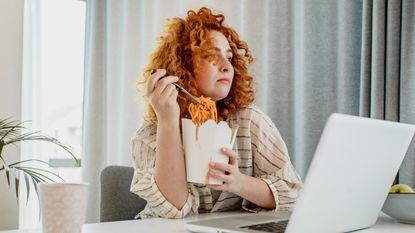 (Image credit: blackCAT)
Do you skip breakfast and head straight to a fast food restaurant for lunch? It could be having a negative impact on your mental health.
A study published in the Journal of Personalized Medicine says, for women over 30, a healthy diet, which is free from junk food, is key for warding off anxiety and depression.
The research, undertaken by Binghamton University in New York, looked at the diet and exercise habits of 322 women and 322 men - as well as the fluctuations of their mood patterns.
The research found that those who ate healthy foods, like nuts and salads, had more positive mood patterns, while those who ate junk food, such as chips and sweet foods, suffered from more bouts of anxiety and depression - especially when it came to women.
If you're aiming to eat healthier cooking from scratch and avoiding ready meals and fast foods is a great start - check out our guide to the best blenders and best health grills to give you some inspiration.
However, the study also found more women were affected, mentally, when it came to a poor diet - with fewer men reporting negative mental health effects when they ate fast food.
"Interestingly, we found that for unhealthy dietary patterns, the level of mental distress was higher in women than in men, which confirmed that women are more susceptible to unhealthy eating than men," the author of the study, Lina Begdache Begdache, said.
However, the study did state that results were a correlation of eating a bad diet, not causation. So people who are not prone to depression could just be making better diet choices, while those who suffer from anxiety may be reaching for food that they think could cheer them up.
Meanwhile, the study also found that those who took part in exercise also had more positive mental health patterns. Even when they ate unhealthy foods, but worked out, both men and women had better mental health patterns, than others who admitted to not exercising - even if they just participated in a light exercise every week.
This showed that exercise, especially if you were a regular gym-goer, could make the negative side effects of unhealthy eating less severe.
Sarah is a freelance journalist who writes about fitness and wellbeing for the BBC, Woman&Home and Tech Radar. During lockdown she found her love of running outside again and now attempts to run around 50 miles a month. When it comes to other fitness, she loves a sweaty cardio session – although since she's been working out from home she's sure her downstairs neighbors aren't too happy about it. She also loves to challenge herself - and has signed up to do hiking holidays, intense bootcamps and last year she went on her dream activity holiday: paddle boarding around deserted islands in Croatia. On her rest days, she loves to recover with a simple yoga flow session – the perfect antidote to her active fitness schedule.