Four moves are all you need for this 12-minute metabolism-boosting workout you can do anywhere
Improve your strength, endurance, and cardio fitness without equipment in a single short routine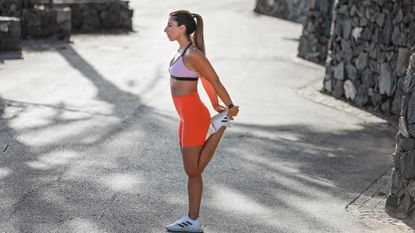 (Image credit: Rachel Sacerdoti)
When you're juggling work, your social life, and any number of other commitments, finding time to exercise can be a tricky task. Fortunately, all you need is 12 minutes and a small bit of floor space for this simple yet effective workout.
The four-move circuit has been designed by qualified personal trainer Rachael Sacerdoti to help you get your fitness fix, move your body, and improve your wellbeing even on your busiest days.
It builds strength, works your heart and lungs, and doesn't require any equipment either (though Sacerdoti uses a yoga mat for extra cushioning on hard floors). This makes it a great option for your home, the gym, or while traveling.
"This workout includes a combination of exercises that target different muscle groups, providing a full-body workout that focuses on improving cardiovascular health, muscular strength, and endurance," Sacerdoti told Fit&Well.
"It's a simple routine consisting of four moves that are brilliant for working your entire body while raising your heart rate, building muscle and lifting your mood." Plus, exercising for happiness is a perfectly legitimate goal in its own right.
Perform the exercises back to back as a circuit, completing the number of repetitions prescribed in Sacerdoti's video below. Repeat this four-move sequence for three rounds in total to finish the workout.
Watch Rachael Sacerdoti's full-body bodyweight workout
This workout is an example of high-intensity resistance training; a combination of cardio-focused exercises and muscle-building moves to create a short session that will develop strength, increase your heart rate, and boost your metabolism.
"I chose these exercises because they work different muscle groups, providing a balanced workout," Sacerdoti explains. "Jump lunges and shoulder taps are both compound exercises that engage multiple muscle groups simultaneously, providing a more efficient session.
"Leg raises target the often-neglected hip flexors, which can improve posture and reduce the risk of lower back pain, and bum kicks are a great way to increase cardiovascular health and lower body flexibility.
"All of these exercises also engage the core, which is the most important area of your body to work on, in my opinion." Strengthening your midsection muscles through core workouts can boost your balance and support your lower back.
Perfecting your technique is crucial to get the most from your training—even in just 12 minutes. "[If you're new to this type of training] start with a lower number of reps or modifications to ensure proper form," Sacerdoti suggests.
"For example, beginners should start with regular lunges or step-back lunges, gradually building up to a jump lunge. "You can also try working out in front of a mirror to check your form and positioning are correct."
If you enjoyed this routine and want to try more similar bodyweight sessions, Sacerdoti's dedicated core workout is a great next step. Or, if it's other bodyweight workouts you can try at home you're looking for, this low-impact no-equipment session targets your whole body in 30 minutes.
Get the Fit&Well Newsletter
Start your week with achievable workout ideas, health tips and wellbeing advice in your inbox.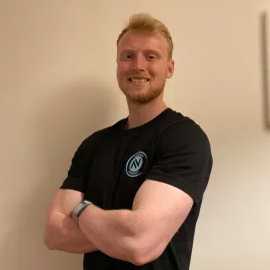 Harry Bullmore is a Fitness Writer for Fit&Well and its sister site Coach, covering accessible home workouts, strength training session, and yoga routines. He joined the team from Hearst, where he reviewed products for Men's Health, Women's Health, and Runner's World. He is passionate about the physical and mental benefits of exercise, and splits his time between weightlifting, CrossFit, and gymnastics, which he does to build strength, boost his wellbeing, and have fun.
Harry is a NCTJ-qualified journalist, and has written for Vice, Learning Disability Today, and The Argus, where he was a crime, politics, and sports reporter for several UK regional and national newspapers.