Gyms reopening: the new rules to be aware of
Monday saw gyms reopen across England - but are you prepared for the changes that have been put in place?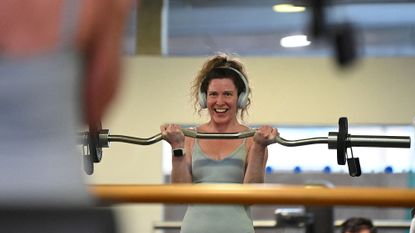 (Image credit: Getty Images)
Get the Fit&Well Newsletter
Start your week with achievable workout ideas, health tips and wellbeing advice in your inbox.
Thank you for signing up to Fit And Well. You will receive a verification email shortly.
There was a problem. Please refresh the page and try again.
Monday April 12th saw gyms reopening across England, with fitness fans finally able to return to their favourite workout spots.
Government guidelines in the wake of coronavrius mean that a raft of measures have been put in place as gyms open their doors for the first time in four months. They include reduced capacity, spacing of equipment and floor markings to keep users separate, the closing of water stations and members being instructed to arrive ready.
It follows months of Brits using the best fitness apps and home exercise equipment during lockdown. Now gyms and leisure centres have finally been able to welcome back their members.
Heading back to the gym today? Whether you've been yearning for a return to the spin bike, desperate to get back to your favourite HIIT class or otherwise, you'll need to be aware of the key rules you'll be expected to follow now the gyms have reopened.
We spoke to managers at some of the UK's top gyms and fitness studios last summer, when the first round of gym reopenings took place following the original lockdown to find out what to expect. Below is an overview of what they had to say, along with updated information - although it's of course best to check with your local facility in advance of your visit to familiarize yourself with their specific rules.
In the meantime, ready your best workout shoes and get ready to sweat safely...
1. No more equipment sharing
Sandy Macaskill is co-founder and master trainer at Barry's UK, known for its cult bootcamp conditioning concept and its long list of celebrity fans. Their post-workout shakes are worth the visit alone. He told us: "Measures we have put in place include ensuring that clients never share any equipment at any point."
2. Timed slots
Duncan Jefford, Regional Director of Everyone Active, previously told us: "We will be limiting the number of people in the gym at any one time to allow for social distancing. All customers will be required to pre-book for a session via the Everyone Active app. Each session will be a maximum of 50 minutes long, with 10 minutes at the end to allow for cleaning." That's enough time to do a good HIIT workout and a short strength session.
3. No group classes - for now
Despite team sports already having resumed, adult group exercise classes will not return until May 17 at the earliest, as part of the government roadmap.
When they do return, you should expect reduced capacity. Last summer, Justin Rogers, Creative Director of boutique fitness studio Ten Health & Fitness, told us: "We are reducing our already-small class sizes with longer gaps between sessions to allow more time for cleaning between classes and to avoid overlapping between clients coming in and those going out."
4. Talk less, sweat more
Last summer, Everyone Active reduced verbal communication inside all gyms, telling us: "All customer communication can be done through this website to avoid interaction, but where this may be unavoidable, we have installed protective 'sneeze screens.'"
5. Arrive ready to go
With limited use of lockers and changing facilities to comply with social distancing rules, gym-goers are strongly encouraged to arrive in workout wear and shower at home.
Simon Sen, director of Better Leisure in Clapham, told Good Morning Britain: "We're asking customers to book in advance, come activity ready."
This mirrors the advice of Justin Rogers of Ten Health & Fitness, who told us last July: "We are asking our clients to come to their sessions already changed. Changing rooms or showers are likely to be closed."
7. Arrive in a mask - but take it off to exercise
A post on UK Active's Twitter feed addressed the rules around face coverings during exercise, confirming that the wearing of masks is not compulsory whilst working out.
It read: 'People are not required to wear face coverings whilst taking part in sport and physical activity. All forms of face coverings may restrict breathing efficiency and should not be used during exercise except on specific advice from a physician.'
The post added that masks should be worn inside gyms when not engaged in physical activity.
Whilst you are encouraged to wear face masks whilst in your local indoor fitness and leisure facility, you are not required to wear them whilst taking part in sport or physical activity. #FitTogether pic.twitter.com/63i4BhEILAApril 10, 2021
See more
8. Sanitise hands on arrival
You know the drill by now. Hand-sanitising upon entry to gyms and studios is key to combating the spread of COVID-19. Charlotte Cox, Founder of FLY LDN shares what her studio have invested in: "We will be using hospital-grade anti-viral sanitiser, which is proven to be effective against Coronavirus. Extra attention will be paid to high-touch surfaces and amenities."
9. Breathe clean
Even the air quality in the studios is being considered. Charlotte says: "Only fresh filtered air is pumped into the studio from outside and air is extracted from the studio via a separate system. We will continue to ensure that only fresh air is circulated in the space and fresh air circulation will remain on during all classes."
10. Stay behind your screen
Some studios like 1Rebel (hailed as the 'king of gyms') have introduced new levels of safety for all trainers and class attendees in the form of protective Perspex ride screens between spin bikes and separating curtains between all treadmills for added protection. 1Rebel co-founder James Balfour said: "Over the past weeks and months we have made a host of changes, at huge cost, that make us far safer than the average pub or plane."
11. Pack your own sweat towel

Many gyms will not be offering complimentary towels so be sure to pack your own to mop your post-workout brow. "We aren't able to offer our sweat towel service just yet, but there will be some on sale for our clients to keep," says Sandy Macaskill from Barry's UK.
12. Expect a temperature check
Last summer, Sunder Reddy, Rider & Interim CEO at Soul Cycle, told us: "Studios will be performing mandatory non-contact temperature checks on arrival. If your temperature is above 38°C or higher you will not be permitted to ride."
13. Keep your distance
Exercise equipment will be spaced two metres apart in clearly marked areas. Cory George from F45 Training explained: "We will be introducing a new F45 Circuit workout solution, which involves each member having their own allocated workout space of 2m x 2m / 6ft x 6ft, with a station marker placed in front of each workout station."
14. Bring your own water
Don't forget to pack enough water to keep hydrated before you leave home. London's original barre studio, Barrecore advised in July: "Water dispensers will not be in use, so be sure to fill up your bottle at home". This is also the case for many gyms across the UK.
15. Hands-off approach
Virgin Active created a members' guide online, which lists major changes that have been introduced to clubs across the UK, such as no hands-on adjustments throughout personal training sessions.
Get the Fit&Well Newsletter
Start your week with achievable workout ideas, health tips and wellbeing advice in your inbox.
Kirsty is an accomplished journalist specialising in the wellness industry. She has previously written for titles including Grazia, Popsugar, Metro.co.uk, Elle UK and the Sunday Telegraph. You'll find her running around Windsor Great Park at 6am most mornings (before her toddler, Clementine Lilac, wakes up), followed by a virtual barre class with the team at Psycle London – where that barre burn is just so addictive. Kirsty loves to stock up on new activewear; because, let's face it, you can never have too many pairs of sculpting leggings. She's always keen to try/endure the latest workouts to come to London. Kirsty also enjoys rustling up nutritious family meals and indulging in her newfound hobby: flower pressing.