Game of Thrones star reveals 120lb weight loss - here's how he did it
Hafthor Björnsson has shared details of the diet that helped transform his physique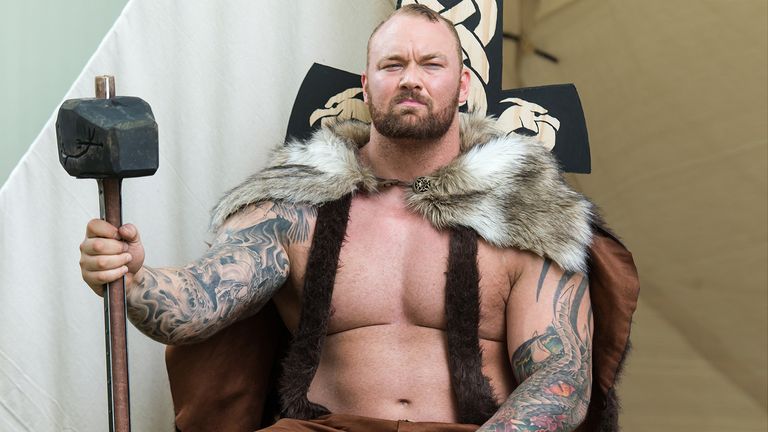 (Image credit: Getty Images)
If you watched Hafthor Björnsson play Gregor Clegane - AKA 'The Mountain' - in Game of Thrones, then you may have found yourself questioning whether the muscle-bound actor was actually that size in real life.
Incredibly, the answer is yes - or at least it used to be.
Off-screen the former World's Strongest Man has recently made a remarkable transformation to a much leaner physique, losing a massive 120 pounds in the space of 18 months.
He's been showing off the results on his Instagram account of late, much to the awe of his 3.6 million followers.
In an interview with Insider, the actor revealed that his weight loss was motivated by his pivot from the big-screen to the boxing ring, and saw him switching from a diet of 10,000 calories daily to a menu of five protein-packed meals a day.
With all the boxing training that Björnsson is undertaking right now he doesn't have time to over complicate his diet. He just aims to keep his meals 'clean', and revealed he eats the same five meals a day. They include:
Two scrambled eggs, 200g of chicken and a portion of yoghurt with 40g of oatmeal and 50g of blueberries.
230g of beef tenderloin served with 140g of white rice and 100g of greens such as green beans, spinach or zucchini.
230g chicken, 200g boiled potato (sweet or white will do) and 100g of greens.
230g of salmon, 100g of white rice again with 100g of spinach.
Skyr yoghurt with 30g of peanut butter and whey protein.
A high protein diet isn't just for those who want to look swole, but has been proven to help with fat loss among adults.
If you read Björnsson's daily diet below and can't imagine packing in that much protein, don't be put off. Another way to up your protein intake is with a supplementary powder, with many options out there such as the best protein powder for weight loss.
In another interview with Muscle and Health, the muscle machine confessed that maintaining his strongman figure was so demanding that he would fall asleep at the table.
He said, "No one feels great at 205kgs! It doesn't matter if you're strong or whatever. Just being heavy takes a lot of energy out of you."
At that time, his diet included a lot of high-fat foods such as fatty cuts of steak in order to cram in as many calories as possible.
Whilst it may sound like to stuff of food dreams to some, a diet high in red meat not only increases health risks such as heart disease, cancer, diabetes, and premature death but can also be a barrier to weight loss. If you do enjoy red meat in your diet, you might consider using one of the best health grills to drain out excess fat during cooking.
Jessica is Staff Writer at Fit&Well. Her career in journalism began in local news and she holds a Masters in journalism. Jessica has previously written for Runners World, penning news and features on fitness, sportswear and nutrition. She is a keen runner and is currently sweating her way through a 10k training plan. Jessica also enjoys building on her strength in the gym and is a believer in health and wellness beginning in the kitchen - which she loves sharing with others on her healthy living-inspired Instagram account, @jessrunshere. Despite her love for nutritious cooking, she stands by the saying 'everything in moderation' and is eagerly conquering the London food and drink scene!