How your morning coffee can help you lose weight fast
It's true! Your daily cup o' joe can help bolster your efforts to lose weight fast, but only if it's drunk a certain way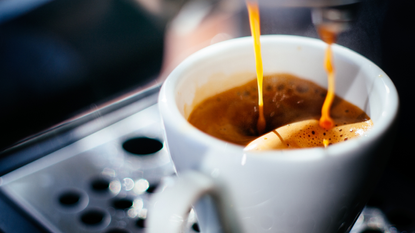 (Image credit: Getty)
Coffee. The world is obsessed with it, and with good reason: it wakes us up in the morning, whether you're an espresso or a latte person, and it gives us a place to meet up thanks to coffee shops on every city corner. However, did you know your favourite beverage can help you lose weight fast?
A study conducted by researchers at the University of Nottingham found coffee has effect on "brown fat" functions, an important part of the human body which plays a key role in how quickly we can burn calories as energy.
The researchers found coffee can stimulate brown fat activity, which helps the body lose weight.
Professor Michael Symonds, lead author of the study, said: "Increasing brown fat activity improves blood sugar control as well as improving blood lipid levels and the extra calories burnt help with weight loss.
"However, until now, no one has found an acceptable way to stimulate its activity in humans."
The researchers aren't sure whether it's the caffeine in coffee or some other ingredient, but it means coffee could be used as part of a clinical weight management regime, and your cup o' joe can help you lose weight on your own. However, a sugary coffee-shop beverage loaded with syrup could do more harm than good.
Just make sure you drink it after breakfast to get the full effects. Another study, conducted by researchers at the University of Bath found coffee before breakfast actually lowered our body's blood sugar control, meaning more of our breakfast gets stored as fat instead of being burned as energy.
Drinking coffee after a bad night's sleep might perk you up a bit, but it can compound issues by causing your body to dump loads of sugar into your bloodstream as you eat.
Lead researcher, Harry Smith from the Department for Health at Bath, said: "Individuals should try to balance the potential stimulating benefits of caffeinated coffee in the morning with the potential for higher blood glucose levels and it may be better to consume coffee following breakfast rather than before."
Save your coffee until after breakfast, when your favourite beverage is able to maximise your blood sugar control, boost your metabolism and help you lose weight. Finally, a perfect way to justify visiting your favourite coffee shop.
Liked this?
Matt Evans is an experienced health and fitness journalist and is currently Fitness and Wellbeing Editor at TechRadar, covering all things exercise and nutrition on Fit&Well's tech-focused sister site. Matt originally discovered exercise through martial arts: he holds a black belt in Karate and remains a keen runner, gym-goer, and infrequent yogi. His top fitness tip? Stretch.