Is this the best face mask ever? LG PuriCare is a rechargeable, air-purifying eco-mask
LG's new PuriCare Wearable Air Purifier face mask attempts to add new technology to masks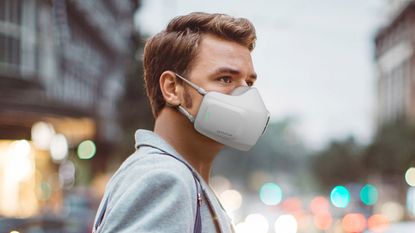 (Image credit: LG)
Face masks are becoming increasingly accepted as part of our daily lives. We're seeing masks in supermarkets, coffee shops, malls, gyms and plenty of other indoor environments as businesses open again after COVID-19.
Science has looked at the most effective kinds of face mask – for example, a study of 14 different kinds of mask found which were the best at preventing the spread of COVID-19. However, it also looked at face coverings like bandanas and scarves, which don't just do a bad job at preventing the spread of COVID: they actively encourage it.
Other solutions produced by sports companies, such as Under Armour and ASICS, use technical, breathable fabrics in construction. However, we could soon all be wearing hi-tech masks with in-built air purifiers, according to the latest designs from electronics manufacturer LG.
LG has produced a new mask entitled PuriCare Wearable Air Purifier. Designed to be worn just like a regular mask, PuriCare is said to "resolve the dilemma of homemade masks being of inconsistent quality and disposable masks being in short supply".
Designed based on extensive facial shape analysis, LG's PuriCare mask is designed fits snugly on the user's face to minimise air leakage around the nose and chin. The design also makes it possible to wear the unit comfortably for hours on end, with the battery running for up the eight hours in "low" mode and two hours on "high".
It's built with two H13 HEPA filters, the same ones used in the company's home air purifiers, dual fans, and a respiratory sensor. The sensor detects the 'cycle' and 'volume' of the wearer's breath and adjusts the fan speed accordingly. The whole smart mask system allows the user to take in "clean, filtered air".
The addition of a rechargeable air purifier on a reusable mask will go a long way to solving many people's complaints about breathing in and out while wearing a mask. Every component of LG PuriCare Wearable – from the filters to the ear straps – is replaceable and recyclable, and the attached case comes with a UV light to kill off harmful germs that might be lingering on the mask.
But the question is, does the filtration reduce the wearer's risk of contracting coronavirus? On that, we're a little muddier. No science has been released by LG claiming it does. However, in an age in which we should all be wearing face coverings in indoor public spaces, it certainly looks to be on eof the most comfortable and hygienic mask solutions out there.
The mask is set to be exhibited digitally during IFA 2020, after which it will be on sale in "select markets". A worldwide rollout can't be too far away.
With more and more companies offering their own reusable mask solutions, expect LG to release future, more refined iterations later down the line.
Liked this?
Matt Evans is an experienced health and fitness journalist and is currently Fitness and Wellbeing Editor at TechRadar, covering all things exercise and nutrition on Fit&Well's tech-focused sister site. Matt originally discovered exercise through martial arts: he holds a black belt in Karate and remains a keen runner, gym-goer, and infrequent yogi. His top fitness tip? Stretch.