Coronavirus vaccine: The COVID-19 vaccine will be available soon in the UK!
The UK has announced Pfizer's coronavirus vaccine will be available soon. Here's all the details on the race to beat COVID-19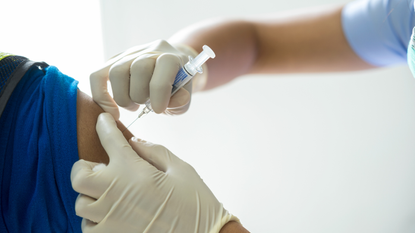 (Image credit: Getty Images)
Get the Fit&Well Newsletter
Start your week with achievable workout ideas, health tips and wellbeing advice in your inbox.
Thank you for signing up to Fit And Well. You will receive a verification email shortly.
There was a problem. Please refresh the page and try again.
The coronavirus vaccine is almost here. The UK has become the first country in the world to approve a vaccine made by American pharmaceutical firms Pfizer and BioNTech. It's due to arrive in UK hospitals next week, at which point a rollout can begin.
This is not the only vaccine on the horizon: recent news shows that a vaccine from Oxford University and AstraZeneca has reached 90% success rate, and another vaccine from American company Moderna is ready to ship. In many countries, the vaccine could be available in a few weeks.
Attempts to rebuff the virus' advances have proven difficult so far. Many countries are battening down the hatches as the cases creep up again and the "second wave" of cases hits the world. Only a vaccine can really bring us back from the brink.
But there's lots of questions around the vaccine. How does it work? Is it 100% effective? When will it be commercially available? Are there any risks? We've compiled all the available information below. This page will be continually updated with new info, so keep checking back for more on the vaccine as it happens
Coronavirus vaccine: The Pfizer/BioNTech COVID-19 vaccine, explained
This coronavirus vaccine is one of several being produced worldwide, but the only one approved by a country ready to go. It's said the vaccine can prevent 95% of coronavirus cases.
As reported by The Guardian, a UK Department of Health and Social Care spokesman said on 2 December: "The government has today accepted the recommendation from the MHRA to approve Pfizer/BioNTech's Covid-19 vaccine for use.
"This follows months of rigorous clinical trials and a thorough analysis of the data by experts at the MHRA who have concluded that the vaccine has met its strict standards of safety, quality and effectiveness."
Health secretary Matt Hancock said: "From early next week we will start the programme of vaccinating people against Covid-19 here in this country. The MHRA have approved it as clinically safe and we have a vaccine, so it's very good news."
Coronavirus vaccine: How was it developed?
The coronavirus vaccine by American pharmaceutical firms Pfizer and BioNTech is a kind of messenger RNA (mRNA) vaccine, according to reporting by ITV.
mRNAs use the virus's genetic code to tell your cells to create "antigens", which are recognised by the immune system and prepare it to fight the real coronavirus. The Pfizer vaccine has been tested on over 40,000 people with no safety concerns. It's reached the safety milestone required by both the UK government and the US Food and Drug Administration.
Another vaccine, a joint venture between scientists at Oxford University and pharmaceutical firm AstraZeneca, was said to be engineered from a virus which causes the common cold in chimpanzees. The Oxford/Astrazeneca vaccine has found a 90% success rate.
American pharmaceutical giant Moderna has also developed its own vaccine, which is said to be ready to ship around the world.
The Moderna vaccine (mRNA-1273) was tested in three successively large cohorts of people in several different age cohorts. It met its goal in "Phase three" of its study, with a vaccine efficacy of 94.5%. The EU has secured 160 million doses of Moderna's COVID-19 vaccine, according to Reuters.
Other large-scale trials are being conducted in Brazil and South Africa, designed to cover the bases of all different ages, genders and ethnicity to ensure the vaccine works for all. Around 30,000 volunteers have been tested for the Moderna vaccine.
Russia is also playing its part, with Moscow's Gamaleya Institute readying a vaccine for large-scale use after less than two months of testing. How valid these reports are remains to be seen, as some official statements from Russia to the international community have been debunked in recent years.
However, Russian Prime Minister Vladimir Putin has reportedly allowed his daughter to be one of the first to take the vaccine. On November 2, The Guardian reported Argentina is expecting 10 million doses of Russia's new vaccine to be delivered.
Elsewhere, the Chinese government is already treating key workers with an experimental Sars-Cov-2 vaccine, in one of the first moves to do so outside clinical trails.
Coronavirus vaccine: Who's first in line?
In the UK, distribution will be slow, at first. The UK has already ordered 40 million doses of the jab, enough to vaccinate 20 million people, but allocations are expected to be prioritised for the at-risk categories: the elderly, the immunocompromised and key workers like doctors and nurses on the front lines.
If you're young and fit, you could be waiting a lot longer for a shot, even when it does become more widely available, according to a report by City AM.
Speaking to a virtual conference on 21 July, the UK Government's deputy chief medical officer, Professor Jonathan Van-Tam, said:
"We may end up in the first instance with a vaccine that is most appropriately targeted and which has a label that restricts its use to a certain population.
"As we know with this disease, the likelihood of death changes markedly with age. And so the risk benefit for a vaccine is likely to be very different by age. We'll deal with a very large amount of the population who have the mortality loaded against them at the moment."
It's likely the over-50s and those already suffering from conditions that drastically lower the effectiveness of the immune system will be the first in line for the vaccine. The general population will have to wait until the shot is more widely available.
Coronavirus vaccine: How safe is it?
The short answer? Very. As mentioned above, the Pfizer vaccine has been tested on over 40,000 people with no safety concerns, and large number of trials conducted across multiple pharmaceutical companies ensures safety for starters.
The vaccine information has been published and checked by other scientists prior to release. If the data is wrong or harmful in any way, it is extremely likely to be caught before general release.
As mentioned in this BBC article, approval will only be given for a vaccine if government regulators are happy it's both safe and effective. This means the vaccine has also been cross-checked by government experts, in addition to scientists working for firms and universities independent of governments.
However, the vaccine is less popular than many have hoped. According to a study by King's College, only 53% of Britons would willingly take the vaccine. In the US, the origin of a growing anti-vaccination movement, the situation is even more divisive. Communities and individual states remain divided on the effectiveness of masks, let alone a vaccine.
Coronavirus vaccine: When can I get one?
Unless you're a key worker or elderly person in the US or UK, don't expect a vaccine until 2021. Although the UK government has pre-ordered 40 million doses of the vaccine, each person requires two jabs, which means another 92 million doses will be needed to vaccinate the entire UK population.
Although America is expecting doses of the Pfizer and Moderna vaccine to roll out across all 50 states, a plan for distribution is still in flux - there's a lot of red tape to go, and a complicated government transition as a result of the election isn't helping matters.
Until the vaccine is readily available, it's masks on, sanitising regularly and adhering to strict social distancing policies, we're afraid!
Liked this?
Get the Fit&Well Newsletter
Start your week with achievable workout ideas, health tips and wellbeing advice in your inbox.
Matt Evans is an experienced health and fitness journalist and is currently Fitness and Wellbeing Editor at TechRadar, covering all things exercise and nutrition on Fit&Well's tech-focused sister site. Matt originally discovered exercise through martial arts: he holds a black belt in Karate and remains a keen runner, gym-goer, and infrequent yogi. His top fitness tip? Stretch.