It only takes 10 minutes to boost your mobility and strengthen your whole body—here's how
This wall Pilates session helps ease you into the practice, strengthens your core, and boosts your wellbeing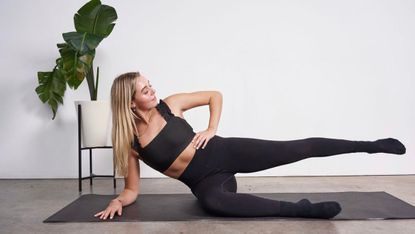 (Image credit: Callie Jardine)
If you're bored of burpees and squats leave you sore, Pilates could be a great way to mix up your home workouts and have fun with your training; just ask certified instructor Callie Jardine.
"I used to be a competitive figure skater and discovered low-impact workouts like Pilates when my chronic tendinitis [when a tendon swells, often causing joint pain] was preventing me from my usual gym workouts.
"Pilates allowed me to continue getting stronger, even with injuries, and helps millions of people around the world do the same. All of the exercises are gentle on your muscles and help with balance, control and flexibility while strengthening your entire body."
Jardine has designed a 10-minute beginner-friendly Pilates session to help anyone try this accessible type of exercise. The only equipment you'll need? A wall (although a yoga mat can be useful for providing some extra cushioning and grip).
Jardine talks you through the full session in the video below, providing handy verbal cues to help you nail down your breathing and technique. This'll help you get the most from your training and help avoid injury.
Watch Callie Jardine's wall Pilates workout for beginners
"This wall Pilates workout is a great full-body, low-impact workout that helps with stability, balance, strength and control," says Jardine.
"I love using the wall in Pilates workouts because it provides additional resistance. You can push harder into the wall with your feet to dig deeper into the working part of your body. Also, the elevation is incredible for increasing circulation, improving digestion, and reducing muscular cramps."
If you're new to Pilates, she recommends "working with your body, not against it", taking things slowly and focusing on your form to minimize the chance of injury.
"Take breaks as needed and don't beat yourself up if it feels unnatural or hard at first! We all start off as beginners," Jardine says. This is part of developing the mind-muscle connection, increasing your awareness of your body.
It's a similar technique you'd use if you wanted to learn how to meditate, although a guided meditation is a less physical practice, as you sit still and focus on your breath to increase your awareness.
If you enjoyed this session and want to try another workout from Callie Jardine, why not give this 10-minute mood-boosting routine a go as well? The benefit of both sessions is they're short, so you can do them even when you're tight on time.
Or, if you're keen to learn more about Pilates, our Pilates for beginners plan will introduce you to some of the key moves, build strength and improve your flexibility over the course of four weeks.
Harry Bullmore is a Fitness Writer for Fit&Well and its sister site Coach, covering accessible home workouts, strength training session, and yoga routines. He joined the team from Hearst, where he reviewed products for Men's Health, Women's Health, and Runner's World. He is passionate about the physical and mental benefits of exercise, and splits his time between weightlifting, CrossFit, and gymnastics, which he does to build strength, boost his wellbeing, and have fun.
Harry is a NCTJ-qualified journalist, and has written for Vice, Learning Disability Today, and The Argus, where he was a crime, politics, and sports reporter for several UK regional and national newspapers.