Develop core strength and full-body muscle with this seven-move workout
Whether you're at home or at the gym, you just need to pick up a pair of light dumbbells and get to work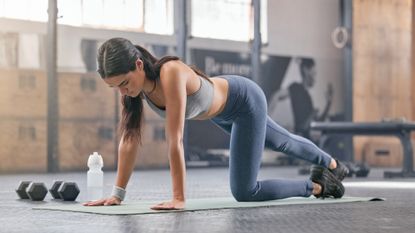 (Image credit: Getty)
Home workouts can become a bit repetitive after a while. HIIT sessions filled with sit-ups, press-ups and squats are fine for a short sweat, but if you're regularly exercising sans gym they can quickly grow tiresome.
We're here to tell you that your home workout routine needn't grow stale. With the help of a couple of dumbbells and an imaginative instructor, a whole world of challenging exercises and fun workout styles awaits you (if you're in the market for a new set of weights, we highly recommend checking out our selection of the best adjustable dumbbells (opens in new tab)).
Take this barre workout from Britany Williams (opens in new tab). It incorporates resistance movements, Pilates-style exercises, and even ballet-inspired positional strength work to challenge muscles all over your body.
And best of all? There's not a sit-up in sight, with Williams instead opting for more interesting movements that will keep your mind and muscles engaged, ensuring you don't fall victim to mid-workout boredom.
Watch Williams' exercise demonstrations below to learn about each of the exercises you'll be doing in this workout. If you've not tried some of them before, practice each one until you feel comfortable with the technique. Then you're ready to give this session a go.
Watch Britany Williams' full-body workout
The workout is a circuit of seven exercises. In a video posted on Instagram, Williams challenges her followers to perform each exercise for 30 seconds on each side of your body then move on to the next one, resting as little as possible between sets.
After you've completed all seven exercises, take a break for two minutes then get back to work with the first movement: the lying figure-four push-up. The workout is finished when you've completed three full rounds of the seven-move circuit.
Barre is an exercise style that combines elements of yoga, Pilates and ballet to build strength and flexibility. It's also designed to be low-impact, going easier on your joints than explosive movements often found in high-intensity workouts.
This makes it a good choice if you've previously struggled with injuries in areas like your knees, hips and elbows. However, if you think the movements in this workout look too challenging, you can try these anti-aging yoga moves (opens in new tab) or our Pilates for beginners (opens in new tab) plan as alternative ways to build full-body strength.
Like with this routine, you don't need much equipment if you want to get started with yoga or Pilates. Most of the time, all you need is a quiet space where you can practice, although it can help to roll out one of the best yoga mats (opens in new tab) for some underfoot support and a more comfortable session.
Harry Bullmore is a fitness writer covering everything from reviews to features for LiveScience, T3, TechRadar, Fit&Well and more. So, whether you're looking for a new fitness tracker or wondering how to shave seconds off your 5K PB, chances are he's written something to help you improve your training.
When not writing, he's most likely to be found experimenting with a wide variety of training methods in his home gym or trying to exhaust his ever-energetic puppy.
Prior to joining Future, Harry wrote health and fitness product reviews for publications including Men's Health, Women's Health and Runner's World. Before this, he spent three years as a news reporter with work in more than 70 national and regional newspapers.