Joined the gym this January? Here's how to avoid the most common gym injuries
If you have just joined the gym or are making a return in 2022, take note of how best to avoid injuring yourself in a workout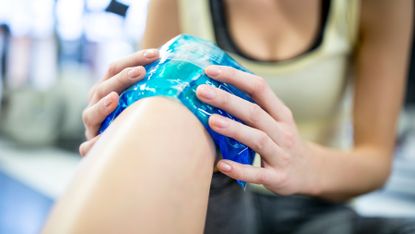 (Image credit: Getty)
Inevitably, people can experience an injury at the gym but like with every other sport, there is always a risk of injury. This certainly shouldn't put you off any New Year fitness goals. It just helps to be aware of how injury can happen and how best to prevent this from happening at the gym.
Despite the fact that home workouts, like the best workouts for abs or best glute exercises, excelled in popularity during the pandemic, more and more people are preferring a hybrid setup. One that combines going to the gym some days and working out from home other days.
The physical and mental benefits that can result from the gym can be massive and if you want to experience this with minimal obstacles then avoiding injury is a good place to start.
The Compensation Experts carried out a study to identify the most common gym injuries and found that the knees are the area of the body most susceptible to discomfort.
Out of the 1,000 gym members surveyed for this research, 17.3% reported post-gym pain located in the knee. This was followed by shoulders (11.5%), then ankles (9.3%).
The survey also revealed the equipment that poses the bigger risk of injury are weights (25.4%), treadmill (25.0%), and exercise bike (17.05%). This was due to people not being fully prepared for weight load or intensity.
You might have built your own home gym recently with similar items such as a set of best adjustable dumbbells, a best treadmill or one of the best exercise bikes and hate the idea of putting yourself at risk of injury.
However, it isn't all negative. Senior Private Physiotherapist at Vita Health Group, Ann Kuan, has offered her top tips on injury prevention at the gym and on easing yourself into fitness in 2022.
PHYSIOTHERAPIST'S TOP TIPS ON PREVENTING INJURY AT THE GYM
Commit to a warm-up - It is key that you complete a range of dynamic stretches to wake up the muscle groups you will be working out. A cool-down is just as important and can be aided with the best foam roller for relieving any tensions.
Progress at a steady pace - No matter how fast you want to achieve your fitness or body goals, you should try and raise the frequency and intensity of your workouts at a steady pace. Kuan said don't be afraid to drop back down.
Rank your pain level and modify - Always take a minute to ask yourself how bad an ache or pain feels and consider stopping your workout or exercise you are on. This can stop a small injury from becoming a bigger problem.
Avoid sitting for hours on end - Even the fittest of the fittest person can experience back pain or injury. It is often brought on by too much sitting around for long periods of time. You can avoid being overly sedentary throughout the day by walking instead of driving to places (like the gym) or by taking lots of mini breaks to move around if you sit at a desk all day.
Get the Fit&Well Newsletter
Start your week with achievable workout ideas, health tips and wellbeing advice in your inbox.
Jessica is an experienced fitness writer with a passion for running. Her career in journalism began in local news and she holds a Masters in journalism. Jessica has previously written for Runners World, penning news and features on fitness, sportswear and nutrition.
When she isn't writing up news and features for Fit&Well covering topics ranging from muscle building, to yoga, to female health and so on, she will be outdoors somewhere, testing out the latest fitness equipment and accessories to help others find top products for their own fitness journeys. Her testing pairs up nicely with her love for running. She recently branched out to running 10Ks and is trying to improve her time before moving on to larger races. Jessica also enjoys building on her strength in the gym and is a believer in health and wellness beginning in the kitchen. She shares all of this on her running Instagram account @jessrunshere which she uses for accountability and for connecting with like-minded fitness lovers.