Mental health first aid kit ideas to boost your wellbeing
Our experts reveal seven mental health first aid kit items to improve your mental wellbeing and boost calm and clarity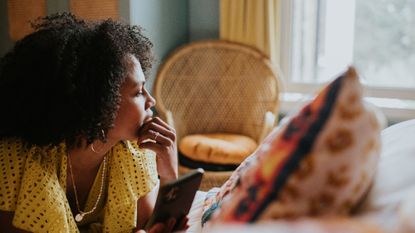 (Image credit: Getty Images)
A mental health first aid kit could help you administer self-help when life gets overwhelming.
After all, the advice is clear when you strain your lower back in the gym or hurt your knee during a run, but what to do when you're feeling low, burned out, or exhausted?
Prioritizing your physical health through exercise is crucial for boosting many health markers, but safeguarding your emotional and mental wellbeing should be too.
We spoke with several experts to create a robust mental health first aid kit you can access anywhere, anytime, just like these low-cost self-care ideas you can use to boost your mood.
What do you need for your mental health first aid kit?
We spoke to Dr. Rachel Ward, a GP for the UK's National Health Service (NHS) and mental health first aid trainer and positive psychology consultant Charlotte Wiseman, for a mental health first aid kit they both recommend.
Rather than a collection of physical items, Ward and Wiseman have put together seven techniques to help improve your emotional wellbeing and boost low mood during times of stress, uncertainty, and anxiety.
Dr. Rachel Ward is a general practitioner (GP) for the NHS and a regular contributor to the BBC's health programming, with appearances on BBC Breakfast and a regular health-focused phone-in on BBC Radio Oxford and BBC Radio Berkshire.
Charlotte Wiseman is a qualified mental health first aid trainer and positive psychologist and leadership consultant. Charlotte holds an MSc in Applied Positive Psychology and Coaching Psychology and is a member of the British Psychological Society.
1. Identify the signs
Dr. Rachel Ward says, "like everything in health, prevention is always better than cure, and the same goes for mental health. Knowing your feelings and identifying when your mental wellbeing isn't where it should be, allows you to put steps in place to gain control before you enter a negative spiral."
Dr. Ward identifies signs like poor sleep, a reduced concentration at work, or feeling overwhelmed by day-to-day tasks, but these are different for everyone. When you recognize the triggers, it's a nudge to crank up your self-care routine. Wiseman uses the "container" analogy.
"Stresses and challenges flow in and out of the container (you) all the time, but sometimes your container becomes full and begins to overflow," she says. "Notice when yours is overflowing and take proactive action by learning positive and helpful coping strategies."
Conscious and creative thinking could help by asking 'what can I control, and what can't I control?' Use your energy to focus on solving the problems you can control rather than those outside of it could help.
2. Invest in yourself
According to Dr. Ward, allocating time for yourself is considered self-care. Easier said than done, right? Busy diaries send mental wellbeing to the bottom of the list, but scheduling in you-time is a brilliant way of reducing overwhelm and anxiety.
"When you are feeling overwhelmed or anxious, this can feel even more difficult to do," she says. "But by scheduling regular self-care, you're much more likely to do it than waiting for free time."
"Whether it means signing up for a regular exercise session, spending time with friends, or doing an activity that stimulates your mind, it will improve your mental wellbeing and efficiency and concentration at other times."
Mental health first aider Charlotte Wiseman agrees, calling it "happy hour" and adding, "It's important to book activities that will help you be your best. All of these personal investments enable you to do the other bits well."
"By setting time aside, work responsibilities could be planned around it, and these "happy hours" will become habits. They should be non-negotiable!"
3. Find routine that works for you
Granted, this one may sound obvious, but routine helps the body to function better. Dr. Ward recommends prioritizing sleep, which comes from setting a regular schedule.
"Our brains love predictability, including a day-night pattern," she advises. "If you have difficulty with sleep, read up about sleep hygiene and how you could make simple but effective changes to improve it."
Not sure how to fix your sleep cycle? Wiseman adds, "try going to sleep and waking up at a similar time every day, even when you're not working. Aim for 7-9 hours every night. I recommended screen-free time around an hour before sleep, which could help you unwind and relax before bed."
If you work from home, keep your laptop in a different room, change clothes, shower, or move location after work. Wiseman calls this a "fake commute," which could help signal the workday is over and prioritizes unwinding.
4. Focus on your diet
"Recognize when you might turn to unhealthy eating or drinking habits and choose healthier options at these times, advises Dr. Ward. "It'll smooth out the highs and lows of emotions."
She advocates a balanced diet with plenty of fruit and vegetables and non-processed foods to improve energy levels and lift your mood. For example, having a daily breakfast will help stabilize blood sugar levels, decreasing stress levels.
Wiseman advises learning how to eat healthily on a budget and choosing nutritious food to help you stay fuller for longer and keep energy levels consistent rather than creating spikes and crashes. Some people find that changing their diet makes a difference, too.
If you're considering switching to a plant-based diet, check out how to go vegan before you make any changes. To make these new habits stick, it's best to take a gradual approach or experiment and make switches for your favorite foods.
5. Find your favorite techniques
There are plenty of different techniques that promote wellbeing and help to boost your mood; the important thing is to find the one you enjoy the most, whether that's a mindfulness app or an online CBT workbook.
"[Not every technique will] suit everyone, but there is something out there for everyone. Understanding what makes you feel better when your mental health starts to slip means you can go straight to it when you recognize the signs," says Dr. Ward.
Spending time outdoors can be a great way to boost your mood, especially if you use mindful walking techniques. It's like learning how to meditate, but with a focus on the present moment while you're walking around rather than sitting still.
And many people find it helpful to learn how to increase mental strength. This is another name for resilience, or the ability to handle difficult situations. The practice is similar to meditation, developing a connection between your mind and body through your breath.
6. Get outdoors
According to Wiseman, any movement you enjoy that gets your muscles and joints moving, and energy flowing is a safe bet, helping you maintain your energy levels throughout the day. The therapeutic benefits of exercise are well-documented, but what are the benefits of outdoor exercise?
"It's so simple, but this is what I turn to if stress rises or my mood slips," Dr. Ward reveals. "Whether in the middle of winter or peak summer, getting outdoors gives you headspace, boosts your endorphins, tops up your vitamin D levels (also responsible for mood), and helps put things in perspective."
We love this 20-minute walking workout, but listening to an upbeat music playlist or walking silently are brilliant ways to reduce stress. Dr. Ward adds, "you don't need to be running marathons — a walk around your local park will still give you some connection to nature and the benefits of getting outdoors, improving your wellbeing."
The benefits of walking reach far beyond building stronger bones and burning calories. A 2018 study published in Health Promotion Perspectives has shown that an outdoor stroll could make you happier, and a brief but brisk 10-minute walk could do the trick, with endorphin release promoting calm and positivity.
7. The to-do list trick
According to Wiseman, many of us fall into the trap of being over-optimistic about what we can get done in a day and berate ourselves if we fall short. "We work late to try and get it done, exhaust ourselves, stop making time for other activities, and a downward spiral begins."
Remove something off your to-do list daily to help you prioritize and be realistic with goal setting. At the end of the day, write a "done list." Wiseman says this helps reaffirm your achievements — almost like a journal.
Or, if you prefer to offload your thoughts, writing a journal every day can have similar benefits. It helps you reflect on what's happened and how you felt about it, and writing (whether you do this on your phone, computer, or in a physical book) can be a relaxing, mindful experience.
---
Where to get help
Wiseman reminds everyone that being kind to yourself on the mental wellbeing journey is crucial. "What works today might not work tomorrow. It's a process of learning and experimenting," she says.
These techniques can help boost your wellbeing, but they might not always do the trick. If you need immediate help, you can use the US government's dedicated mental health website.
Alternatively, you can find advice from the mental health charity Mind or talk to the Samaritans by email at jo@samaritans.org or call 116 123 for free in the UK.
Sam Hopes is a level III fitness trainer, level II reiki practitioner, and resident fitness writer at Future PLC, the publisher of Fit&Well. Having trained to work with both the mind and body, Sam is a big advocate of using mindfulness techniques in sport and aims to bring mental wellbeing to the forefront of fitness. She's also passionate about the fundamentals of training and how we can build more sustainable training methods. You'll find her writing about the importance of habit-building, nutrition, sleep, recovery, and workouts.