Older women can maintain strength by eating prunes, study finds
Postmenopausal women can make aging easier by eating prunes - here's how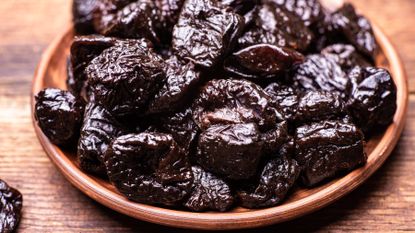 (Image credit: Getty)
It's no secret that strength declines with age. Unfortunately for women, going through menopause heightens this. But aging isn't as bleak as it sounds, and it can actually be slowed a lot with small interventions. For example, recent research has found eating prunes can benefit the bone health of postmenopausal women.
There are heaps of helpful supplements to help ease the process of aging. The best supplements for menopause can help increase the body's intake of certain nutrients that may be lower due to age-related processes. Both men and women can benefit from other supplements such as a best fish oil supplement, which helps to increase levels of omega-3 in the body (the benefits of fish oil includes boosting heart, brain health, and much more).
However, a recent study, published in the Advances in Nutrition journal, focuses on the health benefits of prunes in older women. It was found eating this dried fruit can actually help thwart or delay bone loss in postmenopausal women.
The scientists involved in this study highlighted how prevalent bone loss can be for older women. Osteoporosis is the official medical term for when bones become weak or brittle and though it can happen at any age, the researchers claim that it affects over 200 million women worldwide, and is most prevalent among women over the age of 50.
Although there are medications out there to help with osteoporosis such as taking one of the best supplement for joints, the researchers want to discover lasting ways to relieve bone loss symptoms with nutrition.
Enter the prune. This fruit contains many nutritional benefits including important minerals, vitamin K, phenolic compounds, and dietary fiber. These might sound rather complex but they essentially can help to resist things like inflammation and oxidative stress (this occurs when free radicals and antioxidants are unbalanced in the body) - both of which propel bone loss.
One reason prunes may be so beneficial for preventing bone loss has to do with the change they can trigger in the gut microbiome, which lowers inflammation in the colon (part of the large intestine). The scientists believe this could help to lower levels of inflammation as well as markers of oxidative stress.
Prunes do have a reputation for their laxative effect so do bear your bowels in mind if you're considering adding prunes to your daily diet. As with most things, it's good to take them in moderation. Around 50-100 grams of prunes were consumed in most of the studies referred to in the research review, and 100 grams equals around 10 prunes. This is a good benchmark for how much to consume.
Aside from eating prunes, other dietary efforts and exercise you engage with will also help your bones respond well to aging. Ensuring you consume good levels of protein every day is essential for bone growth and repair, try out one of our best protein powders for women if you don't feel you eat enough through whole foods.
In terms of exercise, you can go down many routes for developing muscle mass and strength. Resistance training with a set of best adjustable dumbbells from our roundup is a good way to increase strength and muscle power. Or do you prefer low-impact exercise and want to get stronger? Here's why yoga may be the best option.
Jessica is an experienced fitness writer with a passion for running. Her career in journalism began in local news and she holds a Masters in journalism. Jessica has previously written for Runners World, penning news and features on fitness, sportswear and nutrition.
When she isn't writing up news and features for Fit&Well covering topics ranging from muscle building, to yoga, to female health and so on, she will be outdoors somewhere, testing out the latest fitness equipment and accessories to help others find top products for their own fitness journeys. Her testing pairs up nicely with her love for running. She recently branched out to running 10Ks and is trying to improve her time before moving on to larger races. Jessica also enjoys building on her strength in the gym and is a believer in health and wellness beginning in the kitchen. She shares all of this on her running Instagram account @jessrunshere which she uses for accountability and for connecting with like-minded fitness lovers.