Best fish oil supplements: Top up your omega-3 for better heart & joint health
How to select the best fish oil supplements on the market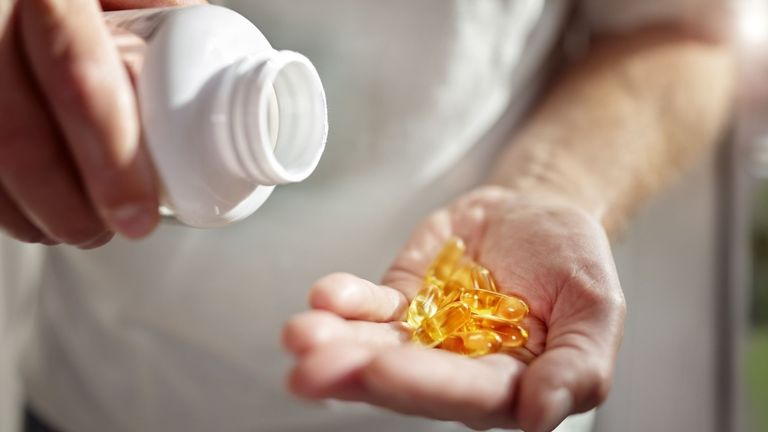 (Image credit: Canva Photos )
By Claire Fox
When it comes to the best fish oil supplements, the huge variety of options on the market can be utterly baffling. If a wealth of information has left you confused, cut through the noise with our detailed, straightforward guide.
The benefits of fish oil supplements lie in their omega-3 content, which takes two forms: EPA (eicosapetaenoic acid) and DHA (docosahexaenoic acid). Studies have shown that these fatty acids can play an active role in maintaining good cardiovascular health by lowering the factors that contribute to heart disease - the number one cause of death worldwide, according to the World Health Organisation (WHO). These include cholesterol, blood pressure and triglycerides, a type of blood fat.
It's also been shown that the best fish oil supplements may provide a host of other benefits, including acting as an anti-inflammatory - helpful for treating conditions such as rheumatoid arthritis - and supporting normal brain function.
A diet rich in omega-3 foods is usually the best source of fish oil - indeed, WHO recommends that people eat 1-2 portions of oily fish a week. However, for those who don't or can't meet this quota, fish oil supplements can help.
For most people Wiley's Finest Wild Alaskan Easy Swallow Minis are the best fish oil supplements - offering smaller-sized 'soft gel' capsules with a good level of important EPA and DHA omega-3 fats. If you're working to a tight budget, Nature's Best High Strength Pure Fish Oil offers a good, cheaper alternative, whilst for vegans, Vegetology's Opti 3 - made from algae - offers a higher level of EPA and DHA omega-3s than many of the high street fish oil brands.
How to choose the best fish oil supplements for you
Studies have shown that the omega-3 fatty acids EPA and DHA have wide ranging health benefits from our hearts to our brains. "Wherever possible we need to get these important nutrients from real food but for those people who can't, or don't eat fish and seafood - at least twice a week or more - supplements can help to increase their levels of important EPA and DHA," says Dr Alex Richardson, senior research fellow at Oxford University and the founder of Food and Behaviour Research.
All omega-3 fats are not the same though, so don't be fooled by claims such as 'ultra strength omega-3'. "It can, and often does, include short chain ALA omega-3s which our bodies can't convert well," says Dr Richardson. "Look instead for the EPA and DHA content which, together, should be at least 500mg." Vegan supplements can achieve those levels by using micro-algae instead of fish oil.
Dr Richardson also advises that most people don't need fish oil supplements that contain omega-6, although there are a few notable exceptions with regards to Evening Primrose Oil. "Most of our diets are already flooded with omega-6 when compared to omega-3, and that imbalance increases the risks for a wide range of physical and mental health disorders, including heart disease, stroke and 'brain disorders' such as anxiety and depression."
What strength fish oil supplement do you need?
Dr Richardson recommends:
For general health and cardiovascular benefits: A combined EPA and DHA of 500mg
For anti-inflammatory benefits: 1000-2000mg combined EPA and DHA.
For depression or other significant mood or behavior issues: 1000mg to 2000mg of EPA (as research indicates that EPA, rather than DHA, is most important for potential antidepressant effects).
For pregnant and breastfeeding women: Look for an oil that is DHA rich and ensure the product states that is safe for pregnancy.
Lastly - but importantly - check with your doctor before taking any supplements, especially if you suffer from any health conditions or are on any medication.
The best fish oil supplements you can buy right now
Wiley's Finest Wild Alaskan Fish Oil Easy Swallow Minis
The best fish oil supplements for most people
Specifications
CombinedEPA/DHA: 630mg
EPA : 360mg
DHA: 270mg
Form: Easy-swallow soft gel capsules
Reasons to buy
+Smaller, softer capsules +MSC certified for sustainability
Reasons to avoid
-Expensive in the smaller pack size -Lower dose than some other offerings
If you don't fancy swallowing liquid fish oils - or a torpedo-sized capsule - these 'easy swallow' soft gels are hard to beat. With a combined EPA and DHA of 630mg they provide a high quality, high purity option. A family owned business, Wiley's Finest states it uses only wild, sustainable Alaskan fish and their fishing methods are certified by the Marine Stewardship Council for sustainability. The capsules are packaged in glass bottles and the fish oil leftovers get used for biodiesel. Keep the cost down by buying the bigger pack size.
Bare Biology Lion Heart Omega 3 Fish Oil Liquid
The best premium fish oil supplement
Specifications
Combined EPA/DHA: 3000mg
EPA: 2000mg
DHA: 1000mg
Form: Liquid
Reasons to buy
+Very high EPA and DHA +Certified for sustainable fishing
Reasons to avoid
-Expensive over time-High dose - check with your doctor before taking
The high price tag of this oil almost kept it off the list but, with a combined EPA and DHA of 3000mg, it provides one of the highest levels available. And if the memory of being force fed tablespoons of cod liver oil is stuck in your mind - think again. This mega dose is available in just a 5ml teaspoon-sized serving and is pleasantly flavoured with Sicilian lemon oil. You could also choose to take a 2.5ml dose (which would still provide 1500mg of EPA/DHA) to make your bottle last two months instead of one.
With its high level of EPA (2000mg in a 5ml dose) it's a good option for those who want to trial fish oil (on the advice of their doctor) as an additional treatment for depression or other significant mood issues (see Dr Richardson's guide above).
The oil is certified as being free from heavy metals and 'other nasties' and comes in a recyclable glass bottle. Bare Biology claims to use only small, wild fish such as sardines, anchovy and mackerel and is certified by both Friends of the Sea and IFFO-RS.
Nature's Best High Strength Pure Fish Oil
The best budget fish oil supplement
Specifications
Combined EPA/DHA: 600mg
EPA: 360mg
DHA: 240mg
Form: Capsules
Reasons to buy
+Good level of EPA/DHA+Dose can be affordably doubled
Reasons to avoid
-Plastic packaging-Large capsules
Nature's Best is a great option for anyone struggling to afford the price tag of the more premium fish oils. Based in the UK, they manage to offer a combined EPA/DHA of 600mg for a fraction of the cost of many other high-quality oils. The capsules do come in a plastic pot and there is less information available about their processes than some of the more expensive brands - but the pot does carry certification from Friends of the Sea for sustainability. The affordable price tag means the dose can be doubled or trebled - as long as you're ok swallowing large capsules. All in all it's a welcome low cost option.
Vegetology Opti 3 Omega 3 EPA & DHA
The best fish oil supplement alternative for vegans
Specifications
Combined EPA/DHA: 800mg
EPA: 300mg
DHA: 500mg
Form: Capsules
Reasons to buy
+Great vegan source of EPA & DHA +Can be used in pregnancy
Reasons to avoid
-More expensive than some fish oils-Quite large capsules to swallow
Unlike many vegan omega 3 supplements, Opti 3 contains a very good level of EPA and DHA fatty acids. In fact, these supplements offer a higher level of EPA/DHA than most of the average fish oils you will find on the high street. They also contain a small, plant-based dose of vitamin D3 - another nutrient which is tricky for vegans to get through their diet. Sourced from algae instead of fish, these capsules are certified by the Vegan Society and Vegetarian Society and are safe for use in pregnancy. You can pierce the capsule and pour the liquid onto a spoon (or into food or drink) but it's a bit fiddly. If you hate capsules, a liquid version is available too.
Efamol Kids Omega 3 DHA drops
The best fish oil supplement for children
Specifications
Combined EPA/DHA: 470mg
EPA: 70mg
DHA: 400mg
Form: Drops
Reasons to buy
+Easy to administer...or hide!+Rich in DHA to support brain function
Reasons to avoid
-Capsules might work better for older children-Low in EPA
Capsules can be hard for young children to swallow and they can be fussy about liquids. So Efamol's DHA drops are perfect for fussy kids, squeezing just under 500mg of EPA and DHA into a single 1ml drop of oil. Suitable for babies from six months, it comes with a natural lemon flavour and no fishy taste. It's also sugar free. One downside is it's relatively low dose of EPA. Efamol focuses instead on brain-boosting DHA. It wins its place on the list as a basic, affordable and - most of all - practical option for young children.
Claire is a freelance health, fitness and food journalist who has written for titles including Women's Health, Top Santé, Woman & Home, Feel Good You, the Telegraph and Independent. She has a passion for being outside in nature and you're more likely to find her walking in the woods or joining an exercise class in the park than pounding a treadmill in the gym. She also has a special interest in nutrition and healthy eating, having previously been Food Editor at Top Santé magazine. Her top fitness tip? Take your exercise outdoors wherever possible. It has been shown to boost the physical as well as mental health benefits of a workout and also to make you more likely to want to do it again!