Best fish oil supplements 2022: Omega-3 supplements to keep your health strong
Our round-up of the best fish oil supplements will help to keep your mind sharp and body healthy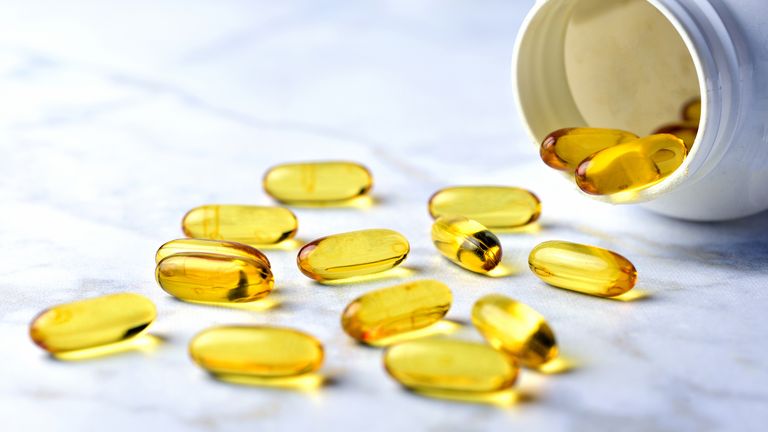 (Image credit: Getty images)
Contributions from
The best fish oil supplements are an easy and effective way to keep your fitness on track, with proven health benefits. Great for boosting your mind and protecting your heart, taking a fish oil supplement is an actionable step to improve your health, and is an excellent alternative if you're struggling to get enough omega-3 through your diet.
Fish oil supplements can play a crucial role in boosting the levels of omega-3 fatty acids within your body, which may help to lower blood pressure and aid cardiovascular health. There can be a noticeable positive effect on your hair and skin too from taking these supplements, which are available in soft capsules or in liquids, the latter of which can be added to foods for easy digestion.
Taking fish oil supplements is helpful for those who might want to secure extra health benefits as they get older, alongside the best supplements for joints, to ward off nasty aches and pains. If you're looking for a supplement to add to your daily routine, then we have all of the options you need to know about, including liquid and capsule supplements.
Our top choice, Nordic Naturals Ultimate Omega softgels come from sustainable sources too, making them an excellent option for those wanting to make more mindful purchases. Plus, if you're looking to top up your levels of omega-3 but you can't eat fish, we have a great vegan option. Simply keep reading to find the best fish oil supplements that can really make a difference to your daily health routine.
What strength should your best fish oil supplements be?
There are three forms of omega-3; APA, commonly found in plants, DHA, and EPA. Generally, EPA and DHA are sourced from oily fish, and the balance between EPA and DHA varies across the best fish oil supplements.
So, what strength omega-3 supplement should you choose? According to Dr Alex Richardson, senior research fellow at Oxford University and the founder of Food and Behaviour Research:
For general and heart health: 500mg combined total
For anti-inflammatory benefits: 1000-2000mg combined total
For depression and mental health: 1000-2000mg of EPA
For pregnancy and breastfeeding: High DPA content and labelled safe for pregnancy
Before you go to increase your Omega-3 levels, it's crucial to check with your doctor or healthcare provider in advance of taking any supplements. This is particularly important if you suffer from any health conditions or are on any medication.
The best fish oil supplements you can buy right now
1. Nordic Naturals Ultimate Omega
The best fish oil supplement for most people
Specifications
Combined EPA/DHA: 1100mg
EPA : 650mg
DHA: 450mg
Form: Soft gel capsules
Reasons to buy
+
Good dose and ratio of EPA/ DHA
+
Certified for sustainability by Friends of the Sea
Reasons to avoid
-
Plastic packaging
-
Big capsules, may be hard to swallow
Nordic Naturals specializes in high quality, safe and ethically sourced fish oils. The company is based in the US, but it was set up by a Norwegian, Joar Opheim, whose mission was to improve the quality of omega-3 supplements available on the American market. There are many good reasons why one of their flagship products, Ultimate Omega softgel capsules, landed on the top of our podium.
With a combined EPA and DHA of 1100mg they provide a high quality, high purity option for a fairly affordable price. Ultimate Omega fish oils are free from artificial additives and promise a pleasant lemon flavor with no fishy aftertaste. What's more, Nordic Naturals states it uses only wild-caught sardines and anchovies and their fishing methods are certified by Friends of the Sea for sustainability.
What the users say:
User reviews of Nordic Naturals Ultimate Omega are extremely positive, with the product scoring an impressive 4.8 out of five stars on Amazon. Positive reviews cite that, compared to cheaper fish oils, the product doesn't upset their stomach, and they appreciate the high quality of the production methods. Negative reviews, whilst few and far between, tend to focus on the capsules' unpleasant smell, which is surprising given the company promises a lemon flavor.
The size of the capsules may not be to everyone's liking, but that's not necessarily a problem - this supplement is also available in liquid form that boasts a combined EPA and DHA of 2470mg. If you're looking for a quality fish oil supplement, and don't mind paying a little bit more, this is a great option.
---
2. Nature Made Omega-3 From Fish Oil Minis
The best budget fish oil supplement
Specifications
Combined EPA/DHA: 930mg
EPA: 680mg
DHA: 250mg
Form: Soft gel capsules
Reasons to buy
+
Free from PCBs, dioxins, mercury, furans and other harmful compounds
+
Small, easy-swallow soft gel capsules
Reasons to avoid
-
Plastic packaging
-
No sustainability certification
Nature Made is a great option for anyone struggling to afford the price tag of the more premium fish oils, or who may be taking several different supplements. One of the most popular supplement companies in the US, it manages to offer a combined EPA/DHA of 930mg for a fraction of the cost of many other high-quality oils.
Nature Made claims to use wild ocean fish rather than resort to industrial farming practices, but no sustainability certificates could be found on their website. Their fish oils undergo a purification process to remove harmful compounds (such as PCBs, dioxins, mercury and furans) and ensure that there's no fishy odor or aftertaste. Fish oil minis are also free of artificial colourings, allergens and additives. The soft gel capsules are only one inch long, making them a perfect choice for people who have issues with swallowing regular-sized supplements, or who don't want the unpleasant fishy taste that can come with larger tablets.
What the users say:
The product scores an impressive 4.1 out of five stars on Amazon. Most users like the fact that the small capsule doesn't cause any 'fishy burps' or unpleasant aftertaste. However, many feel that the name 'mini' is misleading, with the capsule only being a fraction smaller than some other pills.
The affordable price tag means the dose can be doubled or even trebled if needed. All in all, Nature Made Omega-3++ From Fish Oil Minis is a welcome low cost option.
---
3. HUM Nutrition OMG! Omega the Great Supplement
The best premium fish oil supplement
Specifications
Combined EPA/DHA: 1200mg
EPA: 800mg
DHA: 400mg
Form: Soft gel capsules
Reasons to buy
+
High EPA and DHA content
+
Certified for sustainable fishing
Reasons to avoid
-
Plastic packaging
-
Expensive over time
HUM Nutrition prides itself on providing premium supplements that routinely undergo strict clinical testing procedures before being released onto the market. Its OMG! Omega The Great product is no exception. Boasting a significant dose of 1200mg combined EPA/ DHA, it's one of the richest sources of high quality omega-3 fatty acids in the US. This supplement is enriched with vitamin E, which supports healthy and glowing skin, and comes with no artificial additives, GMOs or gluten.
What the users say:
According to user reviews, the OMG! Omega the Great does not have a fishy aftertaste and produces great short and long-term results. It scores 4.5 out of five stars on Amazon, with many users citing a boost in their mood and skin appearance. The downside is obviously the price, with some users having to switch to a more affordable product.
All HUM Nutrition products are made in facilities that are certified to follow Good Manufacturing Processes. In addition, their fish oils are extracted from sustainably sourced anchovies. The only two downsides to the OMG! Omega the Great supplement is its hefty price tag - almost $30 per bottle, which only lasts you 30 days - and plastic packaging.
---
4. Vegetology Opti 3 Omega 3 EPA & DHA
The best fish oil supplement alternative for vegans
Specifications
Combined EPA/DHA: 800mg
EPA: 300mg
DHA: 500mg
Form: Capsules
Reasons to buy
+
Great vegan source of EPA & DHA
+
Can be used in pregnancy
Reasons to avoid
-
More expensive than some fish oils
-
Quite large capsules to swallow
Unlike many vegan omega-3 supplements, Opti 3 contains a very good level of EPA and DHA fatty acids. In fact, these supplements offer a higher level of EPA/DHA than most of the average fish oils you will find on the high street. They also contain a small, plant-based dose of vitamin D3 - another nutrient which is tricky for vegans to get through their diet. However, bear in mind that the serving size is two capsules, not one, so the 60 capsule supply will actually only last you 30 days.
What the users say:
User reviews generally think this is a value-for-money vegan omega-3 supplement, as many algae-based omegas can be quite expensive. They also like the higher levels of DHA and EPA compared to other brands. Negative reviews are hard to find, but the few ones cite a slightly sea-like taste.
Sourced from algae instead of fish, these capsules are certified by the Vegan Society and Vegetarian Society and are safe for use in pregnancy. You can pierce the capsule and pour the liquid onto a spoon (or into food or drink) but it's a bit fiddly. If you hate capsules, a liquid version is available too.
---
5. Barlean's Omega Pals
The best fish oil supplement for children
Specifications
Combined EPA/DHA: 750mg
EPA: 455mg
DHA: 295mg
Form: Liquid
Reasons to buy
+
Four flavor options
+
High in EPA and DHA to support brain function
Reasons to avoid
-
Capsules might work better for older children
-
Plastic packaging
Omega-3 is a critical nutrient for children's developing brains, with studies finding that omega-3 supplementation can reduce behavioral problems. Further research also suggests omega-3 intake can support neurological conditions such as ADHD, dyslexia, dyspraxia and autism.
Children can find big capsules hard to swallow. They may also be extremely fussy about liquids. But don't worry. Barlean's Omega Pals are perfect for picky eaters, squeezing a dose of 750mg of EPA and DHA into a single serving of 1.5 teaspoons. With a creamy, smoothie-like texture and a choice of four sweet flavors (lemonade, tangerine, straw-nana and citrus), it can easily convince even the most demanding taste buds. These fish oils can be eaten on their own, or easily mixed into yogurts, desserts and other meals.
What the users say:
User reviews for Barlean's Omega Pals are very positive, with the product scoring 4.9 out of five stars on iherb. Many parents note improvements in their child's behavior since taking the product, and all are very complimentary of the taste. They say the bottle is easy to store in the fridge too.
Suitable even for one year old toddlers, Barlean's fish oils do not contain any artificial additives, heavy metals, GMOs or allergens. The company follows strict NSF Good Manufacturing principles and every product they make is rigorously tested by third parties. Moreover, the single bottle contains nearly eight ounces of fish oils, making it a highly affordable choice. The downside? It comes in quite flimsy, plastic packaging that isn't recyclable.
How to choose the best fish oil supplements
While many of the best omega-3 supplements list the amounts of EPA and DHA, some manufacturers make claims that their products are 'ultra-strength' or offer superior forms of omega-3.
As Dr. Richardson notes, these marketing-led options often "include short-chain ALA omega-3s which our bodies can't convert well." Instead, she advises that you should be looking "for the EPA and DHA content [to] be at least 500mg."
Dr. Richardson also advises that you likely don't need supplements containing omega-6, as "most of our diets are already flooded with omega-6 when compared to omega-3."
She notes that this "imbalance increases the risks for a wide range of physical and mental health disorders, including heart disease, stroke and 'brain disorders' such as anxiety and depression."
As a result, it's crucial to keep your levels of omega-3 topped up with the best fish oil supplements. You don't need to avoid omega-6 completely, but try to get it from healthy omega-6 foods and steer away from processed foods.
Asides from strength, you'll want to consider the form of the fish oil supplement. Not everyone likes swallowing tablets, in which case you might prefer a liquid supplement or opt for a brand that offers miniature tablets or easy swallow pills. It's worth noting the recommended dose too, because whilst you may think that a supply will last a certain period of time, sometimes you need to take up to four capsules for one dose.
If you don't eat fish, you will also want to opt for a vegan omega-3 supplement made from algae. But bear in mind that these can sometimes be more expensive. If you do consume fish, it's worth noting what the product has been made from. The products in our guide are sourced from wild and sustainability-sourced fish, but this isn't consistent across all of the fish oil supplements on the market.
What is fish oil good for?
There are many benefits of fish oil, including protecting your heart, promoting good mental health, and supporting women through pregnancy. These health benefits are a result of the omega-3 content in fish oil.
We don't naturally produce this fatty acid, so it is essential that it comes from our diet. Research has found that insufficient levels of EPA and DHA, two forms of omega-3, can be as harmful as smoking when it comes to life expectancy for over-60s.
If you can't add oily fish (such as salmon, mackerel, anchovies, sardines or herring) into your diet, you need to look elsewhere for your recommended intake of omega-3. Whilst plant-based sources of omega-3 do exist, they tend to be higher in ALA omega-3. The body struggles to convert this to the DHA and EPA we need for brain and heart health. That's where the best fish oil supplements come in.
These products either come as capsules, tablets, or in oil form, so you have several ways to incorporate fish oil into your diet without having to sit down to a meal of oily fish twice a week.
Are fish oil and omega-3 the same?
Fish oil is a supplement derived from oily fish like salmon, sardines, and anchovies, and it contains omega-3, a fatty acid that plays several crucial functions in our bodies. We don't naturally produce omega-3, so we have to get it from our diet.
Typically, this means eating oily fish a few times per week, but that's not always possible. So, fish oil supplements are ideal for topping up your levels of omega-3. Interestingly, the fish used don't make omega-3 either, but get it through their food. This is why you can also buy vegan omega-3 supplements, because they are made from the algae that the fish eat.
There are three forms of omega-3; ALA, EPA, and DHA. While ALA is commonly found in plants, DHA and EPA come primarily from fish. So, to get your allowance, you either need to eat oily fish or take fish oil supplements regularly.
Claire is a freelance health, fitness and food journalist who has written for titles including Women's Health, Top Santé, Woman & Home, Feel Good You, the Telegraph and Independent. She has a passion for being outside in nature and you're more likely to find her walking in the woods or joining an exercise class in the park than pounding a treadmill in the gym. She also has a special interest in nutrition and healthy eating, having previously been Food Editor at Top Santé magazine. Her top fitness tip? Take your exercise outdoors wherever possible. It has been shown to boost the physical as well as mental health benefits of a workout and also to make you more likely to want to do it again!