Sculpt your core in just 15 minutes with this standing abs workout
This low-impact, equipment-free workout is perfect for beginners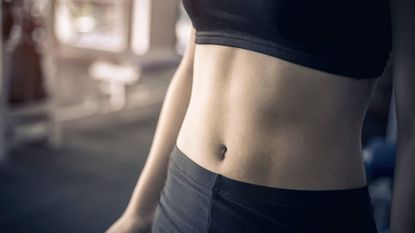 (Image credit: Future)
Sit-ups aren't the only move you can use for a scorching ab workout. If they hurt your back, or you just find them a bit boring, there are plenty of other effective options out there for a comprehensive core workout.
For example, you can try using one of the best ab rollers (opens in new tab) to build muscle in your midsection. Alternatively, this equipment-free session from workout instructor Maddie Lymburner (better known as MadFit (opens in new tab)) allows you to strengthen your abs and boost your cardio, all from a more spine-friendly standing position.
In a video on her YouTube channel, Lymburner first leads viewers through a quick warm-up consisting of step-jacks and cross-punches. Then she dives into the main workout itself.
In this, each exercise is paired with another one to form a "superset". This means they are performed back-to-back with no rest in-between, helping raise your heart rate and boost your metabolism.
You are challenged to complete thirty seconds of both exercises, resulting in one minute of work in total, followed by 15 seconds of rest to catch your breath. Repeat each superset twice before moving on to the next one.
If this sounds confusing, never fear. Just follow Lymburner's lead in the follow-along video below, making sure to listen to her form cues to ensure good technique.
Watch MadFit's standing abs workout
This workout takes just 15 minutes and (like other HIIT workouts for fat loss (opens in new tab)) combines a circuit of exercises with low rest times to create a session that gets you breathing hard, boosting your cardiovascular fitness and burning plenty of calories.
However, it differs from similar sessions in that it's designed with beginners in mind, using only low-impact movements and no equipment. This decreases the chance of injury and means it can be performed at home or at the gym.
If you're looking for more advanced exercises to sculpt your core, try our collection of the best abs workouts (opens in new tab) . Or, if you're new to strength training, our beginner's gym workout to build muscle (opens in new tab) can help you find your feet in the gym.
However, if muscle gain is your goal, performing the right exercises is only part of the battle. You will also have to eat enough protein to support your training, as this macronutrient is essential when building muscle.
This should mostly be done through eating high-protein foods (find out about the different types of protein (opens in new tab) here) but if you struggle to hit your daily quota you can up your intake with the best protein powders for weight loss (opens in new tab).
Harry Bullmore is a fitness writer covering everything from reviews to features for LiveScience, T3, TechRadar, Fit&Well and more. So, whether you're looking for a new fitness tracker or wondering how to shave seconds off your 5K PB, chances are he's written something to help you improve your training.
When not writing, he's most likely to be found experimenting with a wide variety of training methods in his home gym or trying to exhaust his ever-energetic puppy.
Prior to joining Future, Harry wrote health and fitness product reviews for publications including Men's Health, Women's Health and Runner's World. Before this, he spent three years as a news reporter with work in more than 70 national and regional newspapers.