Best ab roller: these affordable ab wheels can help switch up your workout
With the best ab roller, adding variation to your core exercises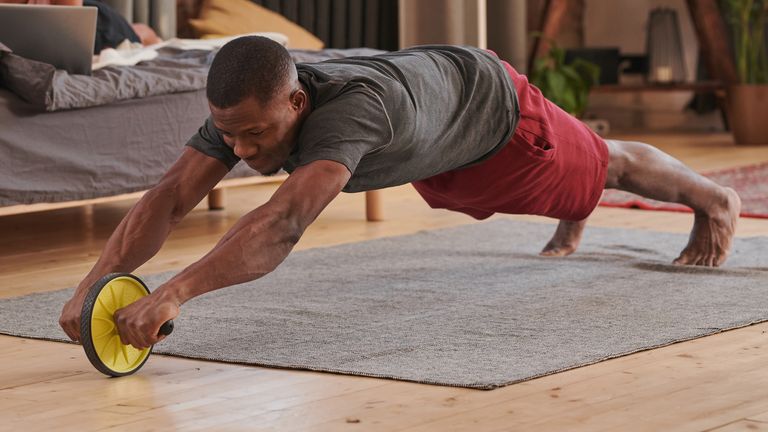 (Image credit: Getty)
Contributions from
Pick up the best ab roller and mix up your core workouts. An inexpensive and yet extremely effective tool, ab wheels can spark that all-important enthusiasm for your next workout, and help your ab routine feel more aerial rather than stilted.
If you're just getting started with working out, then ab-specific routines are those which target your rectus abdominis muscles (the long, flat muscles at the front of your abdomen), and classically include moves like sit-ups or crunches. If you've been training your abs for a while, then the best ab roller will be just the thing you need to breathe new life into your routine. To use your ab wheel, you simply hold the handles on either side of the wheel as you roll into a plank position on the floor. It's definitely more challenging than it sounds but is great for working on your core.
Mastering control over your core muscles is a valuable skill that can transfer into so many other workouts, including yoga and Pilates.. By integrating your ab roller into the best ab workouts, you're sure to see an improvement in your strength, so keep reading to find the perfect new accessory for you.
These are all of the ab rollers you should pay attention to, at a range of prices and with features that can take your workouts to the next level.
The best ab rollers you can buy right now
1. Vinsguir Ab Roller
The best ab roller for most people
Specifications
Weight: 1.4lbs / 0.6kg
Size: 8cm wide
Self-assembly required: Yes
Reasons to buy
+
Comes with a knee pad
+
Ultra wide wheel for balance and stability
+
Highly rated in user reviews
Reasons to avoid
-
Perhaps too small for some
With an ultra-wide wheel design, the Vinsguir Ab Roller offers great stability and won't swing from side to side as you roll. It's a great option for all, but particularly beginners.
However, if you do want to roll off to the left or right as a means of working other muscles in the torso, it's smooth and seamless to do so, and allows you to work your core without wobbling around.
It's also incredibly comfortable to use, as the rubber cotton handle is easy to grip without digging into your hands. For even more comfort, this ab roller comes with a small knee pad, so you can work your core wherever you are - even on the hardest of surfaces.
This is one sturdy ab wheel too, with the stainless steel shaft able to take a weight of 440lbs or 200kg. All this in a lightweight design.
2. Lifeline Power Wheel
The best premium ab roller
Specifications
Weight: 3lbs / 1.4kg
Size: 17.5 x 16.7 x 3.8in
Self-assembley required: Yes
Reasons to buy
+
Can be used with your feet as well as hands
+
Comfortable and smooth
+
Works the entire body
Reasons to avoid
-
Large size - harder for storage and travel
-
More intimidating piece of kit
This is seriously heavy duty, but boy does it offer a good workout - and not just for your core and back. The handles of this abs roller also come with foot stirrups so lower body movements such as plank pike, leg curls and leg lifts can be performed, with the hands placed on the ground instead of holding the roller. And that's just the start.
The wheel is solid - it's practically a tyre - and the handles are comfortable. It wheel engages hips, lower back, obliques and abdominals to help boost strength and posture. The handles are covered in soft foam so you're not left with callus hands and the wheel is super smooth.
The design of this model is said to make it a little tougher than conventional ab rollers, so it might be better suited to the more advanced. Plus the price is fairly hefty, so it's not something you'd want to buy and subsequently chuck in a cupboard and forget about.
In saying all this, the size of this roller makes it a little tricky to transport so it's definitely a piece of kit for the home workout fan. But don't let that deter you - it's so good that a study by the University of California Berkeley (opens in new tab) dubbed it 'The Best Core Trainer In The World'.
3. Phoenix Fitness Ab Roller
The best budget ab roller
Specifications
Weight: 1.4lbs / 640g
Size: 11.81 x 11.81 x 15.75in
Self-assembly required: Yes
Reasons to buy
+
Easy and quick to assemble
+
Value for money
+
More than one colour available
Reasons to avoid
-
Feels cheap but cheerful
If you are looking for an ab roller that does what it says on the tin and doesn't break the bank then this will sort you out.
Sturdy and durable, it's made with a steel bar that means it can support a maximum weight of 441lbs (200kg) - making it suitable for most users.
Comfort has also been considered in the design of this model - the foam grip handles are there to prevent any rubbing or discomfort when gripping the roller.
It also comes with a detailed picture guide on correct exercise form, a helpful bonus for anyone who hasn't used an ab roller before.
Even better, the ab roller is only made up of five parts, making it super easy to assemble and also dismantle - ideal if you plan on taking it to the gym. It also comes in a choice of two color: the grey and orange pictured above, or else a super bright all-over pink.
4. Bafada Ab Roller Wheel Kit
The best multi-purpose ab roller
Specifications
Weight: 5.5lb/2.5kg
Size: 9.9 x 9.9 x 6.2in
Self-assembley required: Yes
Reasons to buy
+
Lots of stability so great for beginners
+
Comes with various other home gym equipment
+
User manual with clear instructions
Reasons to avoid
-
Do you really need all the included items?
-
Ab roller's unusual shape isn't ideal for transporting
When an ab roller isn't enough on its own, why not go all out and get a set that also contains push up bars, a jump rope, resistance bands, a hand grip and core sliders. All these pieces of equipment don't just help work your core, they also offer a good cardio workout as well as strength for the upper body. The set comes with a knee pad for added comfort.
This ab roller in particular is different to many we've seen as instead of the usual two one or two wheels, it has four wheels. This allows for even more stability, which makes it a great option for beginners. It also means you are likely to be less prone to injury when using this ab roller.
Also in this set are two ab roller pull ropes. These can be attached with one end around the feet, the other end around the wheel, as a means to make the ab roll a little easier to control.
5. H&S Ab Abdominal Exercise Roller
The best abs roller for smooth gliding
Specifications
Weight: 12oz / 340g
Size: 11.8 x 5.9 x 5.9in
Self-assembley required: Yes
Reasons to buy
+
Easy-glide dual wheel
+
Comes with a knee pad
If there was a close runner up to the 'the best ab roller for most people', then this would be it.
This dual wheel ab roller allows for greater control, making it perfect for beginners. Having two wheels means balance is a little easier, as single wheels can turn in various directions; good for working out your core, not so good if you're a novice at the move itself and are struggling to simply go in one straight line.
It's easy to put together and dismantle, plus the foam knee pad really helps avoid sore knees on hard floors. The ab roll move itself can mean that knees are pressed into the floor and the wheel glides better on hard surfaces, so joints can end up a little sore.
The handles are really comfortable to hold. What's more, it's incredibly durable and the wheels are solid.
How to choose the best ab roller for you
There are a few key things to consider when choosing the best ab roller for your needs.
Size and portability
You might find yourself working out from both home and at the gym right now. Therefore selecting a smaller model may suit you better, allowing for easy transportation - this is why we include size in our product reviews.
That said, ab rollers are fairly awkward in shape, so if you plan on carrying it in your gym bag, look out for one that you can easily dismantle. Look out for weight as well, some can be deceptively heavy.
Comfort
Working out with an ab roller can be hard going on your hands. If you find your hands blister easily then selecting an ab roller with padded handles would be best advised.
Our top pick also comes with a knee pad, which is definitely a bonus if you will be using your ab roller on a hard surface.
Price
Prices for basic ab rollers begin around the $12 / £9 mark and can go up to $60/ £45 or above for more advanced models or those with added extras..
Barker says, "For the most part, the majority of ab rollers out there are the same and you don't need to spend a lot of money on one," he adds, "You are just looking for it to last."
Naturally, cheaper options may prove to be less durable than others, but this will also depend on how much you intend to use your ab roller.
Do ab rollers work?
Before you invest in a new piece of exercise equipment, you probably want to know whether it will actually give you the results you're looking for. The short answer is, yes, ab rollers work. In fact, they are able to activate every muscle in the core, including the notoriously hard-to-reach lower abs. Of course, you'll need to put the work in to see and feel real changes.
A 2015 study (opens in new tab) found that using an ab roller led to "significant increases" in rectus abdominis muscle activity, plus, there was activation of the pectoral muscles when the angle of the arms extended past 150 degrees.
Another 2008 study (opens in new tab) showed that ab rollers created more abdominal muscle activity than exercises like crunches, leg thrusts, and side bridges.
In a study in the American Council on Exercise (opens in new tab), 30 healthy adults tried a variety of pieces of exercise equipment. The study found that the ab roller was more effective than traditional crunches, however, it was less effective than things like bicycle crunches or crunches on an exercise ball.
How to use an ab roller
Starting in an all-fours position on the floor, lift your hands off the ground and place them on the ab roller's handles.
Lift your feet away from the ground so that only your knees stay in contact with the floor.
Engage your core to prevent your back arching, arms, and glutes.
Roll the wheel away from you until your chest is parallel to the ground, leading with your core instead of your arms.
Reverse the roll to return to your starting position.
Lucy is a freelance journalist specializing in health, fitness and lifestyle. She was previously the Health and Fitness Editor across various women's magazines, including Woman&Home, Woman and Woman's Own as well as Editor of Feel Good You. She has also previously written for titles including Now, Look, Cosmopolitan, GQ, Red and The Sun.
She lives and breathes all things fitness; working out every morning with a mix of running, weights, boxing and long walks. Lucy is a Level 3 personal trainer and teaches classes at various London studios. Plus, she's pre- and post-natal trained and helps new mums get back into fitness after the birth of their baby. Lucy claims that good sleep, plenty of food and a healthy gut (seriously, it's an obsession) are the key to maintaining energy and exercising efficiently. Saying this, she's partial to many classes of champagne and tequila on the rocks whilst out with her friends.
With contributions from