We've tested the best ab rollers to build core strength without weights
We did 10 ab rollouts with each ab wheel to help you find a durable, budget-friendly option for your core workouts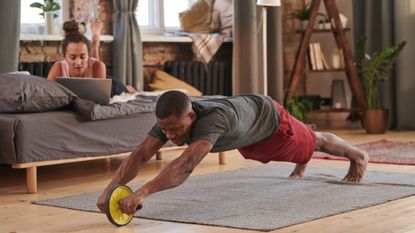 (Image credit: Getty Images)
Sit-ups and crunches are a great way to work your abs, but the best ab rollers are a great alternative for when you want to shake up your core workouts. These small wheels might not cost much, but they can make a big difference.
But many ab wheels look alike at first glance, so it can be hard to find a durable ab roller that's portable, easy to store away, and offers an effective grip. Fortunately, we've tested the best ab rollers to help you decide between them.
The testing process was consistent throughout — 10 ab rollouts on the same floor and mat. We paid close attention to how the materials felt, whether the handles were easy to hold, and if you can disassemble the wheel to take it out with you.
So, whether you're looking for a budget-friendly option for at-home ab workouts or something durable for traveling, we can help.
The best ab rollers you can buy right now
1. GoFit Super Ab Wheel
The best ab roller for most people
Specifications
Weight: 0.97lbs / 0.44kg
Size: 7 x 13 inches
Self-assembly required: Yes
Reasons to buy
+
Extra-wide wheel adds stability
+
Superior grip
+
Lightweight design
The GoFit Super Ab Wheel is super lightweight (0.97lb) yet sturdy and durable, constructed from two thick rubber tread wheels sandwiched on an axle and secured with non-slip grippy rubber handles.
The big sell is the 11-inch dual extra-wide tread wheels and ergonomic handles that maximize stability and traction and encourage a better range of motion from your shoulders. This ab wheel is perfect for beginners or anyone navigating wobbly shoulder joints or weaker cores.
It's compact and easy to use, ideal for slipping into your gym bag for on-the-move exercise enthusiasts. If you're advanced with ab rollouts, the wheel glides left and right to target your obliques for an injection of versatility. It's a great all-rounder sitting at a mid-range price point which we consider excellent value.
Our only complaint is that we found it picked up quite a few scuff marks during our testing, but these marks were all superficial and didn't affect the functionality of the wheel.
What the users say
Users rated the GoFit Super Ab Wheel 4.8 out of 5 stars on Amazon. Buyers loved the cushioned grippy handles and appreciated the wider wheel for extra balance. Negative reviews recommended adding washers to the axle to prevent the wheel from biting into the handles.
---
2. Vinsguir Ab Roller
The best budget ab roller
Specifications
Weight: 1.54lbs / 0.7kg
Size: 9.6 x 8.15 x 3.43 inches
Self-assembley required: Yes
Reasons to buy
+
Stability from a wider wheel
+
Comes with a foam mat
+
Premium feel
The Vinsguir Ab Roller adopts a traditional ab wheel design and elevates it using premium quality materials and a sleek all-black look. The stainless steel handle and grippy EVA rubber cotton handle covers feed into a chunky central wheel coated in TPR rubber, giving off the vibe that this ab wheel means business.
The extra-wide tread measures 3.2 inches and increases stability to prevent deviating off course – ideal for unsure beginners who might appreciate the extra support. We found that the rubber coating also assists the wheel in gliding across most surfaces, and the thoughtful addition of a small foam mat (included in your purchase) helps protect against sore knees.
Not only is this ab wheel durable (it holds up to 440lb in body weight), but it's still lightweight enough to travel well in gym bags, and is the ideal travel companion for mobile exercisers. The handles are narrow though, which places more pressure on the shoulders, so we recommend only buying this model if you know your shoulder strength is up to the task.
What the users say
The Vinsguir Ab Roller pulls in 4.3 out of 5 Amazon stars. Users loved how sturdy and inexpensive the ab wheel was, but some had trouble fitting the handle covers and noticed the mat wouldn't sit flat.
---
3. SKLZ Core Wheels Dynamic Core Strength Trainer
The best ab roller for upper body workouts
Specifications
Weight: 0.66lbs / 0.3kg
Size: 9.5 x 6 x 9.5 inches
Self-assembly required: No
Reasons to buy
+
Versatile
+
Lightweight and compact
+
Comfy foam handles
Reasons to avoid
-
Smaller wheels struggle on uneven ground
-
Rubber wheels pick up dust
Two rollers are better than one, right? The SKLZ Core Wheels model isn't cheap, but we reckon it's good value if you consider you're getting two for the price of one. The plush grooved foam handles house small rubber wheels on either end and although perfecting the art of two rollers would signal expertise, it really provides a wealth of options to suit all abilities.
Ab rollers take on many ingenious forms, but this unique design packs variety into your training and transforms a standalone core exercise into a full-on upper body workout, allowing you to get creative and experiment with dynamic planks, chest flyes, and more.
The subtly sticky rubber treads track well along surfaces (although we found during testing that they couldn't handle outdoor terrain very well) and the ergonomic handles support wrists, too. Two rollers mean you can also play with your hand placement to find a style that fits.
While they feel durable and hardy, SKLZ has kept these rollers lightweight to suit on-the-go workouts. We love any brand prepared to buck the trend, and these ab rollers dare to be different.
What the users say
4.6 out of 5 stars says it all. Amazon users loved the quality finish, lightweight design, and versatility of these ab rollers. Negative reviews were hard to find, but one user said they collect dust easily.
---
4. Perfect Fitness Ab Carver Pro
The best ab roller for beginners
Specifications
Weight: 4.5lb / 2kg
Size: 16.7 x 7.8 x 7.8 inches
Self-assembley required: Yes
Reasons to buy
+
Extra-wide tread
+
Includes knee pads
+
Internal mechanism to add resistance and assistance
Reasons to avoid
-
Heavy
-
Limited coil range
-
Expensive
The Perfect Fitness Ab Carver Pro is our top pick for beginners thanks to its internal assistance mechanism. It's heavy — the roller weighs 4.5lbs — so it's an unlikely candidate for lugging to your local gym, but if home workouts are more your style, this high-tech ab roller could be a perfect pairing.
It might look intimidating, but this model offers the most assistance of all the ab rollers we tested. The extra-wide and thick wheel secures with two curved ergonomic handles – Perfect Fitness says this increases arm engagement and improves grip.
The star of the show is the internal carbon steel spring coil wound into the wheel; it packs a punch by adding subtle resistance on the rollout, then softly assists the rollback – a highly desirable feature for those still honing their technique.
The multidirectional wheel effortlessly slices in all directions (including laterally) to deliver an efficient and effective core-crushing workout for all abilities, but tall users, and those hoping to take it for a spin outdoors, might be let down with this model. The coil limits how far you can roll out, and the chunky aesthetic is unlikely to travel well.
What the users say
Amazon buyers rated the Perfect Fitness Ab Carver Pro 4.5 stars out of five, with over 70% a five-star review. Users loved how sturdy the ab wheel feels and appreciated the assistance from the coil.
However, negative reviews said the coil was too short and felt the range was limited. Some also felt the assistance was too great to provide an adequate challenge.
---
5. Lifeline Power Wheel Ultimate Core Trainer
The best ab roller for advanced workouts
Specifications
Weight: 2.5lbs / 1.13kg
Dimension: 17 x 16.6 x 4.2 inches
Self assembly required: Yes
Reasons to buy
+
The wide handle supports the shoulders and rotator cuff
+
Wheel glides smoothly
+
Foot stirrups provide variety
Reasons to avoid
-
Unstable wheel is unsuitable for beginners
-
Large feet might not fit the stirrups
-
Tricky to assemble
The Lifeline Power Wheel Ultimate Core Trainer reinvents the (ab) wheel — literally. Wide, slightly padded handles slot into a large central wheel, and foot stirrups on either side increase versatility tenfold, allowing users to perform various exercises like pikes, crawls, leg curls, and more.
It's not the most portable model on the market — we carried it to a park for some outdoor testing, which was a bit of a challenge — but there's plenty to keep you entertained from the comfort of your home gym.
The comfy wide handles promote better spinal alignment and take some of the heat off of the shoulders, and the stirrups pump up versatility levels to allow you to explore a diverse range of exercise options.
The oversized grooved tread is more effective across uneven terrain than its more compact counterparts and encourages a greater range of motion than standard wheels.
The model sits within a premium price bracket, but you're effectively doubling the fun, and the innovative design encourages equally innovative ab work. It's a sound investment for advanced exercisers.
What the users say
This ab roller received 4.5 stars out of 5 on Amazon. Users loved how much progression the stirrups provided and said it was one of the most challenging ab wheels they had used because of the instability created by wider handles. Negative feedback warned beginners to look elsewhere.
---
How to choose the best ab rollers
Although many ab rollers or ab wheels look similar, there are still some differences to keep in mind before you buy. To get the most from your ab roller sessions, here are a few factors to consider.
Ability
Beginners and pros will look for different things from an ab wheel. Advanced buyers may favor a thinner tread wheel and narrower handles which require more strength and control from the core and shoulders to stay balanced. Extra features — like stirrups — will inject some further versatility to fuel your ab roller workout.
Beginners may prefer a wider wheel or features like assistance coils. These can be handy until you've nailed your technique and feel ready to progress. Wide wheels tend to maximize stability and traction and minimize injury risk.
Price
Prices can vary dramatically from around $10 to $70, so you should consider how you plan to use your roller. Pricier ab wheels might have you paying extra for features you don't need, but they tend to be more durable. Basic ab wheels are perfect for feisty finishers and traveling around with, but might not last as long.
FAQs
How to use an ab roller
There are a variety of different moves you can do if you learn how to use an ab roller to sculpt and strengthen your core, but most people's go-to is the ab wheel rollout:
Start on all fours, with your feet and knees on the ground and your hands on the handles of your ab roller, either side of the wheel.
Keeping your arms straight, roll the wheel out in front of you so your torso moves closer to the floor. Make sure your core stays tight throughout.
Just before your chest touches the floor, use your core to return the wheel to its starting position (again, keeping your arms straight throughout).
That's one repetitions. Aim for up to 10 repetitions.
Do ab rollers work?
Ab rollers primarily target the core muscles, but a study commissioned by the American Council on Exercise found that equivalent movements, such as a bicycle crunch, were slightly more effective at engaging the rectus abdominis and the obliques.
However, unlike other core exercises, ab rollers also call on muscles in your back, arms, chest and shoulders, providing a more thorough upper-body exercise session.
Having put top models to the test, we can personally vouch for this fact, with our writers finding their abs and stabilizing muscles felt well and truly worked out after each session.
Are ab rollers good for belly fat?
While ab rollers themselves can't take credit for reducing belly fat, they can help you to burn some energy, build your abs, and ultimately strengthen your core.
Danielle Wills, a coach at audio-led fitness app WithU, explains: "The good news is that an ab roller will challenge every muscle in your core — not just your front ab muscles, but even your lats, your glutes, and your arms. It's a full-body workout.
"In order to roll the wheel back and forth, you have to engage and brace your midsection, which will elevate your heart rate and challenge your core stability.
"And while no piece of equipment can spot reduce belly fat — an ab roller can be a great tool to help you work several muscle groups at the same time, which, when integrated into a healthy routine alongside quality nutrition and a proper training regime, will help your body see sustainable, long-lasting changes."
Danielle Wills is a movement coach and trainer for the workout app WithU. She is also an experienced yoga and reformer Pilates teacher, founder of a meditation guide, and outdoors adventurer.
Get the Fit&Well Newsletter
Start your week with achievable workout ideas, health tips and wellbeing advice in your inbox.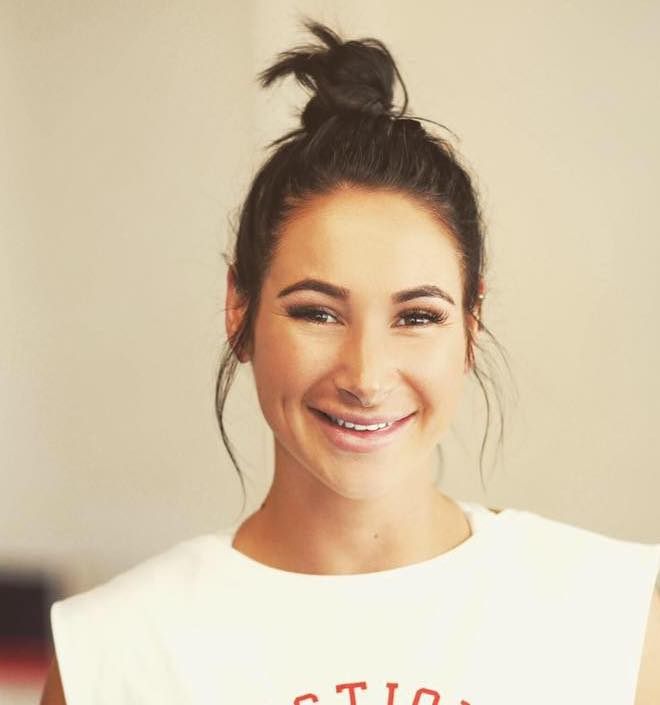 Sam Hopes is a level III fitness trainer, level II reiki practitioner, and resident fitness writer at Future PLC, the publisher of Fit&Well. Having trained to work with both the mind and body, Sam is a big advocate of using mindfulness techniques in sport and aims to bring mental wellbeing to the forefront of fitness. She's also passionate about the fundamentals of training and how we can build more sustainable training methods. You'll find her writing about the importance of habit-building, nutrition, sleep, recovery, and workouts.