Best ab rollers: These ab wheels are key to building a strong and toned core
The best ab rollers will help tone up and sculpt your mid-section, whilst also boosting strength and stability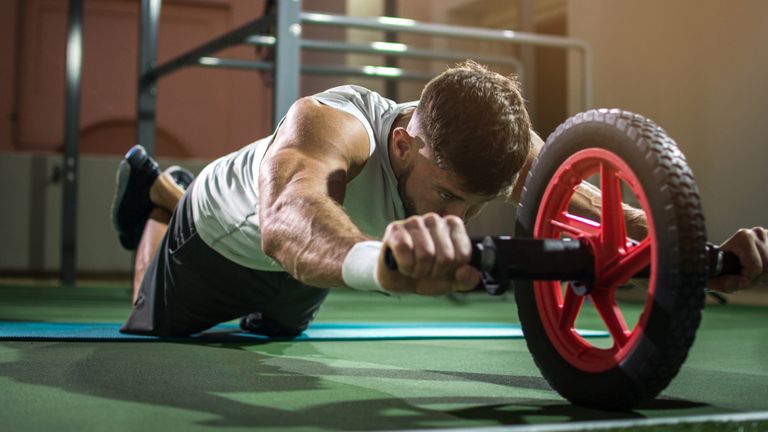 (Image credit: Getty Images)
By Lucy Gornall
Any avid fitness fan should have one of the best ab rollers in their workout arsenal. 
They don't look like they would do much, but anyone who's used one will know full well that looks can be deceiving. This mini but mighty beast engages multiple core muscles in one hit, whilst also strengthening the back and arms, making it one of the best workouts for abs.
'You need a strong core for stability,' says firefighter and personal trainer Darren Placid. 'Your core muscles play a huge role in your everyday activities, from getting out of bed, to walking down the street, to bending over to grab your purse, but, most importantly, they literally help you stay upright.'
The core is made up of several muscles. There's the transverse abdominus, found on either side of your belly button, the rectus abdominus (AKA your six-pack), internal and external obliques, which run ribs to pelvis, and the multifidus and erector spinae, which is found from the head to the pelvis.
The beauty of ab rollers is they hit these muscles in one smooth motion, as opposed to the classic sit-up, which tends to focus on your abs only. 
There are various abs rollers available, but my top pick for best ab roller is the adidas Ab Wheel. It's simple, lightweight and does exactly what's needed.
How to choose the best ab rollers for you
There are a few things to consider when buying your ab roller, but the main one is the size. Some abs rollers take up a lot of space and therefore might not be so practical to transport.
If you want to take your abs roller to the gym, or you plan on packing it in a suitcase on holiday, then it's a case of smaller the better. Plus, you'll want one that's easy to break down, otherwise it's an awkwardly shaped item to get in your bag.
Price is another factor. Unless your ab roller has additional uses (such as the multi-purpose or premium options below), you don't really want to be spending more than $25/£20.
You might also want to consider the comfort of your roller. Some come with padded handles, others have a smoother wheel or even a dual wheel, which makes the abs roll move itself a lot easier. The H&S Ab Abdominal Exercise Roller actually comes with a knee pad which is a blessing for protecting joints against hard floors.
How to use ab rollers
Get on all fours and place a hand on each handle, keeping shoulders directly above your hands. Keeping your back straight, abs engaged and knees on the ground, roll the ab roller forward, until your arms are straight out in front of you (hands still gripping the handles) and body horizontal to the floor.Then roll your way back up to all fours. 
Sound easy? It is not. But some abs rollers can make things a little easier if you're taking on our ab roller workout. Here's my PT-approved pick of the five best ab rollers to choose from…
The best ab rollers you can buy right now
adidas Ab Wheel
The best ab roller for most people
Specifications
Weight: 1.1lbs / 490g
Size: 11.5 x 7.1 x 7.1in
Self-assembly required: Yes
Reasons to buy
+Padded handles for comfort +Small and compact+Easy to assemble
Reasons to avoid
-Perhaps too small for some
This is a classic ab roller, which is designed to strengthen the core whilst also working the lower back, if used correctly. It does exactly what it says on the tin, making it suitable for pretty much everyone.
The padded handles make this a more comfortable roller, however if you struggle with roll-outs, you may prefer a larger abs roller such as the premium abs roller below.
The wheel itself is rubber, allowing for a slower, more controlled roll out. Plus it's fairly wide; this gives the use greater stability and there's less chance of wonky roll outs.
I found it very easy to put together and take apart, should you wish to throw it in your gym bag or take it away with you (yes, working out on holiday is completely acceptable).
When it comes to brands, you usually can't go wrong with Adidas, too - they're a safe bet for gym equipment. 
Lifeline Power Wheel
The best premium ab roller
Specifications
Weight: 3lbs / 1.4kg
Size: 17.5 x 16.7 x 3.8in
Self-assembley required: Yes
Reasons to buy
+Can be used with your feet as well as hands+Comfortable and smooth+Works the entire body
Reasons to avoid
-Large size - harder for storage and travel-More intimidating piece of kit
This is seriously heavy duty, but boy does it offer a good workout - and not just for your core and back. The handles of this abs roller also come with foot stirrups so lower body movements such as plank pike, leg curls and leg lifts can be performed, with the hands placed on the ground instead of holding the roller. And that's just the start. 
The wheel is solid - it's practically a tyre - and the handles are comfortable. It wheel engages hips, lower back, obliques and abdominals to help boost strength and posture. The handles are covered in soft foam so you're not left with callus hands and the wheel is super smooth. 
The design of this model is said to make it a little tougher than conventional ab rollers, so it might be better suited to the more advanced. Plus the price is fairly hefty, so it's not something you'd want to buy and subsequently chuck in a cupboard and forget about.
In saying all this, the size of this roller makes it a little tricky to transport so it's definitely a piece of kit for the home workout fan. But don't let that deter you - it's so good that a study by the University of California Berkeley dubbed it 'The Best Core Trainer In The World'. 
Opti Ab Wheel
The best budget ab roller
Specifications
Weight: 12.7oz / 360g
Size: 9.8 x 6.9 x 6.9in
Self-assembly required: Yes
Reasons to buy
+Durable+Super lightweight
Reasons to avoid
-Tough handles
For a no frills abs roller, this does the job. For the price, you can't really expect too much - it does what you need and that's pretty much it. 
You get what you pay for; there's no fancy rubber handles or dual wheels, but it's easy to put together and take apart, and the wheel is fairly durable. It's quite a slim wheel however, so if you aren't used to using an abs roller, you might find it a little trickier than some of the others as you can veer off in several directions!
This is a really lightweight ab roller, so naturally it's brilliant for packing up and taking to the gym or dismantling and packing into luggage. It's also fairly durable - you could throw it around a bit without fear of it getting ruined.It's plastic with no fancy bits so it's hard to break.
If you want a cheap and cheerful piece of workout equipment, this will do the trick.
Men's Health Ab, Core and Push Up Wheel
The best multi-purpose ab roller
Specifications
Weight: 2.2lbs / 1kg
Size: 6.7 x 7.5 x 6.5in
Self-assembley required: Yes
Reasons to buy
+Can be used for a multitude of exercises+Works the full body+Great to travel with
Reasons to avoid
-Comprised of two items – annoying to carry-Can feel complicated to use
Made up of two rollers, this option can be used to perform a number of exercises including the abs roll, push ups and plank, thus working several muscle groups.
All these moves can help tone not only your entire core, but also your chest, arms and back. How so? This ab roller has three handles per roller, and depending on the handle used and hand placement, different movements can be practiced. It's revolutionary!
However, this can mean it gets a little complicated to use as opposed to a traditional ab roller. However, helpful online videos do clarify certain moves so you aren't left in the lurch.
The fact that it's a multi functional workout tool, also makes it a great gym bag addition for personal trainers or travel companion. A PT will want to provide clients with a great workout, without lugging around endless pieces of equipment and this does the job!
H&S Ab Abdominal Exercise Roller
The best abs roller for smooth gliding
Specifications
Weight: 12oz / 340g
Size: 11.8 x 5.9 x 5.9in
Self-assembley required: Yes
Reasons to buy
+Easy-glide dual wheel+Comes with a knee pad
Reasons to avoid
-Bulkier to transport
If there was a close runner up to the 'the best ab roller for most people', then this would be it.
This dual wheel ab roller allows for greater control, making it perfect for beginners. Having two wheels means balance is a little easier, as single wheels can turn in various directions; good for working out your core, not so good if you're a novice at the move itself and are struggling to simply go in one straight line.
It's easy to put together and dismantle, plus the foam knee pad really helps avoid sore knees on hard floors. The ab roll move itself can mean that knees are pressed into the floor and the wheel glides better on hard surfaces, so joints can end up a little sore.  
The handles are really comfortable to hold. What's more, it's incredibly durable and the wheels are solid.