Short on time? This 10-minute HIIT workout will make you stronger, fitter
You don't need hours of free time to get the benefits of exercise with this equipment-free routine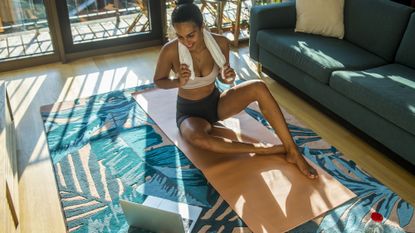 (Image credit: Getty Images)
It can be hard to maintain your lockdown exercise routine between work, social events, and catching up with friends after pandemic-enforced time apart. Fortunately, you don't need to spend hours at the gym each day to get the benefits of a regular workout.
If you're looking for an efficient way to stay active on a busy day, then grab a set of the best workout earbuds, open YouTube, and check out Heather Robertson's 10-minute, equipment-free Express HIIT Workout.
This short routine features ten moves, performed for 40 seconds with 20 seconds of rest between each exercise. Many HIIT sessions last around 30 minutes, so you can repeat this workout two or three times if time allows.
Watch Heather Robertson's Express HIIT Workout
If you've not encountered it before, High Intensity Interval Training (HIIT) is designed to increase your heart rate, working you as hard as possible for a short period before a brief rest and starting the next move.
These workouts often feature a variety of exercises, shifting between strength-based and cardio-focused moves throughout. You can also modify the activities to suit your experience level. The important thing is to maintain the intensity throughout the 40 seconds.
Some HIIT sessions incorporate weights, but the Express HIIT Workout doesn't require any equipment, so you can do it just as quickly at home, at the gym, or while traveling.
As we head into the winter months, it's also an ideal way to start your morning, even if you have a busy day ahead. If you find waking up in the dark a challenge, add one of the best SAD lamps to your bedroom. These mimic natural light to help you start the day off alert and energized.
Express HIIT Workout moves
Side to side hops
Walking plank jacks
High knees and butt kicks
Cross over and hop
Plank tap and reach
Lunge and twist (Right)
Lunge and twist (Left)
Spot sprint
Squat toe taps
Bear tuck
Whether this is your first HIIT class or you're a seasoned pro, it's worth investing in a set of the best cross training shoes. This footwear style offers support across a range of exercises and sports, making them ideal for the varied activities included in most HIIT sessions.
James is a London-based journalist and Fitness Editor at Fit&Well. He has over five years experience in fitness tech, including time spent as the Buyer's Guide Editor and Staff Writer at technology publication MakeUseOf. In 2014 he was diagnosed with a chronic health condition, which spurred his interest in health, fitness, and lifestyle management.
In the years since, he has become a devoted meditator, experimented with workout styles and exercises, and used various gadgets to monitor his health. In recent times, James has been absorbed by the intersection between mental health, fitness, sustainability, and environmentalism. When not concerning himself with health and technology, James can be found excitedly checking out each week's New Music Friday releases.