Strength training later in life can reduce mobility issues and improve walking speeds, study finds
Strength-based exercise can help fight the loss of mobility in older adults and promote other healthy aging benefits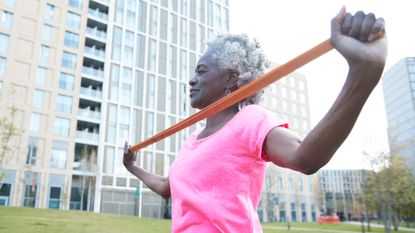 (Image credit: Getty)
Reaching your senior years naturally takes its toll on things like bone density, muscle mass, and strength. Physiological changes like this will impact our mobility, making daily tasks harder than they once felt. This is why building up your strength, no matter how old you are, can be key to healthy aging.
Some people will start to notice things like reduced flexibility and stiffer joints as they grow older, and this is where small interventions such as daily stretching and taking one of the best supplements for joints can be worth your while.
It's a given that regular exercise is highly beneficial for people's overall health but how useful is it for older adults who are living a very sedentary life and at risk of experiencing major mobility disability – this was defined by experts as the inability to complete a 400m walk test within 15 minutes without any help.
A group of researchers sought to discover more about ways to help the elderly become more robust with age, so that they can remain as active as possible, and conducted a study on Lifestyle Interventions and Independence for Elders.
The aim of the study was to assess if a long-term structured fitness program including strength training would be more effective than an educational program in lowering the risk of major mobility disability in elderly adults who lead a sedentary lifestyle.
In order to carry out this study, the research team recruited 1,635 adults aged between 70 and 89 years of age, randomly assigning the participants to a structured, moderate-intensity exercise program, or to a health education program consisting of workshops relevant to elderly adults. All participants were able to walk 400 meters prior to the test but had been identified as being at risk of mobility disability.
With the aim of maintaining healthy mobility among the older adults, the researchers had the physical activity group complete five exercise sessions a week including strength training with ankle weights and aerobic exercise, as well as balance and flexibility training. Meanwhile, the others attended workshops and lectures on topics like stretching, nutrition, and travel safety.
The participants followed the programs for two years while having regular health checks and mobility tests throughout. The study results revealed that over this period the exercise program had lowered the risk of major mobility disability by 18% compared with the education program.
In addition to this, the positive outcomes surpassed what the study expected to find, with walking and fitness performance also benefitting from the exercise program.
Director of the Institute on Aging at the University of Florida in Gainesville and principal investigator of the LIFE study, Marco Pahor, M.D. said, "Those who started with the poorest function benefitted the most from the physical activity program", he added, "The results also showed perceived benefits in walking speed and physical performance scores."
If you are getting older and concerned about your mobility levels, then why not pick up some weights and start strength training. You can do this with a set of the best adjustable dumbbells or the best resistance bands. As with the adults in the study above, regular exercise like this will help you to build muscle endurance and strength, enabling you to preserve your independence and quality of life as you age.
Jessica is an experienced fitness writer with a passion for running. Her career in journalism began in local news and she holds a Masters in journalism. Jessica has previously written for Runners World, penning news and features on fitness, sportswear and nutrition.
When she isn't writing up news and features for Fit&Well covering topics ranging from muscle building, to yoga, to female health and so on, she will be outdoors somewhere, testing out the latest fitness equipment and accessories to help others find top products for their own fitness journeys. Her testing pairs up nicely with her love for running. She recently branched out to running 10Ks and is trying to improve her time before moving on to larger races. Jessica also enjoys building on her strength in the gym and is a believer in health and wellness beginning in the kitchen. She shares all of this on her running Instagram account @jessrunshere which she uses for accountability and for connecting with like-minded fitness lovers.