The 45-minute dumbbell dance home workout for better muscle
This full-body fusion dumbbell workout incorporates dance and yoga for both cardiovascular and muscle-building benefits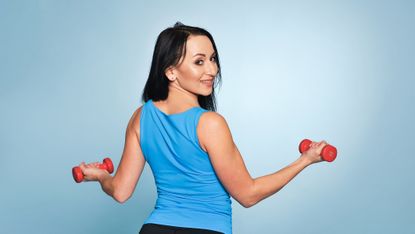 (Image credit: Getty Images)
Why choose between cardio and strength training when you can have both? This mood-boosting workout mixes dance, high-intensity interval training (HIIT), and strength training in a single, 45-minute session.
All you need to get started are some comfortable workout clothes, a set of dumbbells, and a mat or towel for the floor work. For best results use some of our best adjustable dumbbells, which can be tailored to your strength level, or you could even try holding small water bottles or food tins. Led by Jazzercise instructor Lucy Bolding, expect a full-body workout you'll actually enjoy doing.
"This is a great fusion workout," explains Bolding. We've got high-intensity cardio and we're going to sprinkle some strength training in between."
After getting your heart rate up with a dynamic warmup, expect to be put through your paces in this fun but powerful session where almost anything goes.
Interspersing cardio with bodyweight exercises and weights, Bolding moves seamlessly between pliés and press-ups, bicep curls, boxing, delt raises, and downward-facing dogs. And it's all set to a pumping soundtrack. "We can use the music to power us through!" she enthuses.
There are also low-impact alternatives for those who need them as well as guidance on posture and joint alignment. "The foundation of strength is always posture," explains Bolding.
Watch the dumbbell dance workout below
Since few things spell disaster for a fitness routine quicker than boredom, mixing up sessions like this makes a lot of sense. Bolding also recommends finding yourself a fitness buddy for motivation. "You've got to surround yourself with positive like-minded people," she says.
The workout combines the calorie-torching effectiveness of HIIT with all-over body sculpting. It also works on strengthening the important core and posterior chain muscles, which are essential for good posture and carrying out day-to-day activities. "You won't know it, but the core work in this is insane," says Bolding.
Posterior chain muscles run down the back of the body (think glutes, calves and lower back), and are not only vital for maintaining good posture but have also been found to help improve athletic performance and reduce injuries, according to research.
Since adequate protein intake is also important for building muscle, you might want to consider whether you could benefit from supplementing with one of the best protein powders for weight loss. And if you're looking for more exercises to build and strengthen the posterior chain, check out our guide on how to do a barbell squat.
Claire is a freelance health, fitness and food journalist who has written for titles including Women's Health, Top Santé, Woman & Home, Feel Good You, the Telegraph and Independent. She has a passion for being outside in nature and you're more likely to find her walking in the woods or joining an exercise class in the park than pounding a treadmill in the gym. She also has a special interest in nutrition and healthy eating, having previously been Food Editor at Top Santé magazine. Her top fitness tip? Take your exercise outdoors wherever possible. It has been shown to boost the physical as well as mental health benefits of a workout and also to make you more likely to want to do it again!