'The core is the powerhouse of our bodies'—strengthen yours with this five-minute Les Mills workout
Improve your posture, prevent injury, future-proof your body, and develop a strong core with this short workout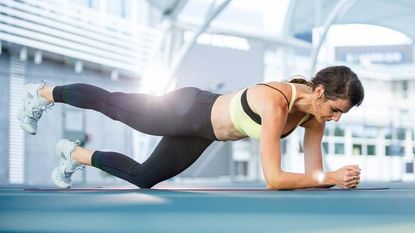 (Image credit: Les Mills)
When people think of their midsection muscles, their minds usually skip straight to the fabled "six-pack". Yet, there's so much more to the core than meets the eye.
Building a strong trunk lays the foundations for a fit and functional body, so it's important to develop your core muscles with dynamic sessions like this five-minute workout from training experts Les Mills (opens in new tab).
"The core is the powerhouse of our bodies," says Les Mills trainer Jess McDonald. "If you find your posture tends to slouch, this workout will help strengthen all postural muscles. This is a great way to help prevent injury in the future and maintain strong joints, ligaments and bones as we get older."
The video below takes you through the exercises you'll need to learn for this workout, with the brand's expert trainers providing top tips to help you perform each one with perfect form.
For one of the moves (the wood chop), the instructors show how you can use a resistance band (opens in new tab) to make it slightly more challenging. But, if you don't have one, you can also do this movement using just your bodyweight.
This workout may only be five minutes long, but it packs a lot into that short window. The exercises will work your deep-lying core muscles, as well as your legs, back and shoulders, McDonald says, and their benefits are far-reaching.
Watch the Les Mills core workout
"Having a strong core helps us in all daily activities ranging from standing up, walking and carrying things right the way through to running, lifting weights and more," the Les Mills trainer explains.
If you want to get the most out of this session, make sure you don't rush through the exercises. Instead, focus on performing smooth, controlled movements, as this will increase the time your muscles spend under tension (a fancy way of saying they will be engaged and working).
"Time under tension is crucial to the success of this workout," McDonald explains. "Muscles respond well to varying timings as well as movement. This is what creates the heat or pressure we feel when training, and that is what changes our muscles and builds strength."
However, despite this workout's many benefits, it still manages to be incredibly accessible, with something to offer people of all fitness levels.
"Everyone should try this workout!" McDonald says. "It can be tagged onto the end of another session, like an exercise bike workout (opens in new tab)or strength training workout (opens in new tab) as a great finish to the overall session.
"Or when you wake up in the morning this could be a quick start to help get moving and start the day! If you lack energy in the day, why not try this at lunchtime and see how this boosts energy too?"
Harry Bullmore is a fitness writer covering everything from reviews to features for LiveScience, T3, TechRadar, Fit&Well and more. So, whether you're looking for a new fitness tracker or wondering how to shave seconds off your 5K PB, chances are he's written something to help you improve your training.
When not writing, he's most likely to be found experimenting with a wide variety of training methods in his home gym or trying to exhaust his ever-energetic puppy.
Prior to joining Future, Harry wrote health and fitness product reviews for publications including Men's Health, Women's Health and Runner's World. Before this, he spent three years as a news reporter with work in more than 70 national and regional newspapers.