The science-backed reasons celebs use spin classes to lose weight
Peloton and Soul Cycle are popular for a reason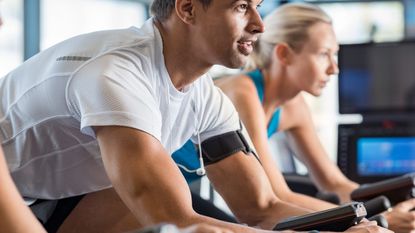 (Image credit: Getty)
You may see celebrities, such as Jenifer Aniston, on her Peloton bike and think the tough workout isn't for you - but celebrities love spinning for a reason.
If you're looking to invest in one of the best exercise bikes to start your fitness routines or lose weight, you'll be joining celebrities such as Lea Michele and Jonah Hill who have become obsessed with cult spinning classes Soul Cycle and Peloton.
Spinning is not only an endorphin pumping HIIT workout, it's also great for weight loss. But don't just take our word for it - we've also got the science to back it up.
If spinning really isn't your thing here are some of the other best exercises for weight loss.
Recent research by Les Mills shows that spinning can be great for weight loss and help to reduce your waistline. The study showed that fitness lovers who did RPM spinning classes, with Les Mills, three times a week, over eight weeks, lost an average of three centimetres around their waist – while body fat was also reduced by an average of 13.6 per cent.
If you need some inspiration and want to lose weight, try this amazing 30-minute spin workout.
Spinning is a great HIIT alternative if you hate traditional classes - and HIIT is great for burning body fat. In fact, a study in the British Journal of Sports Medicine proved just that - claiming that HIIT provides a 28.5 percent greater reduction in fat mass than a leisurely bike ride would.
While a HIIT class keeps on giving, even when you've finished your workout. Intense exercise, like a spinning class, keeps your metabolism, which helps to burn calories, engaged. This means even when you're getting on with your day you'll still be burning more calories than normal.
If you're not looking to lose weight spinning is also said to help your mental health. A study by the Lancet, over three years, recorded how 1.2 million adults felt after doing different physical activities. The participants recorded when they felt depressed or stressed. Researchers found that cycling was the second-best way to beat off any negative mental health emotions. It must be the endorphins that come with a sweaty spin class!
Sarah is a freelance journalist who writes about fitness and wellbeing for the BBC, Woman&Home and Tech Radar. During lockdown she found her love of running outside again and now attempts to run around 50 miles a month. When it comes to other fitness, she loves a sweaty cardio session – although since she's been working out from home she's sure her downstairs neighbors aren't too happy about it. She also loves to challenge herself - and has signed up to do hiking holidays, intense bootcamps and last year she went on her dream activity holiday: paddle boarding around deserted islands in Croatia. On her rest days, she loves to recover with a simple yoga flow session – the perfect antidote to her active fitness schedule.