This 10-minute calming yoga routine will help you ease you into the day
If you're looking for some calm first thing, this stretching exercise will prepare you for the day ahead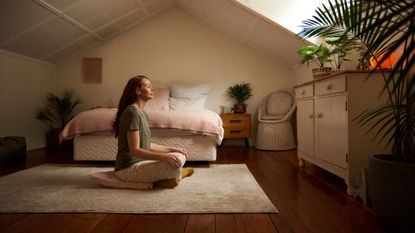 (Image credit: Getty Images)
With pandemic-related restrictions beginning to lift globally, many of us have returned to more hectic schedules, losing a lot of the calm we were able to carve out throughout lockdown.
If you spent time over the past year rolling out one of the best yoga mats and taking a class, you might be struggling to fit in some much-needed slow movement during the day. Fortunately, this 10-minute yoga routine is an ideal way to start your day.
Posted by the popular YouTube channel Yoga With Bird, this isn't an intense workout for first thing in the morning, but a gentle set of stretches to prepare you for whatever you have coming up. Though, you can do the practice at any time of day to get similar benefits.
Watch Yoga With Bird's 10-minute Everyday Morning Yoga Stretch
If you've been struggling with the transition to more regular activities, yoga is an excellent way to calm your mind. The benefits of yoga on your mental health are well-established, with one study finding that the practice helps reduce stress, anxiety, and depression.
Similarly, a systemic review showed that slow yogic breathing techniques, like the pranayama breath practice, improved emotional control and psychological well-being.
You don't need any equipment for this yoga routine, so you just need a little space to lay out on the floor. If you're looking for a way to incorporate mindfulness into your day wherever you are, it's worth learning how to meditate too.
Yoga and meditation are similar practices, helping you focus your mind and bring attention to your body. Many meditation sessions encourage you to pay attention to your breath, whereas you're cultivating a whole-body awareness in yoga.
Perhaps you love the idea of getting up slightly earlier to fit this 10-minute session into your day, but struggle to wake up properly, especially now the mornings are getting darker. In that case, it's worth investing in one of the best SAD lamps for your bedroom.
These lights, designed to alleviate the symptoms of Seasonal Affective Disorder, characterized by a lower mood during the winter months, mimic natural light. This helps you feel more energized and alert, helping you get out of bed with enough time to stretch.
James is a London-based journalist and Fitness Editor at Fit&Well. He has over five years experience in fitness tech, including time spent as the Buyer's Guide Editor and Staff Writer at technology publication MakeUseOf. In 2014 he was diagnosed with a chronic health condition, which spurred his interest in health, fitness, and lifestyle management.
In the years since, he has become a devoted meditator, experimented with workout styles and exercises, and used various gadgets to monitor his health. In recent times, James has been absorbed by the intersection between mental health, fitness, sustainability, and environmentalism. When not concerning himself with health and technology, James can be found excitedly checking out each week's New Music Friday releases.