This 15-minute Body Coach workout builds muscle without weights
With a set of resistance bands by your side, this quick routine works your upper-body to develop practical muscle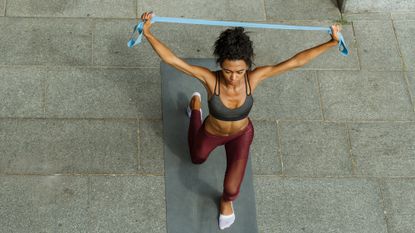 (Image credit: Getty Images)
Building muscle isn't just about looking good. Stronger muscles also protect our minds as we age, reduce depressive symptoms, guard our hearts, and help with weight loss.
But while most people imagine you need a set of the best adjustable dumbbells and endless curls to get these benefits, you don't have to be into weightlifting to start developing practical muscle.
Fortunately, this 15-minute YouTube workout from The Body Coach, the fitness community launched by famed personal trainer Joe Wicks, is a low-impact way to add resistance training into your routine.
To take on this workout, you only need a set of the best resistance bands. Unlike weights, these affordable bands come in sets, don't take up space, and can be used for strength training, yoga, and Pilates.
Watch The Body Coach's 15-minute resistance band workout
To get the most from the routine, you'll want to use one of the lighter strength bands, so you aren't struggling to complete reps. The video takes you through several moves, each aimed at developing your shoulders and upper-body muscle.
Instead of Wicks, new trainer Leroy takes you through the quick strength training workout. Following the late-2020 release of the Body Coach iPhone app, the fitness-focused company has been expanding its roster.
Wicks, already a popular fitness personality in the UK, gained worldwide recognition in early 2020. As most of the world went into lockdown, he started daily PE with Joe live YouTube workouts to keep kids active.
The sessions became a phenomenon, with children, adults, and families worldwide tuning in to the short, interactive classes. These workouts were a form of High Intensity Interval Training, where the aim is to keep your heart rate up for the 20-30 minute classes.
Although that might sound daunting, they were popular because they were suitable for all levels, from beginners through to experienced fitness enthusiasts.
Since the lockdowns lifted, Wicks and The Body Coach have created a range of workouts for kids, adults, and over-60s, like this 10-minute joint-friendly routine for seniors.
If you find this Body Coach routine enjoyable and it makes you feel good, you might also consider adding the best chest workouts with resistance bands into your schedule. These moves build on this YouTube workout to develop upper-body muscle.
As the resistance bands place your muscles under constant tension, you'll probably feel sore for a day or two after your workout. Spending some time with one of the best foam rollers is a great way to recover faster by promoting blood flow to the muscles.
James is a London-based journalist and Fitness Editor at Fit&Well. He has over five years experience in fitness tech, including time spent as the Buyer's Guide Editor and Staff Writer at technology publication MakeUseOf. In 2014 he was diagnosed with a chronic health condition, which spurred his interest in health, fitness, and lifestyle management.
In the years since, he has become a devoted meditator, experimented with workout styles and exercises, and used various gadgets to monitor his health. In recent times, James has been absorbed by the intersection between mental health, fitness, sustainability, and environmentalism. When not concerning himself with health and technology, James can be found excitedly checking out each week's New Music Friday releases.