This eight-move yoga sequence aids digestion and helps reduce stomach cramps
Boost your mood, strengthen the connection between your body and mind, and beat bloating with this short yoga routine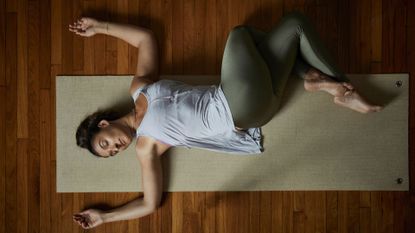 (Image credit: Getty)
If you deal with bloating and stomach cramps on a regular basis, you probably feel like you've tried everything to make it go away. But, while nutrition and medication can help, one of the best things you can do to ease symptoms is move your body.
Yoga can provide a massage of sorts, aiding digestion and, well… getting things moving internally, if that's the source of your discomfort. Plus, yoga can promote mindfulness, which as a positive effect, too.
According to research in the journal World Journal of Gastroenterology, stress can aggravate conditions like irritable bowel syndrome (IBS). Regular yoga practice can help reduce stress, which is why many people also do yoga for anxiety.
This particular yoga sequence, developed by personal trainer and yoga teacher Rhiannon Bailey, has just eight moves you'll hold for five or six breaths, although you can move at your own pace and hold for as long as you feel comfortable.
Watch Bailey's video below to see her demonstrations for each of the moves, then give them a go for yourself. This will help you perfect your form and get the most from your session without accidentally injuring yourself.
Watch Rhiannon Bailey's yoga for bloating sequence
Most of the poses in this sequence contain twisting movements, which Bailey says will gently massage the internal organs to aid digestion, as well as providing a satisfying stretch for both the lower and upper back.
Although this session can offer some relief, it's also worth considering what might be the cause of your discomfort. These ways to combat bloat are a great place to start, while these tips to get rid of period bloating can help, too.
But you don't have to be going through discomfort to enjoy the benefits of yoga. Developing a regular practice boosts your strength, improves your mobility, and builds muscle around your core.
If you want to have a go at some more foundational movements before progressing to Bailey's full practice, try these beginner's yoga exercises first. Or when you're tight on time, these 15-minute yoga routines are an ideal option.
If you're experiencing some form of pain, whether from an injury, long-term condition, or chronic pain, then it's worth learning how to meditate. This practice also develops the connection between your mind and body, but without movement.
Alice Porter is a freelance journalist covering lifestyle topics including health, fitness and wellness. She is particularly interested in women's health, strength training and fitness trends and writes for publications including Stylist Magazine, Refinery29, The Independent and Glamour Magazine. Like many other people, Alice's personal interest in combining HIIT training with strength work quickly turned into a CrossFit obsession and she trains at a box in south London. When she's not throwing weights around or attempting handstand push-ups, you can probably find her on long walks in nature, buried in a book or hopping on a flight to just about anywhere it will take her.