This five-move workout is all you need to build strong, muscular arms
Build muscle and boost your strength in less than 20 minutes with this quick five-move chest and arms workout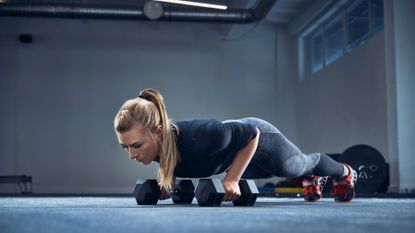 (Image credit: Getty)
A good strength workout doesn't need to involve set after set of complex exercises. This one uses just five moves and will work your chest and triceps in less than 20 minutes.
The workout comes courtesy of Sweat app trainer Britany Williams (opens in new tab), who specialises in creating accessible, effective minimal-equipment sessions. All you need to try it for yourself is a pair of dumbbells.
We like using a set from our roundup of the best adjustable dumbbells (opens in new tab), which allow you to change their weight to suit your strength level, but a fairly light fixed weight pair will work here too.
William's workout takes time-efficiency to another level, using supersets to squeeze plenty of high-quality work into less than 20 minutes. After you've completed three rounds of the first pairing, rest for two minutes before launching into the second superset.
To find out which five exercises await you, watch Williams' video below, and take note of her technique to help you learn how to perform each one correctly.
Watch Britany Williams' chest and triceps workout
It might sound daunting, but a superset is simply two exercises paired together and performed back to back with no rest in between. By limiting the number of breaks between exercises, she quickly slices the length of the session down to size.
For this workout, Williams challenges you to perform three rounds of each superset with minimal rest to really fatigue your muscles, so you'll only need a light pair of dumbbells to feel the effects.
Finally, Williams concludes the workout out with a challenging finisher: two 30-second bursts of push-ups with just 15 seconds of rest in between them. This is no mean feat, so if you're still learning how to do a push-up (opens in new tab) try lowering your knees or placing your hands on an elevated surface to make the exercise slightly easier.
Push-ups are a brilliant bodyweight compound exercise (opens in new tab), meaning they work multiple muscle groups at once. Your chest, shoulders and triceps will all be put to work as you press the ground away, while the fact you're holding a plank position throughout means you'll enjoy a comprehensive core workout (opens in new tab) too.
If you've completed this workout and want a complementary lower-body session for the following day, look no further than our selection of the best leg workouts (opens in new tab). Or, you could work your back and biceps (the upper-body muscles missing from this session) with this back workout (opens in new tab).
Harry Bullmore is a fitness writer covering everything from reviews to features for LiveScience, T3, TechRadar, Fit&Well and more. So, whether you're looking for a new fitness tracker or wondering how to shave seconds off your 5K PB, chances are he's written something to help you improve your training.
When not writing, he's most likely to be found experimenting with a wide variety of training methods in his home gym or trying to exhaust his ever-energetic puppy.
Prior to joining Future, Harry wrote health and fitness product reviews for publications including Men's Health, Women's Health and Runner's World. Before this, he spent three years as a news reporter with work in more than 70 national and regional newspapers.