This is how the stress of returning to the office could impact your breathing
Here are five key exercises to calm your nervous system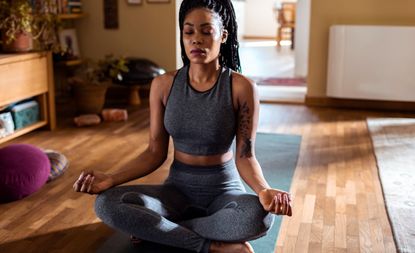 (Image credit: Getty)
With lockdowns easing and normality set to return many of us will be going back to the office or packing our diaries with social events.
However exciting it can be to get back into a routine or see friends, it's only natural that it could also bring more stress, which could affect our breath.
Charlie Moult, a breathwork coach at Source Breathwork, explains: "When we feel overwhelmed and anxious we naturally start to hold our breath, take more shallow breaths and breathe from our chest rather than our diaphragm. This exacerbates our stress response and can make it difficult for us to relax and stay present."
Charlie goes on to say that, similar to yoga, when we consciously focus on our breath, moving into slow diaphragmatic breaths and changing our breathing pattern, we can send signals to our brain that we are safe.
"It will also stimulate our vagus nerve, activate our parasympathetic nervous system (responsible for rest/digest/healing) and calm our mind. Shallow breathing also increases blood pressure and increases heart rate - stress hormones are released which speeds up our heartbeat."
While if you want to track your heart rate, take a look at our guide of the best heart rate monitors.
Here Charlie takes us through some breathing exercise to help us regain control of our breathing:
Deep Belly Breaths
By lengthening the exhales and focusing on using the diaphragm, we can stimulate the vagus nerve which calms our nervous system. This type of breath pattern powers up our oxygen intake, focus and even our speaking voice.
Sitting tall or lying down with knees bent up, place your hands on your belly and focus on deep breaths in through the nose and out through the mouth making a shhh sound on the exhale.
Breathe in for the count of 5 and slowly out for 8. Repeat for 3-4 minutes or for as long as needed.
Flow Breath
This type of breath increases our oxygen uptake and also calms our nervous system, creating a feeling of both relaxation and improved focus.
Sitting comfortably, breathe in and out through the nose focusing on breathing into the belly, then:
- Inhale for the count of 4 and exhale for the count of 4 - then repeat four time
- Inhale for the count of 4, hold for 4, exhale for 4, hold for 4 - then repeat four times
- Inhale for 8, exhale for 8 - then repeat four times
- Inhale for 8, hold 8, exhale 8, hold 8 - then repeat four times
Relax and come back to a natural rhythm with your breath.
If you want to carry on with meditation, check out our guide of the best yoga mats.
Get the Fit&Well Newsletter
Start your week with achievable workout ideas, health tips and wellbeing advice in your inbox.
Sarah is a freelance journalist who writes about fitness and wellbeing for the BBC, Woman&Home and Tech Radar. During lockdown she found her love of running outside again and now attempts to run around 50 miles a month. When it comes to other fitness, she loves a sweaty cardio session – although since she's been working out from home she's sure her downstairs neighbors aren't too happy about it. She also loves to challenge herself - and has signed up to do hiking holidays, intense bootcamps and last year she went on her dream activity holiday: paddle boarding around deserted islands in Croatia. On her rest days, she loves to recover with a simple yoga flow session – the perfect antidote to her active fitness schedule.