This yoga instructor's 15-minute session relieves stiff joints and soothes sore muscles from standing all day
Alleviate stress, relax your muscles, and look after your aching joints with this short practice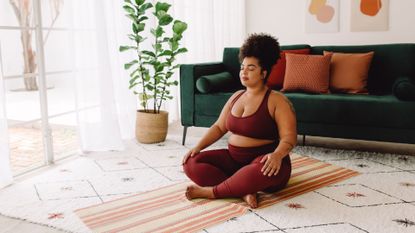 (Image credit: Getty)
We've all heard of yoga, and many of us know it can undo some of the damage caused by sitting at a desk all day. But did you know it can also be useful for relieving the stiff joints and sore muscles caused by standing for prolonged periods?
This 15-minute practice from yoga instructor Adriene Mishler (known to her near-12 million YouTube subscribers as Yoga With Adriene (opens in new tab)) is designed for anyone whose job sees them spend a long time on their feet.
Mishler says the movements included can restore the muscles and joints, helping you "find relief in the feet, the legs, the hips and the back". You don't need any equipment, but it can help to roll out a yoga mat (opens in new tab) for some comfort and support.
Although this routine was designed for service workers on their feet all day, it's also an ideal option to do on the day before or after a strength training workout — it soothes your joints and muscles to help them recover for your next session.
Watch Yoga With Adriene's 15-minute yoga session
Being on your feet all day has been linked to several negative health impacts. For example, a review of existing research on the topic published in the Rehabilitation Nursing Journal (opens in new tab) found that "studies consistently reported increased reports of low back pain, physical fatigue, muscle pain, leg swelling, tiredness and body part discomfort due to prolonged standing".
Yoga can help relieve some of these symptoms; an article published in the National Center for Complementary and Integrative Health (opens in new tab) says the practice can reduce stress as well as relieving lower back and neck pain.
It can also help improve your flexibility, boost your balance and even strengthen your muscles and joints, leaving you less susceptible to future pain and injuries.
If you want to discover more about what regular yoga can do for you, find out what happened when our writer tried yoga every day for 30 days (opens in new tab). Or, if you're looking to take your first steps in the practice, give these beginner yoga exercises (opens in new tab) a go.
Consider using it around this six-move full-body workout (opens in new tab), or you could even try this two-move bodyweight workout (opens in new tab) from Arnold Schwarzenegger himself.
Harry Bullmore is a fitness writer covering everything from reviews to features for LiveScience, T3, TechRadar, Fit&Well and more. So, whether you're looking for a new fitness tracker or wondering how to shave seconds off your 5K PB, chances are he's written something to help you improve your training.
When not writing, he's most likely to be found experimenting with a wide variety of training methods in his home gym or trying to exhaust his ever-energetic puppy.
Prior to joining Future, Harry wrote health and fitness product reviews for publications including Men's Health, Women's Health and Runner's World. Before this, he spent three years as a news reporter with work in more than 70 national and regional newspapers.