TikToker shatters 'safe' pregnancy workout ideas by pumping some seriously heavy iron
In this short video, Savanna Rose Silva shares that it is safe to lift weights during pregnancy as she deadlifts on TikTok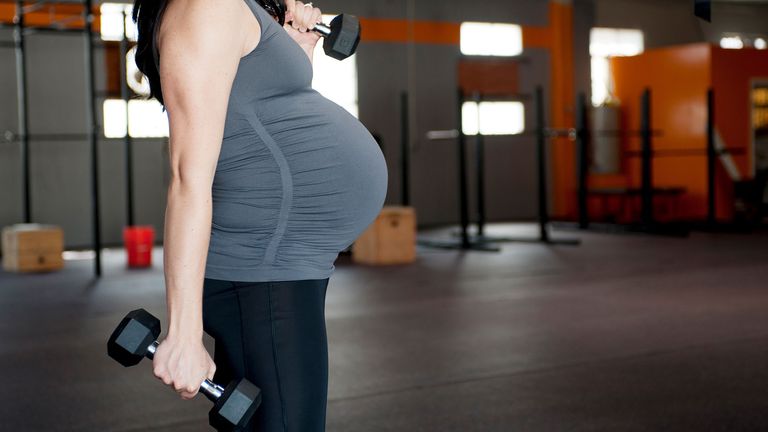 (Image credit: Getty Images)
By Jessica Downey published
Many myths circulate around over what women should and shouldn't do during a pregnancy. However, weight lifting with a bump is probably one of the activities most of us don't know if best to avoid or not.
Pre and post-natal fitness trainer Savanna Rose Silva defies typical pregnancy stereotypes and films herself pumping some serious iron as she gallantly deadlifts a barbell. Not to mention, she is 33 weeks pregnant!
In a new TikTok video, Savanna is initially seen doing low impact exercises such as donkey kicks and yoga moves, expressing this is people's common misconception of "safe" exercise for pregnant women.
The video then takes a sharp turn, showing the heavily pregnant yet super ripped Savanna deadlifting a meaty looking barbell. Shortly after, she is seen performing lunge squats while holding a dumbbell.
The TikToker emphasizes that low risk pregnant women, "are not fragile flowers", and don't need to limit themselves to low intensity exercise. She says pregnant women can "absolutely resistance train".
The fitness trainer's video received an overwhelmingly positive reaction from fellow pregnant women. One user commented on the video, "I'm not gunna lie I LOVE walking into the weight room with my belly." Another posted, "You are going to have the easiest labor and recovery."
Fancy replicating her impressive exercises yourself? Our dedicated guide details how to deadlift properly - crucial whether you're pregnant or not. You can also check out our best adjustable dumbbells for lifting like Savanna at home.
Savanna's advice to those curious about the safety of weight lifting whilst pregnant is also backed up by science. A study carried out by the US National Library of Medicine said, "The adoption of a supervised, low-to-moderate intensity strength training program during pregnancy can be safe and efficacious for pregnant women."
Building strength while pregnant can help prevent aches and pains that tend to develop as your stomach grows and prepares your body for the experience of labor. As well as this, you will feel less muscle strain with all the carrying and pram-pushing when your baby arrives.
The fit and strong approach to pregnancy is one that Shakira Akabusi, a maternal health expert, also prescribes to. Shakira, who is set to release a book called StrongLikeMum on pre and postnatal fitness and told Fit&Well, "We want to be sure not to lift too heavy, or place too much pressure onto our joints. Due to prenatal hormones the stability of our joints throughout our body will be looser than usual, so I recommend lifting approximately 50-70% of your pre-pregnancy maximum, depending on your fitness level and how far along you are in gestation."
She added, "It's difficult to be specific as everyone's fitness level will be different, however generally speaking you want to be able to manage 8-10 reps comfortably."
So whilst light exercise and yoga for anxiety can be super beneficial for your overall physical and mental health during pregnancy, it seems that - provided you are low risk - including weight lifting in your workouts is not only safe to do so but will tone muscle as well.
Jessica is Staff Writer at Fit&Well. Her career in journalism began in local news and she holds a Masters in journalism. Jessica has previously written for Runners World, penning news and features on fitness, sportswear and nutrition. She is a keen runner and is currently sweating her way through a 10k training plan. Jessica also enjoys building on her strength in the gym and is a believer in health and wellness beginning in the kitchen - which she loves sharing with others on her healthy living-inspired Instagram account, @jessrunshere. Despite her love for nutritious cooking, she stands by the saying 'everything in moderation' and is eagerly conquering the London food and drink scene!