Use this 30-minute kettlebell workout to develop core strength, burn fat, and build muscle
Raise your heart rate, boost your metabolism, and strengthen your whole body with this weighted high-intensity routine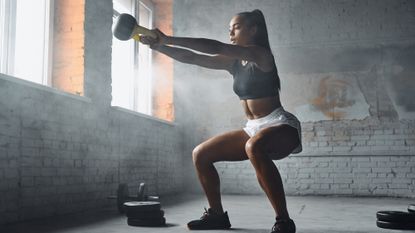 (Image credit: Getty Images)
Between work, family, and social commitments, it's not always easy to prioritize exercise. This is why many of us are after a time-efficient way to build muscle, boost our metabolism, and strengthen our core, like this 30-minute kettlebell workout.
The routine blends bodyweight exercises with weighted moves, so all you'll need is one of the best kettlebells and a bit of space to get started. It can help to roll out one of the best yoga mats for improved underfoot grip too.
DanielPT, the trainer behind this routine, split the workout into two blocks of 18 exercises. To fit 36 moves into 30 minutes, you'll exercise for 35 seconds, followed by a 15-second rest before taking on the next activity.
There's a slightly longer 50-second water break between blocks, so be sure to keep one of the best water bottles for gym workouts close. It's an intense session, but training this way means you'll see results without spending hours at the gym.
It's crucial to perfect your form when you're working with weights to avoid injury and get the most from your training. Be sure to follow along with DanielPT's demonstrations to practice your technique.
Watch DanielPT's 30-minute kettlebell workout
It's an exercise style known as high-intensity resistance training (HIRT), which aims to work your muscles hard in short bursts followed by brief rests between moves. This helps build strength even from a quick workout, but there are other benefits.
HIRT is much like high-intensity interval training (HIIT) but focuses on strength-building exercises rather than cardio-based sessions. But both workout techniques keep the intensity high to raise your heart rate.
As a result, you burn energy during your session and hours after as the sustained increase in heart rate helps boost your metabolism for all-day fat-burning results. This is why many people use a HIIT workout for fat loss.
If you want to build muscle and drop pounds, you can alternate between the fat loss HIIT routine and DanielPT's kettlebell workout. And adding the best protein powders for weight loss to your diet is a great way to recover while hitting your fitness goals.
It's good to keep your training varied, so since you already have a kettlebell to hand, it's worth learning how to do kettlebell swings too. This compound exercise builds strength, develops your core, and burns fat in a single move.
James is a London-based journalist and Fitness Editor at Fit&Well. He has over five years experience in fitness tech, including time spent as the Buyer's Guide Editor and Staff Writer at technology publication MakeUseOf. In 2014 he was diagnosed with a chronic health condition, which spurred his interest in health, fitness, and lifestyle management.
In the years since, he has become a devoted meditator, experimented with workout styles and exercises, and used various gadgets to monitor his health. In recent times, James has been absorbed by the intersection between mental health, fitness, sustainability, and environmentalism. When not concerning himself with health and technology, James can be found excitedly checking out each week's New Music Friday releases.