Use this celebrity trainer's seven-move workout to build strength and muscle all over
You can try all of the exercises at home using just a couple of dumbbells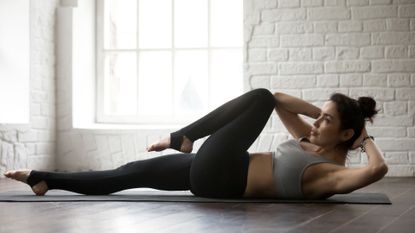 (Image credit: Getty)
Have you ever wondered how celebrities stay in shape? Us too. Fortunately, this seven-move workout will satisfy some of your curiosity, providing an insight into how the likes of Pink, Bebe Rexha and Serena Williams like to train.
This dumbbell-based session was devised by Jeanette Jenkins, whose star-studded roster of clients past and present includes sports stars, musicians and even Olympic gold medallists (including the three names listed above).
The seven exercises selected by Jenkins include a mixture of muscle-building (opens in new tab) moves, core-carvers and cardio bouts, so you can work on your strength and endurance at the same time. Jenkins (opens in new tab) recommends performing each one for 30-60 seconds, so we suggest trying 30 seconds if you're a beginner and 60 seconds if you fancy a challenge.
To make these moves into a workout, try completing each exercise back to back as a circuit, then resting for 20 seconds after each one. Repeat this seven-move circuit three times and you've got yourself a 30-minute session that will leave your heart, lungs, legs, arms and core feeling thoroughly worked out.
Watch Jeanette Jenkins' seven-move strength and cardio workout
Jenkins keeps things interesting in this workout by mixing compound exercises (opens in new tab) with muscle-isolating moves and cardio-focused drills. This means you can build muscle during the session, but you'll also get your heart rate up.
You can expect your arms, legs and core to get a thorough workout, while the intense nature of the workout is sure to burn calories and boost your metabolism.
It's an efficient session, but probably a fairly tiring one, so you might want to follow it up with a rest day. Or at least stick to gentle exercises like this beginner-friendly yoga flow (opens in new tab) if your muscles need to recover.
If you're really sore, you might want to try grabbing a foam roller (opens in new tab) to soothe your aching muscles, or giving some stretching exercises (opens in new tab) a go to help you feel a little more limber.
Harry Bullmore is a fitness writer covering everything from reviews to features for LiveScience, T3, TechRadar, Fit&Well and more. So, whether you're looking for a new fitness tracker or wondering how to shave seconds off your 5K PB, chances are he's written something to help you improve your training.
When not writing, he's most likely to be found experimenting with a wide variety of training methods in his home gym or trying to exhaust his ever-energetic puppy.
Prior to joining Future, Harry wrote health and fitness product reviews for publications including Men's Health, Women's Health and Runner's World. Before this, he spent three years as a news reporter with work in more than 70 national and regional newspapers.