Use this six-move workout to boost your cardio in 30 minutes
Build strength and endurance with this short session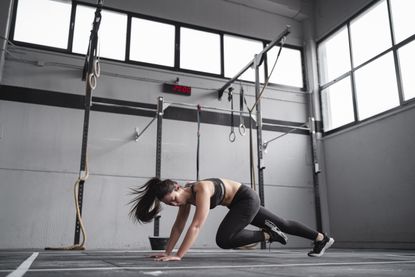 (Image credit: Future)
Long runs aren't for everyone, but there are other ways to make fitness fun while still getting your cardio fix. This workout, for example, uses a combination of short 200 meter rowing machine intervals and intense bodyweight movements to keep things fresh.
While using one of the best rowing machines for this session is advised, completing 200 meters on any exercise machine will have a similar effect. You can even swap this section of the workout for a short (200 meters or less) run, pick up a skipping rope for 50 single-unders, or leave it out entirely if you don't have any equipment to hand.
The workout is designed by yoga, fitness, and wellness trainer Rhiannon Bailey, with the goal of providing people who find cardio "boring" with a more enjoyable alternative.
You start with a 200 meter buy-in on a rowing machine, then move on to a circuit of five bodyweight movements; sumo squats, high knee punches, overhead reverse lunges, mountain climbers and burpees. (If you need some tips on how to do a burpee, our handy guide can help).
Perform each of these movements for 45 seconds, take 15 seconds to catch your breath, then move on to the next one. Once you've finished all five, return to the rowing machine for another round.
Bailey recommends completing five rounds in total, but (as this is quite a challenging session) you can scale this down to three if you're new to this type of training.
Watch Bailey's video below to see how to perform each movement, and try to copy her technique to make sure you're working your muscles effectively.
Watch Rhiannon Bailey's six-move cardio workout
There are no set number of repetitions to complete for each exercise, so you should continue to move with purpose while maintaining good form to ensure you feel the full benefits of the workout. We would recommend trying to finish the 200 meter row (or substitute of your choice) in around a minute, meaning this session should take about 30 minutes.
The beauty of this workout style lies in its ability to raise your heart rate (just as a run, row or cycle would) while keeping you engaged by challenging you to move your body in a variety of different ways.
This means it shares many benefits with regular cardio — such as burning calories, boosting your mood, and improving your heart health — but doesn't require you to trudge on one of the best treadmills for an hour. So, there's no need to learn how to run long distance if you want to improve your fitness.
If you want to give this workout a go, we suggest using it as your training for the day rather than adding it on to your existing fitness routine as it can be quite a challenging workout. As it's cardio-focused, you could try some strength training exercises the next day with a set of the best adjustable dumbbells.
Harry Bullmore is a Fitness Writer for Fit&Well and its sister site Coach, covering accessible home workouts, strength training session, and yoga routines. He joined the team from Hearst, where he reviewed products for Men's Health, Women's Health, and Runner's World. He is passionate about the physical and mental benefits of exercise, and splits his time between weightlifting, CrossFit, and gymnastics, which he does to build strength, boost his wellbeing, and have fun.
Harry is a NCTJ-qualified journalist, and has written for Vice, Learning Disability Today, and The Argus, where he was a crime, politics, and sports reporter for several UK regional and national newspapers.