Use this six-move workout to build muscle all over and strengthen your core
This short routine develops strength, works your core, and all you need is a set of dumbbells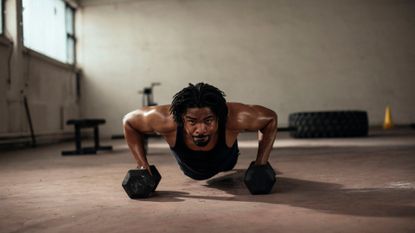 (Image credit: Getty)
For many people, time is the biggest barrier stopping them from working out. After all, it can hard to carve out an hour or more of your day for a trip to the gym. Luckily, there are ways to save time while still enjoying a fun, effective workout.
This muscle-building session will tax your arms, chest, back, legs and core using only a pair of dumbbells, so you can give it a go pretty much anywhere. If you don't have a set already, we recommend checking out our roundup of the best adjustable dumbbells (opens in new tab) as these clever, compact contraptions allow you to change the weight to suit your strength level.
When you've got your hands on some dumbbells, you'll be ready to take on this accessible session from UK-based fitness trainer the London Fitness Guy (opens in new tab) (real name James Stirling).
It's a circuit of just six moves, repeated three times through. Each exercise is performed for 12 to 15 repetitions, with the exception of the challenging L-sit which is held for 20 to 30 seconds. Before you launch into the workout, give this challenging core exercise a go, and if you find it too tricky we advise substituting it out for a plank.
Complete each exercise back to back, taking as little rest as possible between movements. Take a 60-second break between rounds, then return to the first exercise and continue working through the circuit until you've run through it three times.
Watch Stirling's video below to find out which six exercises await you, and take notes on his technique during his demonstrations to help you nail down the form for each one.
Watch the London Fitness Guy's six-move workout
This is a great workout for anyone short on time and equipment because it doesn't take long and only requires a couple of dumbbells. If you don't have any, you can even use other free weights — like one of the best kettlebells (opens in new tab) — instead.
However, if you're looking to build muscle and increase your strength, there are a couple of additional things to consider. Firstly, think: What dumbbell weights should I use? (opens in new tab)
If you're using a weight that allows you to perform 15 repetitions of each exercise with minimal effort, you won't reap the rewards of this session. This is down to something known as progressive overload (opens in new tab).
When applied to weight training, this technique means you need to lift a load that your muscles finds challenging to force your body to adapt. As you grow stronger, the weight you were lifting before may begin to feel easier, so you have to increase the load of your lifts accordingly to ensure your progress doesn't falter.
The other thing to consider when trying to increase your strength and muscle mass is your diet. Protein is one of the key nutrients you need to maintain, repair and build muscle, but it's not always clear how much protein you need to eat to gain muscle (opens in new tab), though the current recommended daily allowance is 0.8 grams of protein per kilogram of body weight.
Most of your quota should come from whole foods, but if you're struggling to hit your protein goals then the best protein powders for weight loss (opens in new tab) can help supplement your daily total.
Harry Bullmore is a fitness writer covering everything from reviews to features for LiveScience, T3, TechRadar, Fit&Well and more. So, whether you're looking for a new fitness tracker or wondering how to shave seconds off your 5K PB, chances are he's written something to help you improve your training.
When not writing, he's most likely to be found experimenting with a wide variety of training methods in his home gym or trying to exhaust his ever-energetic puppy.
Prior to joining Future, Harry wrote health and fitness product reviews for publications including Men's Health, Women's Health and Runner's World. Before this, he spent three years as a news reporter with work in more than 70 national and regional newspapers.