Why HILIT workouts are fitness' best-kept beginner's weight loss secret
High-intensity, low-impact training is perfect for beginner's weight loss: all the benefits of HIIT with no joint risks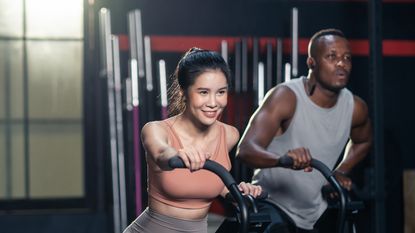 (Image credit: Getty Images)
We all know HIIT training stands for "high intensity interval training" and is an amazing way to lose weight. Research has found HIIT training has an effect on our heart rate, lowers the production of the weight gaining hormone cortisol, ups our metabolic activity and does all this in less time than normal aerobic exercise.
However, HILIT is the new fitness buzzword on the block. It stands for "high intensity, low-impact training" and it's all about maintaining the intensity of a weight loss workout, while reducing the amount of impact – less jumping and landing heavily on both feet, or big, shocking movements to the body.
HILIT workouts instead might involve light resistance exercises like air squats, in which both feet stay on the floor, or sit-ups, planks or crunches, exercises that don't involve any physical impact. Alternatively, you could use one an elliptical machine, exercise bike. These kind of workouts still provide increased bone density, burn fat and all the other benefits of intense exercise, but they don't stress your knees, hips and ankles in the same way a workout full of jumping jacks and sprinting on concrete might do.
Exercise machines like these are well-known to be a fantastic workout. After all, spin classes using bikes are extremely popular, sprinting to to the tune of pumping house music and slowing for brief recovery periods. And it works: in a study on exercise bikes and spin classes, research shows "indoor cycling may improve aerobic capacity, blood pressure, lipid profile, and body composition."
They allow you to work fast, you can increase resistance to build muscle, and you can try intense sprint sessions at home with the exercise bike's in-built workout settings. All of this is without any impact: even a treadmill can hurt knees, ankles and hips with repetitive foot striking, especially for beginner fitness enthusiasts, but bikes and ellipticals require no striking at all. Our best exercise bike and best elliptical machine lists can guide you through getting one for home use.
Swimming is another great way to do a HILIT workout. The water supports your weight, allowing your muscles to do the work. Immersed in water, it may not feel like you're working up a sweat, but swimming is a fantastic workout as your body is under constant low-level resistance.
The concepts of swimming and spin classes aren't exactly new ideas. But grouping them together as a family of HILIT workouts is a great way to rethink the way you train. If you suffer from joint issues or are still quite overweight, you may get frustrated with the slow pace of walking workouts, but find running or HIIT too painful. Try a HILIT workout to work up a sweat and keep your body at its best.
Matt Evans is an experienced health and fitness journalist and is currently Fitness and Wellbeing Editor at TechRadar, covering all things exercise and nutrition on Fit&Well's tech-focused sister site. Matt originally discovered exercise through martial arts: he holds a black belt in Karate and remains a keen runner, gym-goer, and infrequent yogi. His top fitness tip? Stretch.