Why it's important to lose weight fast: The long-term health risks of obesity
People who are overweight and obese tend to stay that way, according to a new study. Buck the trend and lose weight fast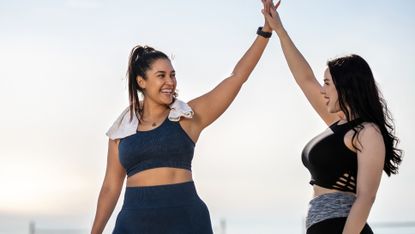 (Image credit: Getty Images)
Whether you're looking to lose weight for cosmetic reasons, you want to be more active, or you want to address some current health concerns, it's easy to put it off. After all, the old saying "diet starts tomorrow" is a very popular one, and beginning any exercise regime is the hardest part.
However, new research shows the long-term effects of obesity are only compounded over time. One study, published by researchers from the University of Nottingham, followed four groups of obese and overweight participants over an average of 10.9 years. The study used patient records of almost 300,000 British adults.
Unfortunately, most of those 300,000 people maintained their weight category over time. If one of the study participants were obese, they tended to stay obese for the long term – which has serious health implications.
The study's lead author, Dr Barbara Iyen, said: "We have found that despite widespread efforts to prevent and manage obesity, the majority of adults who are overweight or obese in the general population continue to remain so in the long-term.
"More effective policies and weight-management interventions are needed urgently to address this increasing burden and associated adverse health outcomes."
Obesity is a serious health condition, a contributing factor to heart disease, liver disease, diabetes, high blood pressure and certain cancers. The study found that people in the highest BMI group, or body mass index, were three times more likely to die of heart risk of heart failure than those who were just considered "overweight".
The UK's NHS also acknowledges the mental health risk, explaining that obesity can also affect your quality of life and lead to psychological problems, such as depression and low self-esteem. But it's not all doom and gloom: weight management, becoming more active and taking care of your diet, can slow and eventually reverse these effects.
The two pillars of weight management are, of course, diet and exercise, and both have got to be in play when it comes to weight loss. An easy way to start is by tweaking your diet, using our portion size guide and replacing lots of added saturated fats while roasting and frying foods with one of our best air fryers, which circulates a fraction of the oil with hot air currents to evenly coat its contents.
When it comes to exercise, many of the best exercises for weight loss are great for keeping your heart rate up, but some of them might be a bit intense, or place a lot of stress on joints, to start doing them for the first time. Walking to lose weight is a perfect solution: it's easy to incorporate into your day, low-impact, and accessible: all you need are some of the best shoes for walking to get started.
Matt Evans is an experienced health and fitness journalist and is currently Fitness and Wellbeing Editor at TechRadar, covering all things exercise and nutrition on Fit&Well's tech-focused sister site. Matt originally discovered exercise through martial arts: he holds a black belt in Karate and remains a keen runner, gym-goer, and infrequent yogi. His top fitness tip? Stretch.