Working from home? Try this dumbbell workout to improve your posture from sitting at a desk
Building strength and muscle in your back can enhance your posture making things like deskwork less of a strain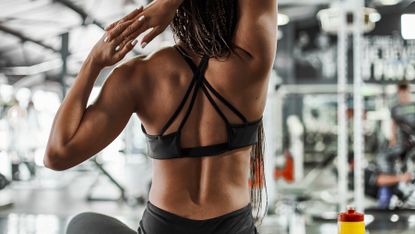 (Image credit: Getty)
Even those with the best computer chair in the world can still find themselves slouching at their desk. Most of the time you don't even notice it happening: it can be a very gradual process or it might happen subconsciously if you are leaning over a stressful document or email. This is why it is really important you build strength in your back, to help keep your spine nice and straight as you work.
Some people benefit from using one of the best posture correctors in addition to the best office chairs. These are straps that you can attach to your back designed to straighten and strengthen your back. However, if you want to stay fit and build stronger muscle in your upper body at the same time, then this 20-minute workout is ideal for you.
The routine is strength-based and aims to blast fat while toning and sculpting your back to help improve posture. You will need to have a set of weights that you can work with. As this workout uses a mix of lighter and heavier dumbbells, we recommend using a set of the best adjustable dumbbells, as the customizable weight allows you to adjust the weight size without requiring a whole rack of weights.
The video was shared on YouTube by Michele Briehler, a fitness expert and certified health and life coach, who regularly posts workouts to help people build core strength and stability at home. Watch her perform and lead the back-building workout below:
WATCH MICHELE BRIEHLER'S POSTURE STRENGHTENING WORKOUT
The routine consists of four sections that Briehler refers to as 'blocks'. You will perform two moves back to back and do a repeat of this for each block. As well as instructing you through each exercise, Briehler also includes a warmup and cool down to make sure your muscles are looked after pre and post-workout.
Looking for back workouts online can often lead to lists of various gym-related exercises, that require the use of large equipment such as the lateral pull-down bar or barbell rows. This workout is not only a real time-saver taking up just twenty minutes of your day but it also uses minimal equipment making it great for completing at home. You can find more home-workout back exercises in our roundup of the best back workouts.
Online personal trainer Scott Laidler who has twelve years of industry experience, shared three key reasons why we should all be building stronger muscle in our backs.
Three reasons to strengthen your back, according to a personal trainer:
Supports other muscles: Laidler explained that the muscles in your back work with your hamstrings, glutes, and calves to form what's known as your posterior chain and are responsible for controlling backward force, stabilizing your spine and hips. Training your back alongside these muscle groups avoids creating imbalances in the body, which can result in a lot of postural and functional problems.
Prevents pain: Strengthening your back muscles can help you to stay or become pain-free. Our modern lifestyles tend to be very sedentary which can cause both tightness and weakness in your back and neck muscles. Maintaining flexibility and strength in your back is going to go a long way toward contributing to a pain-free life. Essentially without due care and attention to your back muscles you are inviting postural issues and tension from trigger points ad overly taught muscles.
Maintains functional strength: Back training is extremely beneficial for maintaining what we would consider functional strength. This translates to everyday activities as simple as carrying items like shopping, moving furniture supporting weight on your torso, and of course, all pulling movements explained Laidler. Without the due attention to strengthening your back muscles, from lower, mid, and upper back muscles everyday tasks will be harder than they ought to be, and you may have a higher risk of injury.
Jessica is an experienced fitness writer with a passion for running. Her career in journalism began in local news and she holds a Masters in journalism. Jessica has previously written for Runners World, penning news and features on fitness, sportswear and nutrition.
When she isn't writing up news and features for Fit&Well covering topics ranging from muscle building, to yoga, to female health and so on, she will be outdoors somewhere, testing out the latest fitness equipment and accessories to help others find top products for their own fitness journeys. Her testing pairs up nicely with her love for running. She recently branched out to running 10Ks and is trying to improve her time before moving on to larger races. Jessica also enjoys building on her strength in the gym and is a believer in health and wellness beginning in the kitchen. She shares all of this on her running Instagram account @jessrunshere which she uses for accountability and for connecting with like-minded fitness lovers.