Worried about type 2 diabetes? Here's why you should try resistance training
Adding resistance training into your workouts could help reduce your risk of diabetes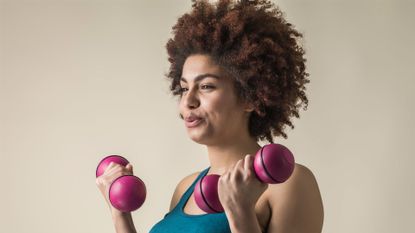 (Image credit: Getty)
Exercise using the best resistance bands or free weights may lower your risk of developing type 2 diabetes, according to a research review published in the journal Sports Medicine.
Researchers examined 14 controlled trials that compared participants at high risk of diabetes who underwent a resistance training intervention with those who did not. The studies showed training with resistance bands and weights helps control blood sugar and blood lipid levels – two of the most prominent risk factors for type 2 diabetes – in those more likely to get the disease.
Looking at the data, the researchers found the most significant improvements in outcomes for patients at risk for type 2 diabetes used specific training parameters – namely the use of free weights or resistance bands at intensities above 60% one-repetition maximum, with 10-15 repetitions at a time.
How does resistance training affect diabetes risk?
Resistance training seemed to be especially effective for lowering blood sugar, lipids, and body fat when done for at least 12 weeks.
According to the study authors, other benefits of resistance training include improved athletic performance, higher bone density, improved mood, flexibility, and improved muscle strength.
This isn't the first time the connection between strength training and diabetes has been made. Research from the journal Mayo Clinic Proceedings showed that having even a moderate amount of muscle strength can lower the risk of developing type 2 diabetes by 32%.
Some researchers have suggested this type of training can help those who already have diabetes too. A research review in the journal Nutrition & Metabolism noted that resistance training is so effective for glycemic control and cholesterol metabolism in people with type 2 diabetes that they should incorporate the exercise into their treatment plan.
These findings align with the American Diabetes Association guidelines, which recommend that adults with type 2 diabetes combine a mixture of cardio and strength workouts.
If you're new to strength training and not sure where to begin, check out the best adjustable dumbbells and our guide on how to lift weights to get you started. Start gradually with light weights and lower resistance, and work your way up as your strength increases.
Get the Fit&Well Newsletter
Start your week with achievable workout ideas, health tips and wellbeing advice in your inbox.
Catherine is a freelance journalist writing across titles such as Verywell Health, Healthline, The Daily Telegraph, Refinery29, Elle, and Vogue. She specializes in content covering health, fitness, wellness, and culture.
A once reluctant runner, Catherine has competed in 30 running events in the past five years and looks forward to one day running the London Marathon.