You don't need to run to get your cardio fix, try this 30-minute dumbbell workout instead
Guilty of skipping cardio? Ease yourself back in with a lower-body focused session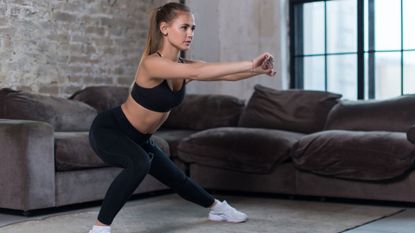 (Image credit: Getty)
Are you guilty of skipping cardio workouts in favor of strength training at the gym? We get it.
The prospect of a trudge on one of the best treadmills can be an uninspiring one for anyone who prefers lifting a barbell to lacing up their running shoes. Nevertheless, it's important to keep up your cardiovascular fitness for your overall health.
And, as luck would have it, there are ways to train heart and lungs without submitting yourself to a sweaty, single-activity session. All you need is this 30-minute workout from fitness trainer Sydney Cummings Houdyshell, which promises to spike your heart rate and strengthen your legs simultaneously.
Combining cardio movements with strength exercises like squats, Romanian deadlifts and lunges, this is the perfect workout for leg-day devotees looking to switch things up. And, with short 30-second bursts of work followed by 15 second rest periods, beginners can enjoy bitesize bouts of exercise rather than an intimidating 30-minute run.
Follow along with the full workout via the video below, and try to match Cummings Houdyshell's form and pace for a comprehensive leg and cardio session. You'll need a dumbbell that feels somewhat challenging for you (a set of the best adjustable dumbbells is ideal, as you can increase the weight as you get stronger) and a short resistance band if you have one.
Watch Sydney Cummings Houdyshell's legs and cardio dumbbell workout
This workout includes elements of high-intensity interval training (HIIT), an efficient form of exercise that blasts through calories. Combining this with strength exercises like goblet squats and Romanian deadlifts allows you to build muscle at the same time as getting all the benefits of a cardio workout.
To alter the difficulty of this workout, you can increase or decrease the weight of the dumbbell. Cummings Houdyshell also recommends incorporating a resistance band into some of the movements if you really want to challenge yourself.
Feeling energized after this workout and want to push yourself further? Combine Cummings Houdyshell's leg burner with this chest and back workout for a full-body session.
Alice Porter is a freelance journalist covering lifestyle topics including health, fitness and wellness. She is particularly interested in women's health, strength training and fitness trends and writes for publications including Stylist Magazine, Refinery29, The Independent and Glamour Magazine. Like many other people, Alice's personal interest in combining HIIT training with strength work quickly turned into a CrossFit obsession and she trains at a box in south London. When she's not throwing weights around or attempting handstand push-ups, you can probably find her on long walks in nature, buried in a book or hopping on a flight to just about anywhere it will take her.