You don't need a leg press to grow your glutes – try this 10-minute barbell workout instead
This 10-minute gym routine will fire up your glutes, quads, hamstrings and more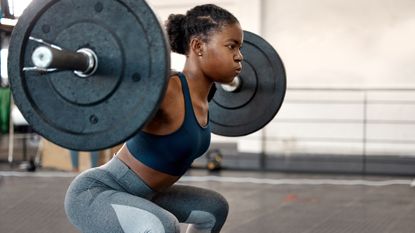 (Image credit: Getty)
A booty workout is great for sculpting your lower body, but strong glutes can also improve balance, mobility and reduce lower back pain.
And you don't need to use a leg press at the gym to grow your glutes. If you've got a weight bench (opens in new tab), barbell (opens in new tab) or the best adjustable dumbbells (opens in new tab), you're good to go with this 10-minute booty-sculpting workout created by personal trainer Anna Victoria (opens in new tab).
Anna Victoria is the creator of workout and wellness app Fit Body (opens in new tab) and hosts the podcast Your Best Life (opens in new tab). She is a NASM-CPT certified PT who regularly posts workouts and fitness challenges on her YouTube and Instagram page.
For this booty sculpting workout, she recommends doing a warm up of your choice, then 3 supersets, repeated four times. Then the finisher is a 'burnout' or AMRAP (As Many Reps As Possible). Victoria's tip for good form is to make sure to engage the glutes and not the lower back.
Anna Victoria's booty sculpting workout
People often assume the glutes equal the butt, but they are actually three big muscles – the gluteus maximus, the gluteus medius and the gluteus minimus to be precise. The glutes are important because they help to stabilize the hips so we can carry out every day functions, from sitting, standing, walking and running.
In fact a study by the University of Loughborough (opens in new tab) in the U.K. found that a large gluteus maximus (the biggest of the glute muscles) was key for sprint speed and performance. So building your glutes could help you become a faster runner.
Strong glutes are also vital for balance and mobility, as well as supporting the lower back when we lift to prevent injury. Spend a lot of time sitting at your desk? It's likely your glutes will be weak or underworked, which can impact your movement as well as lead to knee and lower back pain. That's where the best glute exercises can help.
Not all glute workouts require gym equipment, and there are lots of bodyweight moves you can do to activate the glutes. If you're planning on doing floor-based workouts, check out our guide to the best yoga mats.
Maddy is a freelance journalist and Level 3 personal trainer specializing in fitness, health and wellbeing content. She has been a writer and editor for 22 years, and has worked for some of the UK's bestselling newspapers and women's magazines, including Marie Claire, The Sunday Times and Closer. She also manages Fit&Well's Instagram account.
Maddy loves HIIT training and can often be found running on her treadmill or working out while her two young daughters do matching burpees or star jumps. As a massive foodie, she loves cooking and trying out new healthy recipes (especially ones with hidden vegetables so the kids eat them). She makes a mean margarita and has twice won awards in previous staff jobs as the "office feeder".