Prime Day weights deals 2022: top savings on strength-building equipment for your home
With Prime Day weights deals happening this year you can deck out your home gym with essential muscle-building weights for less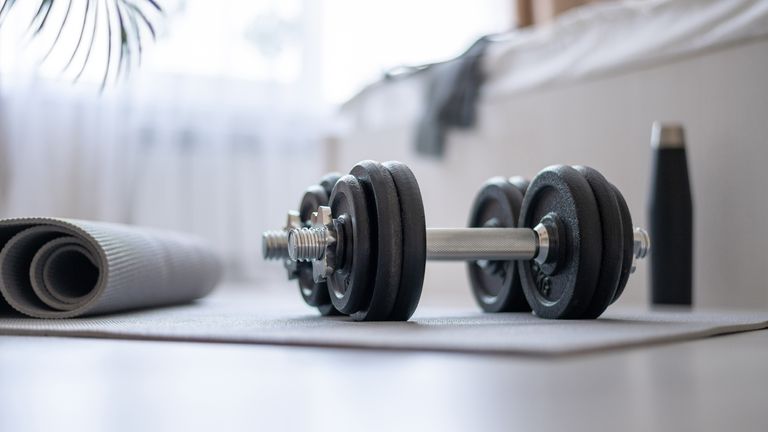 (Image credit: Getty)
This year's Prime Day weights deals make this summer one of the best times of year to find yourself some top home workout equipment for less. Anyone looking to improve their strength, build muscle mass, or tone up can't go wrong with owning their own kettlebells or dumbbells.
Whether you'd like to own your own modifiable, space-saving weight like one of the best adjustable dumbbells or want to be able to do functional workouts at home with one of the best kettlebells, Amazon will release some serious discounts across various models over the two-day Prime event, which officially takes place on July 12th through July 13th, 2022.
The great thing about Prime Day is that Amazon usually starts rolling out deals from the start of the month. We've already clocked these and have rounded up some of the best early Prime Day weights deals available right now. We will continue to update our Prime Day weights deals roundup right through till the end of the official event.
You may notice that we feature some deals from other popular fitness equipment retailers such as Walmart and Target, this is because outlets like this also tend to apply discounts to their products over the Prime Day period. This gives you a greater chance of picking up a weight or two for a competitively good price.
We make sure to price check the deals available before entering our roundup just to make sure you are truly getting a good deal and your money's worth from any discounted weights. If you're ready to kit out your gym for less, keep reading our guide to this year's Prime Day weights deals…
Prime Day weights deals: US quick links
Prime Day weights deals: UK quick links
Early US Prime Day weights deals
Bowflex SelectTech 840 Kettlebell | Was $199.99,now $119.00 at Amazon (opens in new tab)
Save 40% on one of the top adjustable kettlebells right now. This Bowflex weight enables you to change your weight from 8lbs all the way up to 40lbs. With this purchase, you are not only saving $80 but you will also gain access to 24 trainer-led exercises that will show you foundational kettlebell techniques.
POWERBLOCK Elite EXP Adjustable Dumbbell | Was $449.00,now $359.99 at Amazon (opens in new tab)
Instead of clearing space for a rack full of individual dumbbell pairs this POWERBLOCK adjustable dumbbell contains sixteen dumbbells in one. Sold as a pair this set of dumbbells provides a selector pin to easily change and secure the weight and you'll pay $89 less right now.
BRAVE HEART Dumbbells Set with Rack Stand | Was $258.99,now $189.99 at Amazon (opens in new tab)
With this rack of dumbbells, you'll save $97 and receive five different sizes of light weights to train with. This brightly colored collection of bells all have a vinyl coating on them to ensure the weights don't slip as you exercise with them and this coating also is there to prevent rusting.
Everyday Essentials All-Purpose Solid Cast Iron Kettlebell | Was $44.99, now $31.94 at Amazon (opens in new tab)
This single 20lbs (9kg) kettlebell is built to last with its cast iron foundations and a textured finish has been included to ensure you can maintain good grip while working out. You'll normally see this flat-bottomed kettlebell on Amazon for $44.99 but right now you can save just over half price and get one for only $22.10.
New Image Adjustable Water Kettlebell | Was $99.99, now $49.99 at Amazon (opens in new tab)
You can target multiple muscles in your body with this adjustable kettlebell just by filling it up with water to the weight you wish to train at. The water element creates something called 'dynamic fluid resistance training' for a more challenging workout. Save 50% and pick up one for $49.99 whilst you can.
CAP Barbell 40-Pound Vinyl Dumbbell Set | Was $42.00,now $25.38 at Walmart (opens in new tab)
This affordable CAP weight set has $16 off its original price so buy yourself one now and kit out your home gym for less. You can adjust the weight to suit your exercise, matching it to certain muscle groups or setting it up for a full-body strength-based workout.
Sporzon! Rubber Encased Hex Dumbbell | Was $91.99,now $67.99 at Target (opens in new tab) (opens in new tab)
Whether you want to incorporate resistance into some bicep curls or practice some weighted lunges with some heavy resistance, this Sporzon 15lb set is worthwhile investing in and is on sale for $24 less!
Marcy Hammertone Kettle Bell | Was $29.99, now $19.99 at Amazon (opens in new tab)
This 10lbs kettlebell is made to last with its recyclable cast iron makeup that's been topped with a non-rust coating. You needn't worry about grip with this bell due to its ergonomic structure. Save 33% on this Marcy Hammertone kettlebell and build strength at home ASAP.
Early UK Prime Day weights deals
Bowflex SelectTech Adjustable Kettlebell| Was £229.00 | Now £159.99 at Amazon (opens in new tab)
With the turn of a dial, you can start working from 3.5lbs of weight to 18lbs. Begin strengthening and toning your muscle now and get this space-efficient kettlebell for £69 less than the standard price.
Body Sculpture BW108T Smart Dumbbell Tower | Was £65.00, now £57.99 at Amazon (opens in new tab)
This three-piece set of dumbbells is perfect for beginners. With this purchase, you're getting three pairs of individual dumbbells including one 3lbs (1.5kg) pair, one 6lbs (3kg) pair, and one 11lbs (5kg) pair. It also comes with a small stand to store your weights away in. All of this will cost you less than £50 as you make a 31% saving.
Prime Day weights deals: when do sales start?
Amazon Prime Day has returned to its normal timing after some pandemic-related changes to the date over 2020 and 2021. The exact dates for 2022 are July 12th and 13th, but as you can see above, deals are already being rolled out.
Amazon created the Prime Day event for Prime subscribers to have the opportunity to pick up some ace deals on their favorite products. The event has grown to become so popular that Amazon made the decision to extend Prime Day across two days in recent years, giving customers more time to browse the various offers.
We are set to see some worthwhile weights deals pop up and will update our Prime Day weights deals guide as we notice offers going live. We will also use this space to share deals happening from other retailers during this period.
Prime Day weights deals: what to look out for
There will definitely be some awesome price cuts happening across some of the best exercise machines to lose weight but resistance training with weights is another essential key to weight loss. The answer to the question, can you lose weight by lifting weights? Is a big yes. Weight lifting is an excellent way to burn fat when you're active and resting so it's worth your while using Prime Day to invest in some home-friendly weights.
Before making any purchase, have a think about what you're goals are. If you just want to tone up and create a bit of definition across your body then some light dumbbells will serve you well. If you love HIIT training and want to increase the challenge of your home workouts, picking up a kettlebell on sale over Prime Day is a great way to spice up your training. Or if you want to increase your overall muscle mass then a set of adjustable kettlebells or dumbbells will enable you to train with progressive overload at home.
What makes a good Prime Day weights deal?
Looking back on last year's Prime Day weights deals, we witnessed big fitness and health brands such as Kettlebell Kings and Bowflex make reductions to some of their most popular exercise equipment and accessories. Brands like Flybird took 30% off its adjustable dumbbell set and, so far this year Bowflex has topped this by discounting a whopping 40% off its Bowflex SelectTech 840 Kettlebell.
If you are fortunate enough to have a very spacious area for home-gym equipment then you might be lucky enough to pick up a large set of dumbbells and a rack for a lot less over the Prime Day period. Alternatively, you might have less space but a bigger budget and can afford to nab a reduced adjustable dumbbell set from a big brand such as Bowflex.
Secondly, we understand that everyone's budgets will differ. Sale events like Prime Day can be great for picking up items for less but weights can still be pricey and we do take this into account when creating. We look at the prices and offers on weights happening across other sites, and compare and weigh up which deals will honor our readers' needs best.
Prime Day Weights Deals: Why buy weights for your home?
Some people hate the gym and others don't want to pay the membership fees or spend their time commuting to and from one. Whereas, owning your own weights in a home workout space means you can grow muscle, improve strength, and tone up without even leaving the house.
Although kettlebells and dumbbells are a lot smaller in size than a typical barbell weight and rack that you'd find in a gym, both of these smaller weights can be used to perform similar exercises. These weights can be used when performing lunges, squats, or deadlifts with dumbbells. They also are great for training your upper body when you use exercises like rows, overhead press, and curls.
The older we get, the harder it is for our bodies to grow and maintain muscle. So it becomes more and more important that we keep up with regular strength training. Ever wondered what is the fastest way to build muscle? Applying progressive overload to your lifting at home will help out and so will packing in plenty of protein. You will be able to find some protein powders for less this year in our Prime Day supplement deals guide.
Jessica is Staff Writer at Fit&Well. Her career in journalism began in local news and she holds a Masters in journalism. Jessica has previously written for Runners World, penning news and features on fitness, sportswear and nutrition.
When she isn't writing up news and features for Fit&Well covering topics ranging from muscle building, to yoga, to female health and so on, she will be outdoors somewhere, testing out the latest fitness equipment and accessories to help others find top products for their own fitness journeys. Her testing pairs up nicely with her love for running. She recently branched out to running 10Ks and is trying to improve her time before moving on to larger races. Jessica also enjoys building on her strength in the gym and is a believer in health and wellness beginning in the kitchen. She shares all of this on her running Instagram account @jessrunshere which she uses for accountability and for connecting with like-minded fitness lovers.