You only need six moves, two dumbbells and 22 minutes to build muscle all over
This low-impact, minimal equipment session can be done at the gym or at home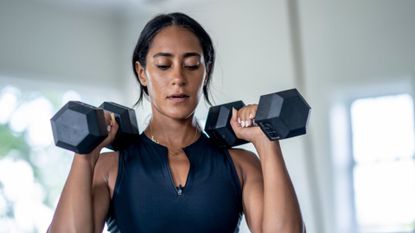 (Image credit: Getty)
A full-body workout doesn't need to engulf your entire evening; this simple session uses the humble dumbbell to work every major muscle group in your body in just 22 minutes.
This makes it a great option for a crowded gym or a quick at-home session, so long as you have a set of the best adjustable dumbbells (opens in new tab) or fixed free weights to hand. If you don't, but still want to give this session a go at home, a pair of filled water bottles or food cans will work.
This workout has been designed by fitness trainer and Sweat app barre instructor Britany Williams (opens in new tab) and uses just six moves.
Perform the exercises as a circuit, completing the prescribed number of repetitions (listed in Williams' caption below) then rest for 15 seconds before advancing to the next movement. Once you've done all six exercises, rest for two minutes then start the circuit again. Complete three rounds in total to finish the workout, or add another round if you want an extra challenge.
Watch Williams' video below to find out which exercises await you, and how to do them with perfect form. Practice each one during your warm-up to make sure you're nailing the technique, then you're ready to get started.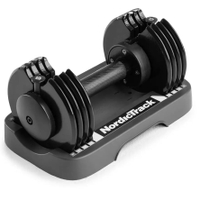 (opens in new tab)
NordicTrack 25lb Select-A-Weight Adjustable Dumbbell | Was $99.99 | Now $49.98 at Dicks Sporting Goods (opens in new tab)
The impressive NordicTrack Select-A-Weight adjustable dumbbell is now down by almost half price at Dicks Sporting Goods. It has five weight options (5lb, 10lb, 15lb, 20lb and 25lb) which you can easily flick between to suit your strength level, making it perfect for home workouts.
Watch Britany Williams' full-body dumbbell workout
One of the main reasons this workout is able to hit so many muscles in such a short amount of time is its use of compound exercises (opens in new tab). These are movements that engage multiple muscle groups at once. For example, the offset pulse squat presses will work your glutes, quads and hamstrings, as well as your shoulders and triceps (among other muscles).
And while this isn't a dedicated ab workout, many of the movements will also call your core into action to provide stability through your midline.
If you want to slot this session into your weekly workout routine, we recommend using it as a standalone daily workout—or, if you really want to push yourself, you can pair it with a short burner like this core workout for beginners (opens in new tab).
As this is a resistance training session, focused on building strength and muscle, you'll want to allow your body to recover the following day. So, why not try a less intense activity like these anti-aging yoga moves (opens in new tab) or our Pilates for beginners plan (opens in new tab)?
Harry Bullmore is a fitness writer covering everything from reviews to features for LiveScience, T3, TechRadar, Fit&Well and more. So, whether you're looking for a new fitness tracker or wondering how to shave seconds off your 5K PB, chances are he's written something to help you improve your training.
When not writing, he's most likely to be found experimenting with a wide variety of training methods in his home gym or trying to exhaust his ever-energetic puppy.
Prior to joining Future, Harry wrote health and fitness product reviews for publications including Men's Health, Women's Health and Runner's World. Before this, he spent three years as a news reporter with work in more than 70 national and regional newspapers.