I used Chris Hemsworth's workout app for a year, and it transformed the way I exercise
Centr helped refocus my workouts, take a more holistic approach to exercise, and made me enjoy weights again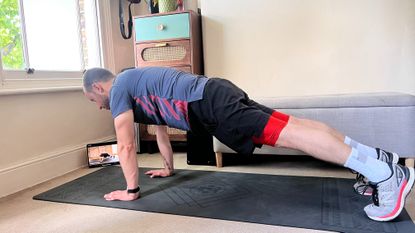 (Image credit: Future/James Frew)
Centr is a fantastic option for at-home strength training, even you only have a few weights. You can quickly filter workouts by equipment, and there are high-intensity sessions, weightlifting routines, and yoga classes. I didn't get a lot of use from the meal planner, but the meditations are a great way to ease yourself into a regular mindfulness practice.
Reasons to buy
+

Wide range of routines to suit all levels

+

Filter workouts by your equipment

+

Includes yoga and mindfulness training sessions
Reasons to avoid
-

Personalized meal planner isn't great if you're cooking for a household

-

Meditations only really suitable for beginners
I've been a regular exerciser for a decade but have never had one-on-one time with a trainer. Instead, I cobbled together a strength-training routine based on what I'd read in magazines and online. However, the Covid lockdowns gave me a chance to shake things up.
I joined a few online classes but found it challenging to stick to their schedule. Then I came across the Hollywood actor Chris Hemsworth's workout app, Centr, which I now understand is considered one of the best workout apps you can get for your phone.
Besides a gym membership, I'd not spent any money on my training before, but I'd found myself in a fitness rut and decided it was worth the $120/£94 annual fee. A part of me knew that the celebrity name had won me over, but at least Hemsworth is well-known for his training regime.
I set up my profile—opting for the advanced program and vegan food plan—and started. I thought I'd like it, but I didn't expect to enjoy it the way I did. I've stuck with it for more than a year and it has helped boost my training, and I even saved money by ditching the gym.
1. You don't need the gym to get started
You may know Hemsworth for his role as Thor, the muscle-bound hero of many Marvel movies. I was worried you'd need a gym full of equipment to see results from using his app, but all I needed was a kettlebell and a pair of the best adjustable dumbbells to get through most of the sessions.
When you browse the list of guided and self-guided training sessions, you can filter it by the type of equipment. And, following a recent update, you can set the equipment you have in your profile. The app will then automatically filter results to show you routines that you can do with your weights.
This helps you avoid the Netflix problem: hours of scrolling while trying to find something to watch. It sounds like a minor feature, and it is, but it made it convenient to work out, which helped me to make it a regular part of my day.
2. The workouts are easy to follow and effective
I'd become too comfortable with my previous workout routine. I'd stopped challenging myself, which is why my progress had plateaued. Centr's varied workouts were a welcome change.
Most sessions use plenty of compound exercises, moves that work several muscles simultaneously for an effective and time-efficient workout. Luke Zocchi, Hemsworth's trainer, is also a big fan of compound moves, which explains why they're such a core part of the Centr experience.
Many of the guided sessions—which you are led through by one of Centr's trainers in a pre-recorded video workout—are less than 30 minutes; precisely what I was looking for. The self-guided sessions are generally longer, 40-50 minutes, as they recommend breaks of up to three minutes between sets.
When I had more time, on the weekends, I'd take a self-guided strength workout and use the high-intensity resistance training sessions during the week when time was tighter.
3. The food plan was interesting, but I didn't stick to it
What you eat is as important as how you train, so Centr includes a meal plan to help you get the best results from your workouts. It's a good idea, and I appreciated that there was a vegan option (yes, you can build muscle with plant protein).
You can also adjust the number of servings for each recipe, and the app will change the ingredient quantities to match—a handy feature I've rarely seen on other apps. With a single tap, you can add everything you need to a Shopping List in the app.
I enjoy cooking, but as I live with other people I'm unlikely to make a meal just for myself. More often than not, I flick open one of the best vegan cookbooks and make breakfast or dinner from there, so I didn't use the meal planner much.
Could I have seen better results if I had? Probably. But I did make sure I kept my protein levels topped up by blending a post-workout smoothie with protein powder instead.
4. There weren't enough meditation sessions
I took up meditation after being diagnosed with a chronic medical condition and found it so transformative that I now meditate every day. For most of this time, I've used the Headspace app to take guided meditations, but Centr also has guided sessions, including some led by Hemsworth himself.
There are enough sessions for you to go a couple of months without repeating any, but I needed more variety to stick with Centr over Headspace. I really enjoyed the sessions, but most are only a couple of minutes, while Headspace lets you toggle between 5 and 20 minutes for each meditation.
You can try this 10-minute guided breathing session led by Hemsworth If you want to sample the sessions before taking out a subscription. Then again, the app's main focus is strength training, so if learning how to meditate is your objective, you may prefer a dedicated mindfulness app instead.
Should you subscribe to Centr?
Centr helped me realize I could train at home without compromising on my progress, so I definitely found it worth the money, even if I don't use the food planner or meditation sessions. The main reason to subscribe to the app is the strength-training workouts; the team excels at these.
Despite Hemsworth's muscular on-screen presence, Centr primarily focuses on helping you build functional, lean muscle. The accessible approach means there's no jargon, and any technical concepts are clearly explained.
That's true of many apps, but the fun classes, challenging self-guided routines, and equipment filters make it convenient and enjoyable to train regularly, which is why it's become my main workout companion.
If you aren't a fan of strength training, you may be better off with Apple Fitness+ instead. The iPhone workout app is ideal for beginners and has a wide range of high-intensity workouts, cardio routines, and rowing sessions to help you reach your fitness goals.
James is a London-based journalist and Fitness Editor at Fit&Well. He has over five years experience in fitness tech, including time spent as the Buyer's Guide Editor and Staff Writer at technology publication MakeUseOf. In 2014 he was diagnosed with a chronic health condition, which spurred his interest in health, fitness, and lifestyle management.
In the years since, he has become a devoted meditator, experimented with workout styles and exercises, and used various gadgets to monitor his health. In recent times, James has been absorbed by the intersection between mental health, fitness, sustainability, and environmentalism. When not concerning himself with health and technology, James can be found excitedly checking out each week's New Music Friday releases.