Best sports bra: comfortable, supportive activewear for all workouts
Whatever your preferred workout, the best sports bra is an essential piece of kit. Here are our tried and tested favorites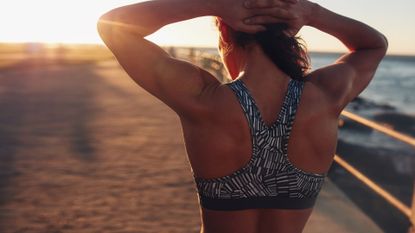 (Image credit: @JacobLund Canva Photos )
Get the Fit&Well Newsletter
Start your week with achievable workout ideas, health tips and wellbeing advice in your inbox.
Thank you for signing up to Fit And Well. You will receive a verification email shortly.
There was a problem. Please refresh the page and try again.
Finding the best sports bra for you is essential whether you're an avid runner, a devoted yogi, or just getting started with fitness. Breasts are held up by connective tissue called Cooper's ligaments, and exercise — even light intensity — increases the strain on these ligaments. When the supportive tissues in the breast stretch, they cannot reverse back to their original position. This will cause irreversible sagging, as well as potential pain or injury during exercise.
Just like having the best cross training shoes is important for protecting your feet, sports bras have come a long way in recent years to provide better support. In fact, we've come to understand that breasts don't just bounce up and down when we exercise. They actually move in a figure of eight pattern, with one study from the University of Portsmouth finding this could follow four movement patterns. Not only this, breasts can move up to 8.26 inches/ 21cm during high-impact activity, making it all the more important that you're properly supported.
But support isn't the only factor to consider in the best sports bra. A study looking at running mechanics found that if you're wearing poor support, it can reduce your stride length by 1.5 inches/ 4cm. So choosing the right bra for your level of activity is also key — especially if you're looking to maximize performance. Not to mention, you want your sports bra to be breathable and comfortable while you're active.
This might sound like a lot to consider — but don't worry. To make your decision easier, we've tested a number of sports bras designed for a variety of workouts. Our top pick is the Sweaty Betty Ultra Running Bra, providing a supreme level of support for high-impact activities, comfort, breathability, and a great range of colors.
If yoga or Pilates is more your thing, the New Balance Fuel Bra provides light to medium-impact support, with a seamless design feeling comfortable against the skin.
Whatever your passion, read on to find the best sports bra for you. And if you're ready to take your workout to the next level, check out the best fitness tracker and the best workout earbuds for boosting your motivation.
The best sports bra you can buy right now
1. SWEATY BETTY ULTRA RUNNING BRA
The best sports bra overall
Specifications
Sizes: 30-38 A-F
Level of support: High
Material: 75% polyamide, 13% elastane, 12% polyester
Care instructions: Wash at 104F/ 40C on reduced spin
Reasons to buy
+
Two-way design depending on required support
+
Comfortable fit
+
Fantastic support
Reasons to avoid
-
Snug chest band
-
Size runs slightly small
Sweaty Betty's Ultra Running Bra may look deceptively lightweight and delicate, but don't be fooled — it's a fantastic high-support bra that caters to a broad range of sizes (A-F cup). Instead of thickly padded cups, the support comes from the band and a network of panels over each breast that both ventilate and cradle your chest. This creates a fit that is snug, without feeling constricted.
The Ultra Running Bra also comes with fully adjustable straps, so you can choose to wear the bra as an encapsulation design, or if you want extra support, they can be fastened together into a U-back design to create a combination fit. The fabric is lightweight and delicate and wicks away sweat even on the hottest of days. The soft padding underneath the straps adds additional comfort, and means we've never had any issues with chafing during testing — even under speedy race conditions.
What's more, the bra comes in over 10 stylish colors. The only drawback is that it's not the cheapest option. However, if you're going to invest in one piece of kit to keep your breasts supported, we'd say you're in safe hands here.
2. 2XU MOTION RACERBACK CROP
The best sports bra for most types of workout
Specifications
Sizes: XS-XL
Level of support: Medium
Material: 62% Polyamide, 38% Elastane
Care instructions: Machine wash cold
Reasons to buy
+
Flattering, racerback design
+
Easy to get on and off
+
Variety of attractive colors
Reasons to avoid
-
Only available in five sizes
-
Removable pads can be a faff when washing
When it comes to versatility, the 2XU Motion Racerback Crop takes the crown. What struck us most about this sports bra is that despite being marketed as 'medium support', it's surprisingly, well—supportive. In fact, we'd say it provides the same level of support as some high-impact bras, while still feeling lightweight and comfortable.
The bra pulls on over the head and fastens with a traditional hook and eye closure. There was no wriggling needed or any shoulder straps to adjust, which made putting it on super simple. Design-wise it's relatively basic yet flattering, coming in a variety of stylish colors — from simple black to deep jade, coral, and hot pink. So you can choose to be as bold or as classic as you like.
As we noted, the Motion Racerback Crop definitely provides a greater level of support than we expected for a medium support bra. For this reason, it's incredibly versatile. We've worn it for easy 10ks, higher intensity HIIT classes, and even a reformer Pilates class. Indeed, 2XU does recommend the Racerback Crop for short-distance running, spin, and training sessions at the gym, making this a great all-rounder.
We also found the fabric moisture-wicking, with a mesh back panel providing extra breathability. Our only gripes are that the foam cups are removable, which can make washing the bra a bit of a faff, plus there are only five sizes available — potentially a problem if you have larger breasts. Having said this, the Motion Racerback Crop is a really affordable option, and it's often on sale for even less too.
3. SHOCK ABSORBER ULTIMATE RUN BRA
The best sports bra for larger breasts
Specifications
Sizes: 30-38; A-G
Level of support: High
Material: 80% Nylon, 11% Elastane, 1% Polyester
Care instructions: Machine wash on delicate
Reasons to buy
+
Excellent firm and reliable support
+
Non-slip, adjustable straps
+
Huge range of sizes
Reasons to avoid
-
Chest band comes up small
-
Fairly basic design
When it comes to high-impact support, Shock Absorber's Ultimate Run Bra is renowned among fitness enthusiasts. Engineered to provide the perfect combination of encapsulation and compression, this bra will ensure that your breasts don't bounce around during high-impact exercise.
But this bra isn't just good for running and HIIT; we've used it for everything from high-impact aerobics and Crossfit to mountain biking. A wide chest band combined with a high racer-back clasp (to spread the load over a larger area of the back and shoulders) means no pinch-points or chaffing, and the straps are easily adjustable so you can tailor their length to ensure the best possible fit.
Of all the bras we've tested, the Shock Absorber is available in the greatest range of sizes, from 30A up to 38G. This means small and large-busted women are both well catered to. Although, note that Shock Absorber recommends sizing up from your normal band size (so if you're a 32C, you'll want a 34C). We did find this to be true, with our regular size coming up small. The design is also fairly basic, but it does come in a couple of different colors.
4. LULULEMON ENLITE BRA
The best premium sports bra
Specifications
Sizes: 30-40 A-DDD(E)
Level of support: High
Material: 51% Nylon, 44% Lycra elastane
Care instructions: Machine wash cold
Reasons to buy
+
Lightweight, sweat-wicking fabric
+
Supportive and breathable
+
Flattering shape
Reasons to avoid
-
Tricky to fasten
-
Premium price tag
Yes, the Lululemon Enlite Bra is an investment, but we think it's worth the money. It provides the coveted combination of high support, as well as flattering shape, comfort, and breathability. Consisting of shaped cups, interwoven firm-but-stretchy straps that cross the upper back, and an underband with a clasp system that sits flat against the skin without chafing, the support level while running is impressive and it's great for other high intensity exercise too.
Fastening the bra up is a little tricky to start off with. The chest band is very tight, which might leave you wondering whether you should have sized up. But once the hook and eye are in place, the added tension keeps the breasts nicely supportive. You also get used to putting it on over time. Seams that are bonded rather than stitched sit flush against the skin, eliminating the risk of rubbing and making the bra streamlined and considerably less bulky than other sports bras. We also love that the cups are non-removable, so there's no risk of them getting lost in the wash.
The Enlite caters to an impressive range of sizes too, with the 'DDD' suitable for those with an E cup. While the design is minimalistic, the scooped neckline is flattering and the bra comes in a number of stylish colors.
The downside is obviously the price. At $98 it's definitely an investment piece, but if you're looking for a product that can withstand the most intense training sessions (and the test of time) then we think it's worth it.
5. NEW BALANCE FUEL BRA
The best sports bra for Pilates and yoga
Specifications
Size range: XS-XL
Level of support: Light to medium
Material: 77% recycled polyester, 23% spandex
Care instructions: Machine wash
Reasons to buy
+
Good for smaller chests
+
Comfortable material and seamless feel
Reasons to avoid
-
You'd benefit from more support
-
Does lose some support in wash
For those with a smaller chest, or who spend more time doing lighter-impact activities such as yoga or Pilates, the New Balance Fuel Bra is a great option. A compression style design, the Fuel Bra pulls on over the head and doesn't have any straps that need adjusting. But the real standout factor is the fabric. Made from 77% recycled polyester and 23% spandex, it is incredibly soft and smooth against the skin, and the seamless design means it sits well under a tank top or loose-fitting t-shirt.
While New Balance says the bra can be used for your "morning run, weekend cycle, or kickboxing class", we definitely think this is more suited to lighter-impact activity. The breast pads are removable, which is good news for those who dislike them (including us) but means those who want a bit more coverage and shape have the option to keep them in.
Style-wise, it's not the most flash — but it is available in some cool colors. Plus, it's a good mid-range option at $44.99, with some colors often up to 50% off on the New Balance website.
6. UNDER ARMOUR INFINITY HIGH
The best sports bra for running
Specifications
Size range: XS-XXL
Level of support: High
Material: 87% Polyester, 13% Elastane
Care instructions: Machine cold wash
Reasons to buy
+
Innovative technology molds to breasts
+
Incredibly high-impact support
Reasons to avoid
-
May be too padded for smaller chests
-
Cut high under the arms
If you're a medium to large chested runner and serious about smashing those PBs, the Under Armour Infinity High Sports Bra will keep your breasts securely in place. Most sports bras are made by cutting two breast-shaped cups from flat padding, then layering pieces of foam on top. The Infinity High does things differently. Designed in tandem with breast health expert Dr. Joanna Scurr and the University of Portsmouth, UK, foam is injected with liquid to create a natural shape that molds to and moves with the breast in their figure of eight formation.
The bra is a classic combination style that's easy to get on. The crossover shoulder straps are simple to adjust, and the hook and eye fasten relatively easily (there is a bit of tension, but this is necessary for high support). We wear this bra mostly for running and HIIT workouts, but it would be suitable for any style of high-intensity exercise. If running is your primary focus, however, we can confirm that we've never experienced any chafing in the Infinity High ⁠— and we've even worn it to run a marathon.
The Infinity High is available in sizes XS-XXL and some really stylish colors, including deep purple, teal, and hot pink. You can often find certain colors on sale, saving you a few dollars on the slightly higher price tag too.
HOW TO CHOOSE THE BEST SPORTS BRA FOR YOU
There are a few factors to consider when it comes to choosing the best sports bra, but the main things are the intensity of the exercise you're doing, your breast size, and whether you want compression, encapsulation, or both in the bra design.
Level of support
Light support bras are designed for low-intensity exercises like yoga, Pilates, or walking. They use stretch fabrics to provide a little gentle compression that supports the breast, is highly breathable, and is very comfortable.
Meanwhile, medium support bras offer more structured support, with firmer fabrics and formed cups. This makes them ideal for low-to-medium impact cardio workouts such as cycling or a gym session.
At the other end of the scale, high-intensity activities such as running, Crossfit, tennis, and HIIT (High-Intensity Interval Training) call for high support bras — such as our top pick, the Sweaty Betty Ultra Running Bra. They provide a high level of support that keeps your breasts secure and supported, which prevents damage to the breast tissue.
Bra design
Another thing to consider is the type of support you want from your sports bra, and there are three options:
Compression: Firm stretch fabrics and straps compress the breasts to the body which stops them from moving independently or reduces that movement. Compression bras resemble a crop top that pulls on over your head.
Encapsulation: Each breast is supported or cradled in its own cup, sometimes also with under-wiring. It goes on like a regular bra.
Combination: A mix of compression and combination.
"Compression style bras can be a good option for women with a smaller cup size as they work by hugging your body and compressing your chest to offer support whilst you move and workout," says Jess Kitson, Brand Manager at Pocket Sport. "For those with a larger cup size, sports bras that offer a combination of both encapsulation and compression can be best as this offers both support and compression whilst moving which will provide more comfort and support for the wearer."
Sizing
It's really important you wear the right size sports bra for your chest. If you're shopping online, most retailers will have step-by-step guides on how to measure yourself. Many department stores and lingerie shops also have professional fitters who can measure you.
If you're still not sure you've got the right size, Kathryn Pomfret, garment technologist at Pocket Sport, says a simple test is to jump up and down with the bra on. "Do you feel comfortable and do you still feel contained?" she says. "If not, check you're wearing the right size, that your straps are firm, but not tight, and that your underband is not riding up. If it's still not right, opt for a bra with more structure."
HOW WE TEST SPORTS BRAS
There are a number of factors that our testing team takes into consideration when it comes to the best sports bra. First, we look at how easy the bra is to get on, the overall fit, and whether any adjustments are needed. We also provide feedback on price, comfort, support, and care instructions. For medium to high-impact support bras, we wear the bra for a minimum of three runs (including short to long distances), a HIIT class, and a strength session. For low-impact bras, we perform a 30-minute stretching routine.
Get the Fit&Well Newsletter
Start your week with achievable workout ideas, health tips and wellbeing advice in your inbox.
Alice Ball is the Health Editor for Future Plc. With more than five years of experience working in health journalism, she's covered everything from why we should 'kill' the calorie, to destigmatizing the menopause. Alice also specializes in nutrition and supplements. She's a self-confessed running fanatic, currently in training for her fifth marathon. She enjoys documenting her progress on her Instagram account, @aligoesrunning. Alice works across a number of Future's sites, including LiveScience and Fit&Well.