The best sports bra: Comfortable, supportive activewear for all workouts
The best sports bras for running, yoga, crossfit and more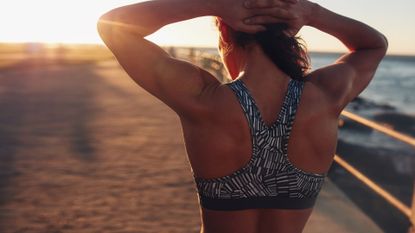 (Image credit: @JacobLund Canva Photos )
Whether you're a keen runner, a beginner cyclist, a yoga fan or a gym fanatic, finding the best sports bra for you is essential. You need to find one that fits well, provides the right level of support for the activity you're doing, is breathable to help you avoid overheating, and is comfortable while you're active. The very best sports bras will do all this and more.
Our number one pick is Shock Absorber's Ultimate Run Bra, based on scientific analysis and conversations with many women. Testing by the experts at the University of Portsmouth's Research Group in Breast Health (opens in new tab) found that this sports bra reduces bounce by up to 78% - twice as much as a normal bra.
There are several features that make this the best sports bra out there, including supreme levels of support for high-impact activities, comfort, breathability and a great range of colours. The size range also makes this the best sports bra for big boobs, as it goes up to a G cup.
If you're looking for a value sports bra but don't want to compromise on support, the Extra High Impact Bra (opens in new tab) from Marks and Spencer is half the price of our best sports bra but performs excellently.
How to choose the best sports bra for you
There are lots of factors that will determine which sports bra you should go for. The main things to consider are the intensity of the exercise you're doing, your breast size, and whether you want compression, encapsulation or both in the bra design.
Sports bras and intensity levels
The best sports bras for low intensity exercise like yoga, ballet or walking are light support bras. They use stretch fabrics to provide a little gentle compression which supports the breast, are highly breathable and very comfortable.
Meanwhile, medium support bras offer more structured support, with firmer fabrics and formed cups. This makes them ideal for low-impact cardio workouts such as cycling or a gym session.
At the other end of the scale, high-intensity activates such as running, crossfire and tennis call for high support bras - such as our top pick, the Shock Absorber Ultimate Run Bra. They provide a high level of support that keep your breasts secure and supported, which prevents damage to the breast tissue. This also makes them the best sports bras for large breasts.
Compression, encapsulation or both
Another thing to consider is the type of support you want from your sports bra, and there are two options. The first is compression, where firm stretch fabrics and straps compress the breasts to the body which stops them moving independently or reduces that movement. The second is encapsulation, where each bra is supported or cradled its own cup, sometimes also with under-wiring. Light support bras usually use compression, medium support bras usually use encapsulation, and high support bras will use a combination of both.
It's also really important you wear the right size sports bra for your boobs. Most online retailers will take you through a step-by-step guide on how to to measure yourself to get your chest and cup size. Many department stores and lingerie shops also have professional fitters who can do this for you.
The best sports bras you can buy right now
1. Shock Absorber Ultimate Run Bra
The best sports bra for most people
Specifications
Sizes: 30-38; A-G
Level of support: High
Reasons to buy
+
Excellent firm and reliable support
+
Non-slip, adjustable straps
+
Moisture-wicking, breathable fabric
Reasons to avoid
-
Limited colour options
-
Only two hooks on the underband
Ask a group of women what their preferred sports bra is, and most of them will say the Shock Absorber Ultimate Run Bra. Engineered to provide the perfect combination of encapsulation and compression, this bra will ensure that your ladies don't bounce around during high-impact exercise. This bra isn't just good for running; we've used it for everything from high-impact aerobics and cross-fit to mountain biking. A wide chest band combined with a high racer-back clasp to spread the load over a larger area of the back and shoulders means no pinch-points or chaffing, and the straps are easily adjustable so you can tailor their length to ensure the best possible fit. It's available in a great range of sizes, from 30A up to 38G, which means small and large busted women are both well catered to.
2. Lululemon Enlite Bra
The best premium sports bra
Specifications
Sizes: US sizing
Level of support: High
Reasons to buy
+
Lightweight, sweat wicking fabric
+
Supportive and breathable with a great shape
+
Easy to take off
Reasons to avoid
-
Confusing sizing system for UK shoppers
-
Only two hooks on the underband
Yes, the Lululemon Enlite Bra is expensive, but it's also amazing. It provides the coveted combination of high support plus flattering shape, comfort and breathability. Consisting of shaped cups, interwoven firm-but-stretchy straps that cross the upper back and an underband with clasp system that sits flat against the skin without chafing, the support level while running is impressive and it's great for other high intensity exercise too.
The construction means it's also relatively easy to take off when sweaty post-exercise, which can be a struggle with some bras. Seams that are bonded rather than stitched sit flush against the skin eliminating the risk of rubbing and making the bra streamlined and considerably less bulky and lower profile than other sports bras. If you're shopping from the UK, good luck figuring out the sizing system, though.
3. Marks and Spencer Extra High Impact Serious Sports Bra
The best budget sports bra
Specifications
Sizes: 32-42, B-G
Level of support: High
Reasons to buy
+
4 hook-and-eye fastenings on underband
+
Bargain price
+
Regular rather than racer-back design
Reasons to avoid
-
Not as supportive for large cup sizes
-
Straps can slide down over shoulders
Almost as popular as the Shock Absorber bra, this Extra High Impact bra from good old M&S proves that you don't need to spend an absolute fortune to get a bra that will keep your boobs well supported. The wide underband provides excellent support with four hook-and-eye closures distributing pressure smoothly over a wide area so no pinching or rubbing. The shoulder straps are adjustable and sit in a traditional bra rather than racerback style, though some users have noted that the straps can slip down if not adjusted nice and tightly. The straps can also be adjusted at the back to a cross-over pattern if preferred.
4. Sweaty Betty Stamina Bra
The best light-support sports bra for yoga, pilates and lounging
Specifications
Sizes: XS - XL
Level of support: Light to medium
Reasons to buy
+
Deep underband
+
Extremely comfortable and compliant
+
Breathable, seam-free knit design
Reasons to avoid
-
No individual cup support, just overall compression
-
Medium support only up to a c-size cup
If you're looking for light-to-medium support with plenty of comfort and a stretch that allows you to move freely, then the Stamina Sports Bra from Sweaty Betty ticks all the boxes. Available in a range of colours designed to coordinate with other products in Sweaty Betty's product range, the bra is constructed from a seam-free knit fabric that means no chafing and plenty of breathability. The fabric offers light support to all sizes, and medium support up to a C-size cup thanks to a deep underband design. It's ideal for yoga, pilates or just lounging about the house when you might want some support but don't need to fully strap down the boobs.
5. Triumph Triaction Energy Lite
The best medium-support, wire-free sports bra
Specifications
Sizes: 32-40, B-E
Level of support: Medium
Reasons to buy
+
Breathable, soft and supportive jersey and mesh construction
+
Cup design allows maximum support and airflow
+
Wide straps can be worn as racer-back style
Reasons to avoid
-
Size range not as extensive as other brands
-
Only two hooks on the underband
A popular bra among sporty women, the Triaction Energy Lite is a great choice if you're looking for medium support with a great shape. Like the Shock Absorber bra, its credentials have been independently verified by the University of Portsmouth (opens in new tab), and it will keep nicely supported for a range of high-energy activities such as cycling, dance or gym workouts.
Shaped cups provide a nice look and feel but without underwiring which can dig in when exercising. The wider underband combined with wide, padded straps provides plenty of security but women with larger busts may need a bit more support for high-intensity activities. It's nice and breathable so you'll keep cool even when you're working up a sweat.
Aoife Glass is a keen outdoorswoman, with a love of hiking, cycling, camping and wildlife. She is an editor with Red Bull Global team and has written for T3, BikeRadar, and Trek UK. Aoife studied Geology at the Royal School of Mines at Imperial College and earned a masters degree in Science Communication at the University of the West of England.