Best vitamin D supplements 2023
Take one of the best vitamin D supplements to give your mood a helping hand this winter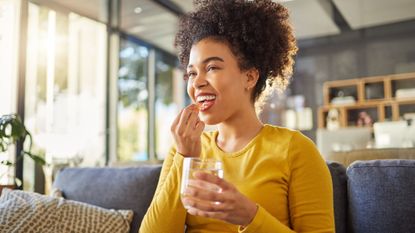 (Image credit: Getty)
The best vitamin D supplements can give your mood a boost through the colder months where sunshine is harder to come by. Colloquially known as the 'sunshine vitamin', our bodies produce vitamin D when our skin is exposed to sunlight. People living in the northern hemisphere are encouraged to take a Vitamin D supplement from October to March in order to sustain the body's levels through the shorter days.
Vitamin D is one of the most common vitamin deficiencies. Although there are some dietary sources of vitamin D, most people living in colder climates will struggle to produce enough through the winter months and may begin to struggle with symptoms like low mood.
Taking one of the best vitamin D supplements can improve these symptoms and prevent secondary issues caused by vitamin D deficiency, such as bone loss and heart disease, as Vitamin D aids in the absorption of calcium and phosphorus. Vitamin D is also vital for the maintenance of a healthy immune system, so a good vitamin D supplement can help you keep winter colds at bay.
Whether you take your supplement as a tablet, a capsule, or a drop, we've put these vitamin D supplements to the test, noting whether they're suitable for vegans, any aftertaste and how easy they are to swallow.
What strength should your vitamin D supplement be?
Vitamin D is a fat soluble vitamin that we need in varying amounts throughout our lives. The National Institutes of Health recommends getting at least 600 IU/15 mcg of vitamin D per day from the age of one, and even more (800 IU/20 mcg) for those over the age of 70 who might experience age related bone loss. Those with darker skin may also need slightly more, as the more melanin you have in your skin (the amino acid responsible for skin, hair and eye pigmentation) the harder it is for the body to produce vitamin D from the sun.
You should also be careful not to take too much, as consistently taking more than the recommended dosage of vitamin D can cause calcium to build up in your body, which is known as hypercalcaemia. Hypercalcaemia can lead to kidney and heart damage and can weaken the bones. However, you would need to be taking a lot – around 60,000 IU – to cause this level of toxicity. Sticking to the recommended dosage is always wise, but if you think you might need more, or are at risk of vitamin D deficiency, speak to your medical professional.
There are two forms of vitamin D found in foods and supplements:
Vitamin D2 (ergocalciferol)
Vitamin D3 (cholecalciferol)
D3 is the most bioavailable, increasing vitamin D levels almost twice as much as D2. When testing these vitamin D supplements, we opted for D3 sources over D2 in most cases.
Best vitamin D supplements
1. Ancient Nutrition Vitamin D
Best vitamin D supplement overall
Specifications
Recommended dosage: 1 capsule per day
Vitamin D per dosage: 5,000 IU
Suitable for vegans: No
Capsules per unit: 60
Easy to swallow: Yes
Reasons to buy
+
Tasteless
+
Contains added adaptogens
Reasons to avoid
-
Not suitable for vegans
-
Pills on larger side
Ancient Nutrition is a relatively new supplement brand that creates products based on the principles of Ayurveda and Traditional Chinese Herbalism, in combination with modern science. Its vitamin D capsules come in a sleek black pot (inside a box) with yellow and white accents.
Ancient Nutrition vitamin D has 60 capsules, each of which contain 5,000 IU (125 mcg) of vitamin D, as well as 3,000 IU (90 mcg) of vitamin K, which is 625% and 75% of your daily recommended intake, respectively. It also contains the brand's 'TCM (Traditional Chinese Method) blend', which aims to "bring a holistic approach to your daily vitamin D supplement" in order to "support the body as a complete system rather than separate organs, a larger concept down as 'QI'". This blend uses a combination of bovine liver, organic astragalus extract, beef bone broth, chicken bone broth, organic schisandra berry extract and more. The brand claims its product is formulated for "real food, Paleo and keto enthusiasts", although it is obviously not suitable for vegetarians or vegans because of the ingredients used in the TCM blend.
At $29.95 for 60 capsules, this isn't the cheapest option in our round-up. However, the capsules are tasteless and easy to swallow (despite being on the larger side). Plus, if you're interested in adding TCM to your diet, and require a higher dose of vitamin D, you might want to give them a try.
What the users say:
Users seem to love Ancient Nutrition vitamin D, with one user noting that "not many companies produce 5,000 IU in one capsule together with vitamin K2". Others, like us, enjoy that the capsules are tasteless and use high quality ingredients. Negative reviews are hard to find, but some users reserve giving the product the full five stars based on its higher price tag.

---
2. Now Foods Chewable Vitamin D
Best vitamin D supplements on a budget
Specifications
Recommended dosage: 1 tablet
Vitamin D per dosage: 1,000 IU
Suitable for vegans: No
Capsules per unit: 180
Reasons to buy
+
Ideal for those that can't swallow tablets
+
Wallet-friendly
Reasons to avoid
-
Dosage may not be high enough for those with a deficiency
-
Slightly artificial taste
NOW Foods is a respected, family-owned company that has been operating in the US since 1968. Its mission has been "to provide value in products that empower healthier lives". Its chewable vitamin D tablets come in a white pot, with a purple and orange label.
Each chewable contains 1,000 IU of vitamin D3, which is 125% of your daily value. However, if 1,000 IU isn't sufficient for you, the product is available in 5,000 IU potency as well, although do note that this is in mint flavor, rather than natural fruit.
Obviously a draw of Now Foods chewable vitamin D is that you don't need to swallow any capsules, making this an ideal supplement for people who don't like taking medication. At around $11 for 180 tablets, this is a really good value option too. Plus, the tablets are absolutely tiny, so you can chew one up in no time.
Whilst Now Foods vitamin D is dairy free, egg free, halal, josher, nut free, soy free and made without gluten, they are not suitable for vegans because the D3 is derived from sheep's wool (lanolin).
What the users say:
On iherb, the product scores 4.9 out of five stars. One customer wrote: "I actually like the light taste of these chewables. The size of the pill is small, which is nice. The dose is also good for someone like myself who has been taking supplements for a while and wants to maintain a reasonable level of vitamin D." Amazon users also rate the product 4.7 out of five. On the whole, they enjoy the taste, but there are a couple who find them slightly too sweet and artificial.
---
3. Thorne Vitamin D & K2
Best liquid vitamin D supplement
Specifications
Recommended dosage: Two drops, one to three times daily
Vitamin D per dosage: 1,000 IU
Suitable for vegans: No
Capsules per unit: 600
Reasons to buy
+
Can be easily added to food
+
One unit lasts 20 months
Reasons to avoid
-
Dropper can be awkward to work
-
Not suitable for vegans
Thorne is a trusted supplement company whose ambition is to "empower individuals for longer through personalized scientific testing and solutions". Its vitamin D and K2 liquid supplement comes in a small brown bottle with white, gold and black accents on the label.
Each bottle contains 600 servings, with two drops providing 1,000 IU vitamin D3 and 200 mcg of vitamin K2 – that's 125% and 167% of your recommended daily value, respectively. According to Thorne, "combining vitamins D and K can provide greater support of the immune and cardiovascular systems than each offers separately". It also claims the supplement "supports healthy bones and muscles, as well as the cardiovascular system and immune systems".
Because this is a liquid supplement, you can drip it straight onto a spoon, into your mouth, or put it into drinks or on your food. It's ideal for those who can't or dislike swallowing tablets. The dropper is a slightly unusual design, so can take a bit of getting used to using.
At around $23.40 per bottle, this product might not appear the most affordable. However, if you use two drops per day it will last you around 20 months, making this good value for money.
What the users say
The product scores an impressive 4.7 stars out of five on Amazon. One user wrote: "Have been using this product for some time now and it works great. Has no flavor at all, they are easy to swallow as it is liquid. However, it is a little difficult to dispense the drops. I feel like a dropper would be much better." Other users also note that the dropper makes it difficult to dispense the drops. However, complaints about the actual quality of the product are rare.
---
4. HUM Here Comes The Sun
Best vitamin D supplement for vegans
Specifications
Recommended dosage: One softgel
Vitamin D per dosage: 2,000 IU
Suitable for vegans: Yes
Capsules per unit: 30
Reasons to buy
+
Vegan-friendly
+
Easy to swallow
Reasons to avoid
-
Not as budget-friendly
-
Dose may be too high for some individuals
You might be surprised to learn that many of the best vitamin D supplements are not suitable for vegans. This is because they rely on animal-based sources of vitamin D3 such as the skin of fatty fish or lanolin from sheep's wool. Whilst some plants and fortified plant-based foods contain small amounts of vitamin D, this tends to be D2. Research suggests that vitamin D3 is more important for supporting healthy levels of vitamin D.
Luckily, supplement brand HUM Nutrition has formulated a fully-vegan dietary supplement that provides 2,000 IU of vitamin D3 – that's 250% of your daily value. Its Here Comes The Sun supplement uses lichen, an algae-fungal hybrid microorganism that grows on trees and stones. This is the only plant that contains vitamin D in its most available form – vitamin D3.
Each pot contains 30 vegan softgels, and comes with a bright yellow label on a black bottle. Bear in mind that because Here Comes The Sun contains 2,000 IU of vitamin D, you may want to be careful if you're taking them in combination with a standard multivitamin. Some of these can contain similar levels of vitamin D, which may push you near to the upper limit of 4,000 IU per day.
HUM Nutrition prides itself on producing mostly vegetarian products, and "in cases where there is a lack of a plant based alternative, [they] work actively with [their] suppliers on developing one". All of its products are made in facilities that are certified to follow GMPs (Good Manufacturing Processes), required by the FDA. They are also gluten-free and non-GMO.
At $12 for a month's supply, these aren't the cheapest vitamin D supplements, but they're certainly not the most expensive either. And given the quality of the ingredients – plus the fact that they're suitable for vegans – they seem a good deal.
What the users say:
On the manufacturer's website, the capsules score 4.6 stars. One user wrote: "I like that the capsules are small and easy to take. I definitely notice a difference when I don't take Here Comes The Sun daily." Another wrote: "I live in a more northern state in the US and we don't always get sunny days. Taking this has made huge improvements to my mood".
---
5. Ritual Essential Prenatal Multivitamin
Best vitamin D supplement for prenatal women
Specifications
Recommended dosage: Two capsules
Vitamin D per dosage: 2,000 IU
Suitable for vegans: Yes
Servings per unit: 30
Reasons to buy
+
Contains 11 other key nutrients
+
Vegan-friendly
Reasons to avoid
-
Expensive
-
Taste might not be to everyone's liking
Pregnant women may require higher doses of some vitamins, including vitamin D, from conception or early pregnancy. This is because, according to Cochrane findings, evidence shows that vitamin D supplementation probably reduces common risks associated with pregnancy, including pre-eclampsia and gestational diabetes, and may reduce the risk of having a low-birthweight baby or bleeding after birth.
Ritual is a popular supplement brand that promises to bring you ethical, vegan vitamins with traceable ingredients. Its Prenatal Multivitamin comes in clear, minimalistic packaging and the capsules themselves have little gold 'beadlets' and visible liquid.
Two capsules contain an impressive 2,000 IU of vitamin D, as well as a host of other nutrients to support a healthy and happy pregnancy, including folate, omega-3 DHA, vitamin B12, iodine, iron and magnesium. So if you're a mum-to-be who doesn't want to have to take a load of different supplements, this is a great option for you. The capsules are also essenced with lemon, by use of a citrus tab in every bottle. This helps to keep things fresh, and ensures no weird taste that some capsules can have.
As well as the Prenatal Multivitamin, Ritual sells a standard women's multivitamin that also contains a host of ingredients to support your mind and body – including vitamin D.
At $35 per pot (lasting you one month) these are not the cheapest vitamin D supplement, but they contain high quality ingredients and you're getting a variety of nutrients for your money.
What the users say:
Reviews for Rituals Prenatal Multivitamin are largely very positive. However, some customers do note that the lemon scent can be slightly unpleasant during pregnancy, especially if you're struggling with morning sickness. They would prefer the mint flavor of the standard women's multivitamin. However, one user wrote: "I've been taking this prenatal while trying to conceive my third baby and it's been easy to take, easy on my stomach, and tastes great. I was definitely skeptical but they had more nutritional value than the other prenatal vitamins I was taking. Love them."
---
6. Double Wood Supplements Vitamin D3 + K2 Liquid Drops
Best high-strength vitamin D drops
Specifications
Recommended dosage: 1 ml
Vitamin D per dosage: 5,000 IU
Suitable for vegans: No
Servings per unit: 30
Reasons to buy
+
Dropper easy to use
+
Relatively tasteless
Reasons to avoid
-
Strength may be too high for some individuals
Double Wood Supplements was founded by two brothers in 2013, and has since expanded its product range to include "a wide range of niche supplements intended for brain health, anti-aging, immune support and more". Each of its products is supported with third party testing, and the brand claims to settle for "nothing less than the best quality" at "an affordable price".
Its Vitamin D3 + K2 Liquid Drops are perhaps one of the lesser "niche supplements" they offer, and come in a small brown bottle with the brand's green and neutral toned label.
One drop (1 ml) of the product contains 5,000 IU of vitamin D (625% of your daily value) and 200 mcg of vitamin K2 (167% of your daily value), making this a great product for those who require a higher dose of vitamin D.
The brand also claims to use the "all-trans version of K2 (K2 Vital)" which they say is "much more effective than the cheaper cis-K2 variety" as well as "an MCT oil base providing plenty of fat for proper absorption". This means that it is not necessary to take the product with food. However, we found it much easier to add 1 ml to our morning oatmeal or hot drink, rather than load it onto a spoon or straight into our mouth. It's fairly tasteless, but it does have a hint of tartness to it, so we found this a more pleasant way to integrate it into our supplement routine.
What the users say:
Double Wood Vitamin D3 + K2 Liquid Drops score an impressive 4.7 out of five stars on Amazon. Users like that it is really easy to take, with one noting: "I drop this in my coffee and I'm good to go!" Most users have no trouble with the medicine dropper either (unlike some other brands) and note that the liquid has no foul taste or odor.
How we tested
Each of the products included in this guide was tested by the Fit&Well team. Supplements will affect each and every person slightly differently so we've been using these vitamins to give you a better idea of what they contain, and anything you need to be aware of before taking them. Below are the criteria we tested each product for.
Ingredients
It's super important to us that you know exactly what we tested and why and our first starting point is always to find out exactly what ingredients are in a vitamin D supplement, especially if it's a multivitamin. We then compare this against your daily recommended dosage and decipher whether you can get enough vitamin D from these supplements.
Recommended dosage
We made sure to note how much of each supplement you are required to take and how much often. This gave us a clear indication of whether a product offered good value for money or not.
Suitability
Not all vitamins and supplements will be suitable for everyone which is why we take note of whether a vitamin D supplement is suitable for vegans or have gluten-free diets.
Cost and value for money
Getting the nutrients you need shouldn't have to cost any more than necessary so we compared pricing across all the vitamin D supplements we tested to see whether the more expensive capsules were worth the money and if the cheaper supplements still contain everything you need.
Easiness to swallow & taste
For some, taking capsules or tablets can be very challenging so we test each and every vitamin D supplement by taking them ourselves and observing how easy they are to swallow. Some supplements are dissolvable on your tongue so we time how long this process takes.
The taste, while subjective, is another important factor we test. We try each capsule and note down whether they taste like the intended flavor or anything else you may need to know about after tastes too.
Features
When we test vitamin D supplements, we note anything that makes one supplement stand out over the others. We ask if any of the supplements claim to do something that others don't, and we also consider the overall aesthetics of the product.
FAQs
Why take a vitamin D supplement?
Vitamin D is an essential part of any diet, and many people can benefit from taking a vitamin D supplement. Vitamin D maintains the balance of calcium and phosphorus within the body and is therefore a lynchpin of bone, muscle and nervous system health.
A Nutrients review indicates that vitamin D interacts with the immune system, particularly the cells responsible for dealing with infection. If you find yourself suffering with frequent colds or that your wounds are slow to heal, you might need to increase your vitamin D intake.
Another indication you might need more vitamin D is if you struggle with fatigue and low mood. A 2019 Nutrients study indicates a correlation between low blood vitamin D level and the severity of fatigue experienced by older patients. A review in the Journal of Affective Disorders indicates that there is a link between vitamin D deficiency and later life depression, although more data is required to confirm this link.
Why do some people have low vitamin D?
Some people have chronically low levels of vitamin D, particularly if they spend a lot of time indoors or are required to cover their skin with clothing for cultural or religious reasons, reducing their exposure to sunlight. If you work an office job, you may find that you develop symptoms of low vitamin D during the winter months if you are traveling to and from work in the dark for the same reason. It is advisable to spend at least 20 minutes outdoors each day, even on cloudy days.
A 2018 review in Cureus found that almost 63% of Hispanic adults and 82% of African American adults have a vitamin D deficiency. This is because the darker your skin, the harder it is for you to get your vitamin D for the sun and the longer the period of time you need to spend outside to get sufficient amounts. For those with darker skin living in the northern hemisphere, taking a vitamin D supplement can help top up low vitamin D levels. Globally, an estimated one billion people have low levels of vitamin D in their blood, according to a StatPearls review.
Get the Fit&Well Newsletter
Start your week with achievable workout ideas, health tips and wellbeing advice in your inbox.
Alice Ball is the Health Editor for Future Plc. With more than five years of experience working in health journalism, she's covered everything from why we should 'kill' the calorie, to destigmatizing the menopause. Alice also specializes in nutrition and supplements. She's a self-confessed running fanatic, currently in training for her fifth marathon. She enjoys documenting her progress on her Instagram account, @aligoesrunning. Alice works across a number of Future's sites, including LiveScience and Fit&Well.