Cyber Monday Bowflex deals (and my favorite affordable alternatives as a fitness writer)
You can save a bundle on Bowflex gear during Cyber Monday, but if you shop around there are some cheaper alternatives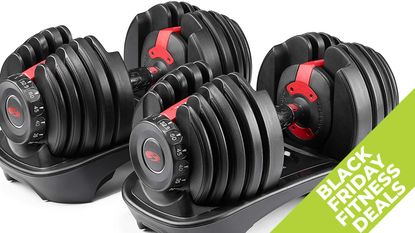 (Image credit: Bowflex)
If there's one brand that's embraced the Cyber Monday sales it's Bowflex (opens in new tab), with reduced prices across a wide range of fitness equipment and savings of up to $500 on all sorts of gear. However, when you're looking for fitness deals in big sales like this, it can be confusing and deceptive with lots of pieces of equipment that aren't all that great.
As a fitness writer, I've been lucky enough to test some of the best adjustable dumbbells, rowing machines, treadmills, exercise bikes and more. While I do think there are plenty of great Bowflex deals available to cash in on this Cyber Monday, there are a few instances where you could find more affordable alternatives that will still be a quality addition to your home workout set-up.
Bowflex have hacked prices for Cyber Monday on their state of the art treadmill, exercise bike, kettlebell, and the Bowflex SelectTech 552 dumbbells with $70 off right now at Bowflex. (opens in new tab), giving you a great opportunity to save some pennies on big buys.
I've also suggested some tried and tested budget substitutes to help you lead a healthy, active lifestyle at home without breaking the bank. These are good alternatives to Bowflex that carry the quality of more expensive brands without the cost.
Best dumbbell deals
The Bowflex SelectTech 552s are some of the best adjustable dumbbells on the market, with a sturdy, reliable design and 15 weight options from 5lb to 52.5lb. Bowflex has dropped the price for a pair from $429 down to $349 (opens in new tab) over Cyber Monday, while their heavier cousins (the 10lb-90lb SelectTech 1090 Dumbbells) have also had their cost cut by $100 (opens in new tab). However, these aren't my favorite adjustable dumbbells, nor are they the best deal I've found this Cyber Monday. That honor falls to the JAXJOX DumbbellConnects, which are now down $200 in a Best Buy Cyber Monday offer (opens in new tab).
These high-tech weights come with digital docking stations which can be used to change their weight from 8lb to 50lb (or several options in between) in a matter of moments using easy-to-understand up and down buttons. They have a sleek, matte gray finish and slimmer plates, which didn't catch on my torso when performing bicep curls. The plates also have grooves that slide into one another, allowing them to sit securely in place without any unwanted movement (unlike the SelectTechs).
Best kettlebell deals
With an MSRP of $149, the adjustable Bowflex 840 is inarguably expensive for a kettlebell, taking it out of the budget of some customers. It has six weight settings, from 8lb to 40lb, so I do think you get a fair amount of bang for your buck - hence why we awarded it the title of best kettlebell. This is especially true now Bowflex has knocked $30 off as part of a Cyber Monday discount.
If you don't want to throw 100s of dollars at a piece of equipment, I think the Yes4All Vinyl Coated Kettlebell is a top option for savvy shoppers. It's available in ten different weight options from 5lb to 50lb, so there's something to suit all fitness levels, and the cast iron body is sure to stand the test of time. The wide handle makes it ideal for exercises like kettlebell swings, while the rounded shape is better than its Bowflex rival for movements like cleans and front squats, where the weight needs to nestle in the front rack position.
Best barbell deals
As with the kettlebell above, Bowflex's SelectTech 2080 Barbell is adjustable, meaning you can quickly switch between seven weight options (from 20lb to 80lb) in seconds using two dials at either end of the handle. It's time-efficient and space-efficient home training option and the price is reduced from $599 to $449 (opens in new tab). While this is still a hefty investment, you get a lot of bang for your buck.
Best exercise bike deals
In my opinion, the best exercise bike deal on the Bowflex site this Cyber Monday is the C7 Bike, with a $500 saving taking the price from $1,299 to $799 (opens in new tab). I'm a big fan of this machine, to the point that, since putting it to the test, the bike has taken up permanent residence in my living room. It boasts 100 magnetic resistance levels, the flywheel moves smoothly and silently at all speeds, and it has a 7in HD touchscreen through which you can stream the expansive JRNY app for a seemingly infinite resource of follow-along workout classes. Or, if you prefer, you can use the bike with the Peloton and Zwift apps - the world's your oyster.
But, if you don't need smart tech in your fitness gear, there are cheaper alternatives that can offer a fantastic bike-based exercise session. My pick of the bunch would be the sub-$300 Yosuda Indoor Cycling Bike (opens in new tab), which I tested earlier this month.
It doesn't have the touchscreen of the Bowflex C7, but it does the basics brilliantly, providing a plush, adjustable seat and a wide range of resistance settings. The metrics are basic, not going far beyond showing your speed, estimated calorie burn and distance covered on a simple LCD monitor. But this does mean you can get straight into your workout without faffing about with settings, making it a great choice for circuit training where cycling might be just one component of a wider EMOM workout (opens in new tab).
Best treadmill deals
The Bowflex Treadmill 22 barely feels like a treadmill at all. Instead, it seems more like a virtual reality running machine, with its follow-along video workouts, cushioned running platform, incline settings from -5% to 20% and enormous cinematic touchscreen providing a truly immersive experience.
This doesn't come cheap though, and even with a $200 discount it's still $2,499 in the Bowflex Cyber Monday sale (opens in new tab). It's huge too, meaning you would need a dedicated home workout space to store it.
One treadmill that performs far better when it comes to its size and price is the Echelon Stride Auto-Fold Connected Treadmill. I loved its compact, foldable design, which can slip seamlessly into most living rooms before folding flat to store under a bed or sofa when not in use. The belt was also impressively sturdy, given its diminutive dimensions, and as a taller (6ft 2in) runner I didn't feel cramped when racking up the miles.
There are 12 incline levels, a top speed of 12mph, and while there's no touchscreen you can enjoy engaging video workouts by linking the treadmill to the Echelon Fit app on your phone or tablet.
What's more, you can now save more than $300 on one of these running machines in the Cyber Monday sale, with Echelon dropping the price from $1,299 to under $1,000 (opens in new tab).
Harry Bullmore is a fitness writer covering everything from reviews to features for LiveScience, T3, TechRadar, Fit&Well and more. So, whether you're looking for a new fitness tracker or wondering how to shave seconds off your 5K PB, chances are he's written something to help you improve your training.
When not writing, he's most likely to be found experimenting with a wide variety of training methods in his home gym or trying to exhaust his ever-energetic puppy.
Prior to joining Future, Harry wrote health and fitness product reviews for publications including Men's Health, Women's Health and Runner's World. Before this, he spent three years as a news reporter with work in more than 70 national and regional newspapers.