Kettlebell deals under $50: build muscle without breaking the bank
Take a weight off your wallet or purse with these amazing kettlebell deals under $50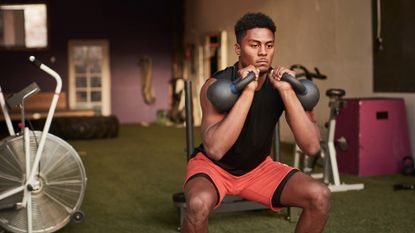 (Image credit: Getty Images)
We've done some heavy lifting to find kettlebell deals under $50, and now you can muscle in on the action. With these amazing discounted offers, you'll be able to build full-body strength while keeping a good wodge of cash in the bank. After all, kettlebells can cost more than $100!
Most of these deals launched as part of the Black Friday and Cyber Monday sales, but several online retailers have opted to keep costs low even after the conclusion of the annual discount events. As a result, there are many standout deals still to be taken advantage of, with savings of up to 44%. For example, the sturdy 40lb Weider Kettlebell has had its price slashed from $74.99 to $44.99 at Dick's Sporting Goods.
In fact, you can see some of the best kettlebells (opens in new tab) on the market here, with each one ideal if you need to target a specific muscle group or even want to get stuck into a full-body workout. Here are the best kettlebell deals under $50.
US kettlebell deals under $50
While dumbbells are ideal for building upper body strength, kettlebells work your whole body, including your core, to build full-body muscle, improve your balance, and strengthen your lower half.
Learning how to do kettlebell swings (opens in new tab) is an efficient way to pack all the benefits into a single move, especially as it raises your heart rate and boosts your metabolism for all-day fat-burning results.
And if you want to add some variety, there are plenty of dumbbells on sale (opens in new tab) to work your arms and chest. To help your muscles recover after an intense session, it's worth adding the best protein powders for weight loss (opens in new tab) into your post-workout routine.
James is a London-based journalist and Fitness Editor at Fit&Well. He has over five years experience in fitness tech, including time spent as the Buyer's Guide Editor and Staff Writer at technology publication MakeUseOf. In 2014 he was diagnosed with a chronic health condition, which spurred his interest in health, fitness, and lifestyle management.
In the years since, he has become a devoted meditator, experimented with workout styles and exercises, and used various gadgets to monitor his health. In recent times, James has been absorbed by the intersection between mental health, fitness, sustainability, and environmentalism. When not concerning himself with health and technology, James can be found excitedly checking out each week's New Music Friday releases.