Black Friday Nike Deals just made my HIIT workouts better, here's why
These Black Friday Nike deals are helping me up my fitness game, and they're still available!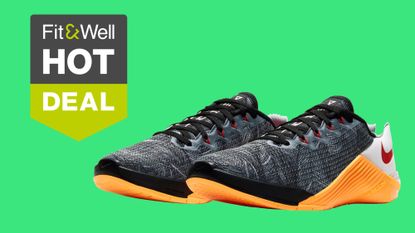 (Image credit: Nike)

There's no chance I'm missing out on these Black Friday Nike deals. This year, there are huge discounts on some of my top workout shoes. Since the pandemic began, I've been fitting HIIT routines into my schedule, but I haven't been able to get a high-quality set of cross training shoes for a price that was even a tiny bit attractive.
HIIT sessions are intense workouts that raise your heart rate and burn fat for hours post-exercise. But it's not a good idea to take on HIIT with regular exercise shoes. You're quickly shifting between moves, which places strain on your ankles, and low-top shoes don't help.
With no time to rest, you need to feel supported by your workout wear to avoid injury. But it's been tough to find appropriate footwear at a good price and in stock. Thankfully, these Black Friday Nike deals mean you can pick up supportive trainers without breaking the bank.
This November, you can find the Nike Men's Metcon 5 on sale for $82.97 at Dick's Sporting Goods, making them $47 cheaper right now! The colossal saving is still available, which is why it's already one of the best Cyber Monday Nike deals you can get already.
Nike Metcon trainers make two appearances on our list of the best cross training shoes, thanks to their cushioned front sole, wide heels, and adjustable inserts. But there are plenty of other great Black Friday Nike deals still live this weekend. You'll have to be quick though because they won't be around for much longer.
To pick up Nike training shoes with massive discounts, check out all the Cyber Monday Nike deals below!
Cyber Monday Nike deals: US quick links
Cyber Monday Nike deals: UK quick links
Black Friday Nike deals
At first glance, a Metcon trainer may seem like any other shoe, but there are some key differences. Unlike cheaper footwear, the material is breathable, so your feet stay cool and sweat-free through even the most intense workouts.
They also come with removable insoles. You can use these to adjust your heel height and customizable your stance around the style of training. The foam soles are also firmer around your heel and softer towards the front of your foot to accommodate high-impact moves.
Now you've got your footwear sorted; it's time to add other workout gear. This year's Black Friday weights deals save you money on strength training equipment, while the Black Friday elliptical deals offer huge discounts on this full-body workout kit.
Black Friday fitness deals: US retailer quick links
James is a London-based journalist and Fitness Editor at Fit&Well. He has over five years experience in fitness tech, including time spent as the Buyer's Guide Editor and Staff Writer at technology publication MakeUseOf. In 2014 he was diagnosed with a chronic health condition, which spurred his interest in health, fitness, and lifestyle management.
In the years since, he has become a devoted meditator, experimented with workout styles and exercises, and used various gadgets to monitor his health. In recent times, James has been absorbed by the intersection between mental health, fitness, sustainability, and environmentalism. When not concerning himself with health and technology, James can be found excitedly checking out each week's New Music Friday releases.