Black Friday elliptical deals 2021: How to get a cheap cross trainer before the big day
You'll be able to grab a top-flight cross trainer for less during Black Friday this year. Here's what you need to know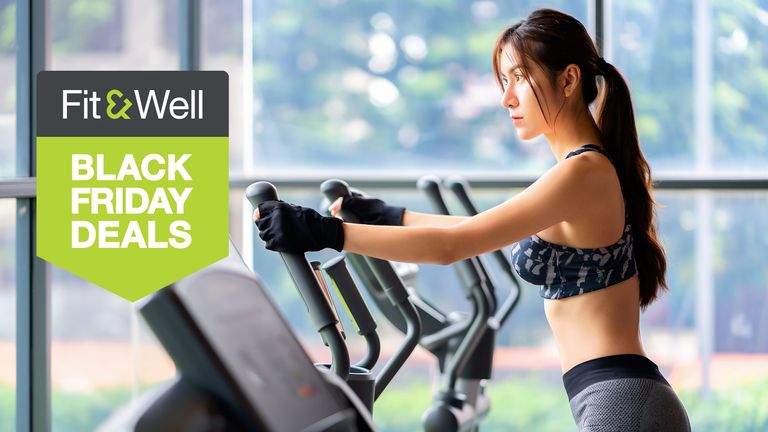 (Image credit: Getty Images)
The Black Friday elliptical deals are set to return in force. The annual holiday season shopping bonanza will of course be back later this year, with many great discounts and deals set to drop across thousands of retailers.
And if this year is anything like 2020, there won't be a better time this year to snap up one of the best elliptical machines. If you've been considering adding an elliptical to your home gym set-up (or you're looking for extra special fitness gifts to give this Christmas), then Black Friday is the time to do it. Last year, we saw some absolutely stellar discounts and offers from retailers in both the US and the UK, with some price cuts of up to $1,000 and more on ellipticals from retailers including Best Buy, Target and Dick's Sporting Goods in the US, and Amazon and Sports Direct in the UK.
One of our top picks of last year was the ProForm Carbon HIIT H14, which was slashed (and unbelievably, still is at the time of writing) by $1,400 off at Best Buy– meaning this top-of-the-range items of gym equipment can still be yours for less. However, loads of other deals will pop up in the run-up to Black Friday, and all across the weekend through to Monday night.
We'll be keeping a close eye on all the offers over the Black Friday period, and sharing all the best elliptical deals here so that you get the best machine for the best price. Below, you can see a few examples of the best 2020 deals we found in the US and the UK, so you can get a better indicator of what kind of bargains you'll be seeing this year.
Looking for other cardio machines? Check out our Black Friday rowing machine deals, Black Friday treadmill deals and Black Friday exercise bike deals pages.
When is Black Friday 2021?
Black Friday falls on the Friday November 26, 2021. While the retail holiday revolves around this date, you're by no means limited to a single day to snap up the best deals. Plenty of early bird discounts are expected to crop up across lots of different retailers in the week leading up to the 26th, and the deals can be expected to continue flowing thick and fast over the weekend.
Cyber Monday, traditionally a day in which retailers simply shift excess Black Friday stock online, is as big right now as Black Friday ever was. It really has become an event in itself. You can expect to see more new deals replacing sold-out ones across the weekend and right up to the wire, until late on Monday night.
US Black Friday elliptical deals (2020): The best discounts we saw last year
ProForm Carbon HIIT H14 Elliptical Trainer | Was $2,999 | Black Friday 2020 price: $1,599 | Saving $1,400 at Best Buy
Not only does this top-rate elliptical have a 14-inch HD touchscreen, you also get a year's iFit subscription included to watch on said screen - nice! There's also 2 resistance levels to help you find your beast mode, plus dual 2" Bluetooth speakers, and a 5" horizontal and 10" vertical elliptical stride path.
Bowflex Results Series BXE216 elliptical | Was $2,599.99 | Black Friday 2020 price: $1,799.99 | Saving $800.99 at Best Buy
The Bowflex BXE216 features a high-tech burn rate console, 25 resistance levels and integrated Bluetooth technology so you can connect with online training apps such as Explore The World to help you burn calories like never before.
Horizon Fitness EX59 Elliptical | Was $999.99 | Black Friday 2020 price: $599.99 | Saving $400 at Dick's Sporting Goods
Also on sale around the $600 mark is this Horizon Fitness machine. This one has lower pedals, making it easier to hop on and off - and also great for fitting into rooms with low ceilings. There's also 10 levels of magnetic resistance and built-in Bluetooth speakers.
UK Black Friday elliptical deals (2020): Get a taste of what's to come
NordicTrack FS71 Freestride 3-in-1 elliptical trainer | was £2,199.00 | Black Friday 2020 price: £1,799.00 at Sweatband.com
Save £500 on this amazing machine, designed to carry the benefits of a treadmill, stepper and elliptical machine all in one. An innovative design with suspended footplates creating a "floating on air" situation, with revolutionary pedals capable of moving in different ways.
DKN XC-190 elliptical cross-trainer | was £1,199.00 | Black Friday 2020 price: £799 at Sweatband.com
Fitness superstore sweatband is a great albeit lesser-known place to shop top ellipticals. This DKN offering offers a huge 32 levels of resistance, is quiet as an early morning run and takes age, gender, weight and height into account.
Reebok Astroride A40 Cross Trainer | was £350 | now £299 at Sports Direct
Save a cool £50 on this simple but effective cross trainer. With eight manual resistance levels, a 5.5 LCD display and three pre-programmed targets, it's a real competitor at this lower price point.
ONETWOFIT Magnetic Elliptical Trainer | was £259.99 | now £237.99 at Amazon
A great sub-£250 elliptical machine, the magnetic resistance offers eight levels of bite, integrated pulse sensor displayed on the LCD monitor, and a strong, sturdy construction. Hit the "voucher" tickbox to get the discount.
Why get an elliptical machine during Black Friday?
Ellipticals are one of the undisputed best exercise machines to lose weight. They absolutely torch calories, burning anywhere between 500 and 1,000 kcals an hour, depending on your body weight.
Why are they so effective? Well, elliptical machines combine both cardiovascular exercise (i.e. getting your heart rate up) and resistance training - that's any exercise where you lift or pull against resistance. What's more, ellipticals make your legs and your arms work, so you're getting a full-body workout. And boy, will you feel it!
For many, cross trainers are preferred to other machines such as treadmills because they offer a lower-impact workout - a big plus if you have issues or concerns regarding your joints.
Of course, elliptical machines aren't the cheapest of home fitness buys - but, with prices due to be slashed on all sorts of models over the Black Friday 2021 period, that is the time to invest.
Stephanie is Editor of Fit&Well. With 15 years experience, she has previously worked for titles including Woman&Home, MSN and Stylist, covering all aspects of women's lifestyle including health and fitness. Her preferred way of staying fit and well is sport: she regularly plays tennis and has been a keen netballer since her school days. She currently plays with her London-based team, Cool Runnings, and is also a qualified Level 2 Netball Coach. Stephanie recently started strength training, and can now regularly be seen hobbling around her local area as DOMS kicks in. Happily, she's since discovered the joy of recovery days. As a result, her top fitness tip is: invest in a foam roller!