Black Friday fitness deals: Your guide to the best health and fitness online sales
Black Friday fitness deals will be back for 2022 where we'll have you covered with everything from workout machines to fitness clothing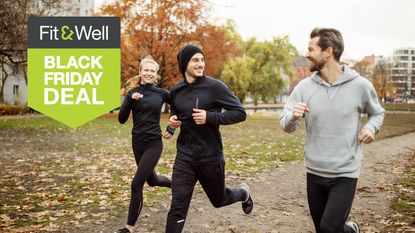 (Image credit: Getty Images)

While all the Black Friday fitness deals might be over for 2021, we're getting prepared for 2022. Whether you're after discounts on cardio equipment, weights, or workout gear, we'll be tracking down the best savings to help you get what you need without breaking the bank.
There were plenty of incredible discounts on fitness trackers, smart gym equipment, and other workout essentials as part of last year's Black Friday fitness deals event. The post-Thanksgiving savings also mean it's a great time to pick up home gym equipment.
There are often sizable savings on big-ticket items like treadmills, rowing machines, elliptical machines, and exercise bikes. In 2021, the Black Friday fitness deals included kit from Peloton, NordicTrack, Bowflex, and Echelon.
But it's also one of the best times of year to invest in new workout clothes, running shoes, cross training shoes, water bottles, gym accessories like yoga mats and resistance bands, weights, and smart fitness tech.
We know what makes a good deal, so wherever you are, we'll bring you the best Black Friday fitness deals as soon as they become available.
Black Friday fitness deals: Quick links to our favorite retailers
US Black Friday fitness deals: Quick links
UK Black Friday deals: Quick links
Black Friday fitness deals: the top deals around
We'll round up all the best Black Friday fitness deals as soon as they become available.
UK Black Friday deals
Not in the US? We'll bring you our favorite Black Friday deals from around the UK as soon as they become available.
What is Black Friday?
Black Friday and Cyber Monday are part of a month-long deals extravaganza leading up to the massive four-day event. The deals began early November and last all the way up to the Thanksgiving weekend and the following "Cyber" Monday.
Across the four-day event, we'll keep a keen eye on all the best discounts to go live, helping you cut through the noise and find the best fitness deals for you. Black Friday will see a slew of new - and excitingly, even better - deals added to the sales at retailers including Best Buy, Walmart and Target in the US, and Argos, Very and John Lewis in the UK. And, of course, Amazon everywhere.
Above you'll find our comprehensive guide, offering everything you need to shop the best health and fitness sales - including quick links to all the best retailer offers, plus details of individual deals including gym equipment, running shoes, fitness watches, protein shakes and more. But, of course, you need to keep checking back, as we'll continually update this page and populate it with the best deals from around the site.
Black Friday fitness deals: More tricks to snag the best bargains
With the economy taking a big hit around the globe thanks to the ongoing health crisis, shoppers have less money to throw around – which makes getting the right deal very important. To get the most out of the online Black Friday sales, you should follow these simple rules for the big weekend:
Set up alerts and notifications from your favourite stores: Amazon offers its own notification service, which will ping you when it brings out a product you're interested in. You can also set up Google Alerts to search the web and get daily emails of search results for terms like "cheap treadmill deal".
Shop around: Some deals are going to look fantastic, with huge price cuts, but occasionally some of these prices will have been inflated before being cut. Look at other stores to find out the real value of what you're buying.
Check the stock levels: Most retailers will flag a product with a small message when it's low in stock. Look for this before deciding to go elsewhere, as you may come back and find it all gone.
Get a Prime account: We've already spoken about Amazon and why it's so essential for getting some of the best Black Friday and Cyber Monday deals available. However, to really get the best out of Amazon (including free shipping), you'll want a Prime account. If you don't want to continue with the benefits Prime membership delivers, then just cancel the trial. It's that simple: you won't have spent a penny, but will have already got access to Amazon's best sales.
Pay securely: Scammers are out there looking for your card details. Credit cards offer a more secure way to pay than debit cards, or you can set up your card on services like Paypal for an extra layer of protection.
Aim for the big-ticket items first: Proportionately, you'll get the biggest savings on the biggest items. if you've been considering buying a treadmill or expensive fitness watch for a while, now is the time to shop around and pull the trigger.
From exercise bikes to resistance bands, anything and everything is discounted. The biggest discounts are often on the biggest products, as discounts are usually done on percentage to incentivise buyers.
If you're in the market for the best elliptical machine or best treadmill, this is the time to strike, as these are the big purchases which are likely to be significantly cheaper. Likewise, for any small electronics with high prices – think Fitbits and Apple Watches – you can expect to see significant discounts, especially with last year's models.
Finally, don't forget the smaller stuff: from resistance bands to running socks, you'll be able to pick loads of these essentials up for a song from many big outlets like Amazon.
Black Friday fitness deals 2022: Top shopping destinations
US Black Friday destinations
Amazon Black Friday Sale (opens in new tab)
(opens in new tab)Amazon is a bargain-hunter's best friend. The Prime Day sales show us the company's still willing to offer fantastic deals, from fitness tech to training aids and even clothes. Your first port of call.
Walmart Black Friday Sale (opens in new tab)
Walmart is one of the largest retailers in the US, offering discounts on high-end fitness equipment through to more affordable workout acessories and fitness trackers.

Target Black Friday Deals (opens in new tab)
We've covered Target's awesome deals on fitness kit before, even large training aids like water-based rowing machines and Crossfit-style watt bikes. Expect huge discounts on large pieces of equipment, as well as the smaller stuff.
Best Buy Black Friday Sale (opens in new tab)
Best Buy's excellent for deals on top-quality tech like the new Fitbits, Apple Watch Series 6 and Hyperice massage guns, in addition to everything from treadmills to resistance bands.
Under Armour Black Friday deals (opens in new tab)
Under Armour is best known for premium sporting compression gear and athleisure, but you'll be able to find loads of gems with their prices slashed this year: perhaps even the in-demand UA Sportsmask and Dwayne Johnson's Project Rock collection.
Dick's Sporting Goods Black Friday Deals (opens in new tab)
As the biggest sporting goods store chain in America, Dick's are running some amazing discounts to keep up with its competitors this Black Friday and Cyber Monday.
UK Black Friday destinations
Amazon Black Friday deals (opens in new tab)
Amazon's bargains are just as good in the UK as they are in the US. As ever, Amazon slashes prices like nobody's business, including in the fitness sphere.
Very.co.uk Black Friday sale (opens in new tab)
Clothing brand Very is also packed to the digital rafters with athleisure and sportswear, in addition to a range of fitness equipment. From leggings to hoodies, male or female, this is the place for you.
JD Sports Black Friday sale (opens in new tab)
As one of the UK's biggest sellers of trainers and sportswear, the JD Sports Black Friday & Cyber Monday sale is always a good one. To help you bag a sporting bargain, the retailer have a dedicated app that will alert you when new deals go live, and also offer unlimited delivery.
Sports Direct Black Friday deals (opens in new tab)
One of the best places to get general sports equipment in the UK. With tons of stock no matter your discipline, from cricket to football to boxing, Sports Direct are always slashing prices - especially on Black Friday.
Argos Black Friday deals (opens in new tab)
For larger pieces of sports equipment, whether you're after big pieces of electronic kit like rowing machines and treadmills, or garden goalposts and swingball sets, Argos is the one. It also packs an impressive range of wearable tech.
John Lewis & Partners Black Friday fitness deals (opens in new tab)
Famed for their 'never knowingly undersold' motto, John Lewis & Partners are price matching many retailers across Black Friday and Cyber Monday - with deals of their own, too.
Matt Evans is an experienced health and fitness journalist and News Editor at Fit&Well, covering all things exercise and nutrition on the Fit&Well website. Matt originally discovered exercise through martial arts: he holds a black belt in Karate and remains a keen runner, gym-goer, and infrequent yogi. His top fitness tip? Stretch.