This 15-minute workout builds bicep muscles using just your bodyweight
This bodyweight workout builds bicep and tricep muscles, and it only takes 15 minutes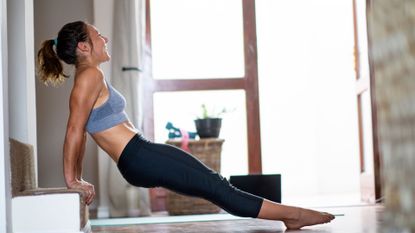 (Image credit: Getty)
Get the Fit&Well Newsletter
Start your week with achievable workout ideas, health tips and wellbeing advice in your inbox.
Thank you for signing up to Fit And Well. You will receive a verification email shortly.
There was a problem. Please refresh the page and try again.
If you've been trying to work on your arm muscles then you'd be forgiven for thinking it's all about pounding the best adjustable dumbbells until you can lift no more. Thankfully though, you can develop your bicep and tricep muscles using just your own bodyweight.
And, you won't need long to work on your arm muscles either as this workout from personal trainer and nutrition coach Caroline Girvan takes just 15-minutes and focuses on perfecting your form and developing your tricep and bicep muscles for toned arms.
Featuring some of the moves you'd expect to find in routines for chest workouts at home, Girvan's workout also uses a chair to add some more dynamic moves into the session. All you'll need to get started is a mat and a chair.
Need a new mat? We've handpicked our favorites in the best yoga mats guide.
Watch Caroline Girvan's bodyweight arm workout
Fancy giving this bodyweight workout a go? Find the moves below (some are repeated throughout the workout).
Tricep push-up
Dips
Decline push-up
Bicep push-up
Diamond push-up
One arm plank ladder
Slow push-up
Pike push-up
Skull crushers
Girvan's workout features 40 seconds of work with a 20 second rest in between and encourages you to increase your range with moves such as push-ups so you're getting the most out of this workout. If you're just starting out with arm workouts though, ease yourself in and focus on correct form, not how long you can hold each move for.
Personal trainer, Girvan also explains that the triceps form two thirds of our upper arms, so much of this workout is devoted to targeting those muscles. Plus, with these moves, you'll also be working on your core which can help to make everyday tasks that bit easier.
Get the Fit&Well Newsletter
Start your week with achievable workout ideas, health tips and wellbeing advice in your inbox.
Sophie is Editor at PetsRadar and was previously Editor (Maternity Cover) at Fit&Well and has worked in digital publishing for over five years after starting her career in print journalism. Sophie has worked across some of Fit&Well's biggest sister sites including TechRadar, Live Science, and Top Ten Reviews where she was a Section Editor. Her previous experience includes reviewing products, feature writing, and creating a magazine for cancer patients to support them through their treatment journeys. Sophie's love of all things fitness began when she was studying for a degree in English Language & Linguistics and she took up running in between lectures, which she found fantastic for stress busting. Since then, Sophie's switched to gym workouts and is trying her hand at yoga (although her Crow pose is still a long way off). Her top fitness tip? Find a form of exercise you enjoy and it won't feel like a chore.