10 ways to get a full-body workout outdoors this summer
From surfing to rucking to trail running, here's 15 ways to get a full-body workout. Whatever your fitness level, there's one for you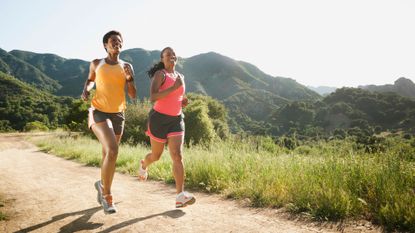 (Image credit: Getty Images)
Ah, summer's here. After a year of being stuck inside due to the global health crisis, it's time to get out there and make the most of the sunshine. Why stay stuck in a gym when you've got the great outdoors on your doorstep?
Whether you're just getting into fitness for the first time, you're returning after a long absence or you're a seasoned strength athlete or runner, there's plenty of ways to get a full-body workout and enjoy the great outdoors this year. We've grouped these 10 entries into beginner, intermediate and advanced workouts, so you can pick something suitable for your fitness level.
A word of caution: in the hot summer, ensure you're well protected. Wear sunscreen whenever you're going to be exposed to the heat, and if you're sweating during a tough workout session, re-apply at regular intervals. Always have a bottle of water handy, as hydration is extremely important.
Walking
Difficulty level: Beginner.
This is one of the easiest ways to get out and about in the summer. Whether in the city or in the countryside, walking is a low-impact, low-intensity way to get outside and do some exercise. It's easy to incorporate into your day by heading out for a lunchtime stroll or switching up your commute, or you could go for a hike in the countryside for a more intense workout. All you need is some comfortable clothes and our best shoes for walking to get started.
Gardening
Difficulty level: Beginner
It might not seem like the most demanding job, but an hour or two of gardening is perfect gentle (and occasionally strenuous) exercise. A meta-analysis of 22 studies found a "regular dose of gardening can improve public health", burning calories and improving mental health due to a combination of improved vitamin D exposure and the positive effect of being around plants.
Tennis
Difficulty level: Beginner
Inspired by Wimbledon this year? Grab a friend (or three) and hire out your nearest court for a socially-distanced good time. A study in the British Journal of Sports Medicine found "there is a positive association between regular tennis participation and health benefits, including improved aerobic fitness, a leaner body, a more favourable lipid profile, improved bone health, and a reduced risk of cardiovascular morbidity and mortality." Can't argue with that. New balls, please!
Cycling
Difficulty level: Beginner
Any cycle can be turned into a demanding circuit worthy of any triathlete, but you don't have to be a Tour de France hopeful to enjoy cycling this summer. It's a low-impact exercise, which means it's very easy on your joints, all while building muscle in our hamstrings, quads and giving you a great cardiovascular exercise to boot. Is the weather not proving conducive to an outdoor cycle? Take it inside with one of our best exercise bikes.
Stand-Up Paddleboarding
Difficulty level: Intermediate
Whether in the sea or on freshwater, SUP is a really nice way to spend time on the water and build muscle while you're at it. Standing on an unstable surface (at least, getting used to it, anyway) will help you develop your core muscles and improve your motor control and balance skills, according to researchers from Canada and Spain. In addition, paddling through the water will help develop muscles in your back, core and arms. Clubs can be found all over the world, or you can nab an inflatable SUP board and starter set on Amazon.
Rucking
Difficulty level: Intermediate
Hiking's more difficult, beefier cousin. Rucking is essentially "rucksack hiking", or walking with added weight in the form of a heavy pack. It's obviously been popular with militaries for hundreds of years, but it's seeing a small resurgence thanks to many back-to-basics fitness communities online. Simply fill a pack with a few of the best water bottles for hiking (you'll need them) and any other equipment you might need before hitting the great outdoors. Make sure you don't overestimate the load!
Surfing
Difficulty level: Intermediate
Head to the beaches for a summer of surfing. This is a great form of full-body exercise, as you'll be training your arms, back and chest to paddle and push yourself up, and your core and legs once you're stood on the board to ride those bumpy waves. One study found a single 30-minute session of surfing had offered "significant improvements in positive affect and tranquillity, and significant reductions in negative affect and fatigue". It just takes half an hour, dude!
Sprint Training, or circuits, on sand
Difficulty level: Intermediate
Two-time heavyweight champ Anthony Joshua swears by practising his footwork on sand, as the unstable surface forces him to constantly correct and engage his core muscles. Head for the nearest beach and try a HIIT workout or sprint training on the softer stuff to emulate the legendary boxer's training: it'll be a lot harder, which means it'll be even more of a demanding workout than usual.
Bouldering
Difficulty level: Advanced
Bouldering, or climbing without a safety rope, is rapidly picking up steam as the sport to try. Many cities have climbing centres with crashmats and colour-coded climbing routes, and these are definitely for the beginner or intermediate climber. But for those looking to channel their inner Tom Cruise in Mission Impossible 2, clinging onto the side of a cliff, bouldering clubs and organisations will often help schedule trips, providing crash mats and other safety gear.
Trail Running
Difficulty level: Advanced
Cross-country or trail running is a great way to inject some variety into your boring old run. Finding routes off the beaten track is great, but don't venture too far on your own: searching for a trail running club or group event in your area is a good idea, together with a GPS running watch. Trail running can add additional difficulty to your jogging due to the uneven ground, which means the best trail running shoes are a must-buy, and you can't exactly abandon a run and call an Uber – this is for experienced runners only.
Get the Fit&Well Newsletter
Start your week with achievable workout ideas, health tips and wellbeing advice in your inbox.
Matt Evans is an experienced health and fitness journalist and is currently Fitness and Wellbeing Editor at TechRadar, covering all things exercise and nutrition on Fit&Well's tech-focused sister site. Matt originally discovered exercise through martial arts: he holds a black belt in Karate and remains a keen runner, gym-goer, and infrequent yogi. His top fitness tip? Stretch.